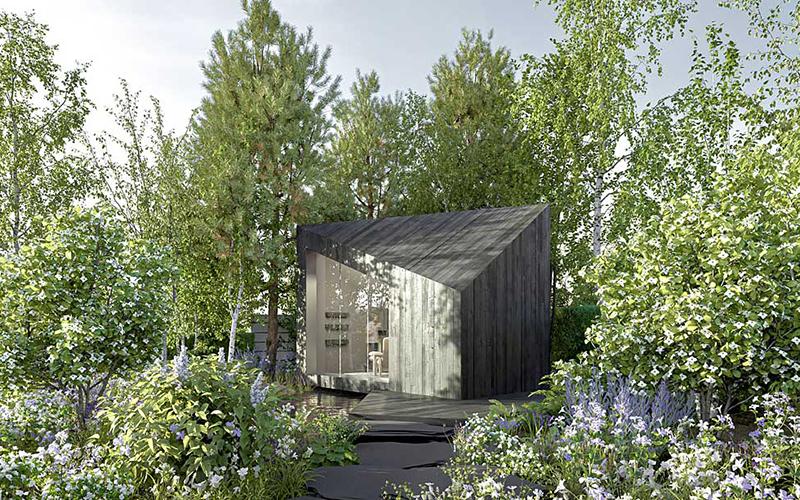 RHS Chelsea Flower Show returns in spring
12 Jan 2022 | Flower Show
The world's greatest flower show is making a welcome return to spring with a bumper crop of gardens.
RHS Chelsea Flower Show, sponsored by The Newt in Somerset, returns on the 24 – 28 May, with more than 30 gardens, many highlighting the importance of sustainability and the natural environment.
Garden designers will be using plants that promote biodiversity including flowering hawthorn, hazel, and woodland trees such as crab apple, sweet chestnut and hornbeam.
See all the gardens at RHS Chelsea 2022
First-time designers Lulu Urquhart and Adam Hunt are using native British plants to showcase a naturally re-wilded landscape following the reintroduction of beavers in south west England.

A Rewilding Britain Landscape features a meandering brook through hawthorn, hazel and field maples leading to a pool created by the beavers. This sits above a meadow of native wildflowers, alders and crack willow.
Multi-award winning Sarah Eberle returns to RHS Chelsea with her MEDITE SMARTPLY Building the Future garden, another naturalistic design using edge-of-forest plants. It will be dominated by a feature building constructed of MEDITE SMARTPLY carbon-negative products with a waterfall tumbling over its top into a pool below. Damp-loving, rare and wild species and trees native to Southern Ireland will feature prominently.
The Meta Garden: Growing the Future will focus on the connection between plants and fungi in our woodland ecosystems and the role of nature-based solutions.
Using timber in various forms to showcase its renewable properties, RHS Chelsea Gold medal-winning designer Joe Perkins hopes to empower others to plant trees and support sustainable woodlands.
Elsewhere, the playful, interactive garden The New Blue Peter Garden - Discover Soil, designed by Juliet Sargeant, aims to open visitors' eyes to the important role of soil in supporting life and mitigating negative impacts of climate change, while brothers Howard and Hugh Miller return for their second RHS Chelsea, designing a space with Alder Hey Children's Charity.
This garden weaves together green and urban landscapes, bringing nature back into 'grey' spaces and encouraging visitors of all ages to engage with nature through foraging.
Highlighting the importance of connecting with each other through nature is Andy Sturgeon's Mind Garden which features sculptural walls enclosing calm seating areas with drifts of planting providing a backdrop.
The Mind Garden is supported by Project Giving Back, a new sponsorship scheme for RHS Chelsea Gardens. The organisation has funded several gardens in support of charities including the St Mungo's Putting Down Roots Garden by Darryl Moore and Adolfo Harrison. This is an urban park that highlights the benefit of green spaces to wellbeing.
The scheme has also supported The RNLI Garden, a celebration of the history and modernity of the charity and The RAF Benevolent Fund Garden, which celebrates the ongoing support of veterans.
Elsewhere in the Show Gardens category, the Morris & Co. garden reimagines two classic patterns by Victorian designer William Morris while the Perennial Garden is a classical yet contemporary design that elegantly combines hornbeam hedging with hawthorn trees providing structure and symmetry along a rill.
Water also features in the Brewin Dolphin Garden, which is set in an inner city brownfield site featuring using repurposed or recycled materials and sustainably sourced products.
The championing of biodiversity-rich spaces continues in the Sanctuary Gardens. For example, rich and vibrant green woodland planting and a immersive tree canopy will create a feeling of connectedness with nature in A Garden Sanctuary by Hamptons.
Plenty more features at RHS Chelsea 2022 are yet to be announced, including several more gardens, the House Plant Studios and a Great Pavilion brimming with inspiring displays.
Buy tickets to RHS Chelsea Flower Show
View the 2022 gardens at RHS Chelsea Flower Show