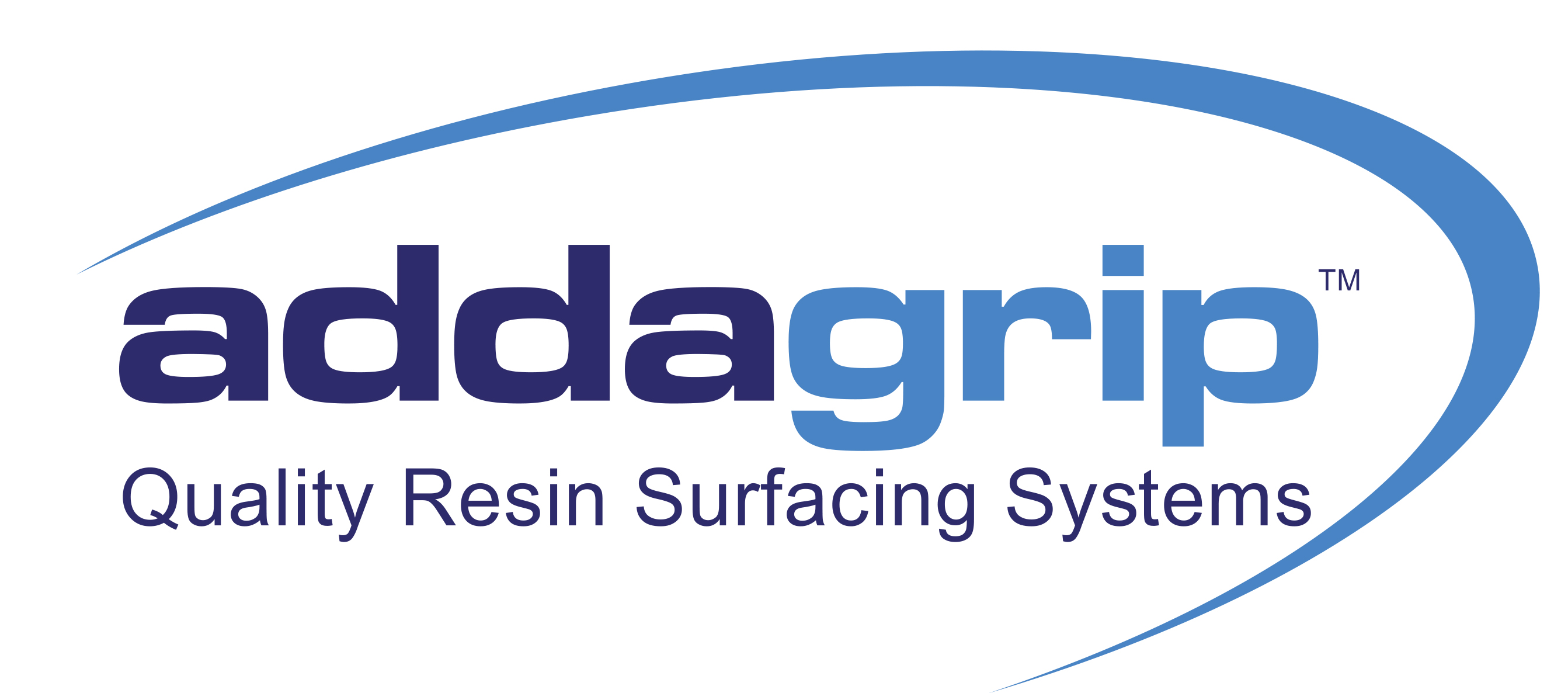 Accredited Supplier
East Sussex, TN22 1QL sales@addagrip.co.uk 01825 761333 www.addagrip.co.uk


Search again
About Addagrip Terraco Ltd
Addagrip Terraco Ltd, part of the Terraco group of companies, was established in 1980 and is a manufacturer, formulator and supplier of a range of Resin Bound Porous Surfacing Systems including Addaset, Addabound, Terrabound, Addacolor and Terrabase Rustic, used extensively on landscape projects throughout the UK and overseas. Addaset, Addabound and Terrabound Resin Bound Porous Surfacing Systems all have BBA Certification. Addagrip also supplies Addastone Resin Bonded paving and Addastone TP tree pit surfacing. Terrabase Rustic is the latest addition to the Resin Bound Porous Surfacing range which does not require a concrete or asphalt base. Our resin bound surfacing systems are SuDS compliant when used with a suitable base and can be used for Car Parks, Access Roads, Driveways, Paths, Pool Surrounds. Addagrip products are installed via our network of trained approved contractors. Addagrip also provide a range of resin based internal flooring systems from Designer flooring to Commercial and Industrial surfacing, together with the Terraco range of Finishing Materials including Handycoat, Sprayplaster, Terraco EIFS, Ambient and designer wall coatings.
Areas covered
South Thames, North Thames, South West, East Anglia, Midlands, Wales, North West, Yorkshire North East, Scotland, National (Eng/Wales/Scot/NI), International, Northern Ireland, UK Islands
Types of work undertaken
Commercial (unlimited)
Surfacing Materials (unlimited)
Hard Landscaping Materials (unlimited)
Domestic (unlimited)
Testimonials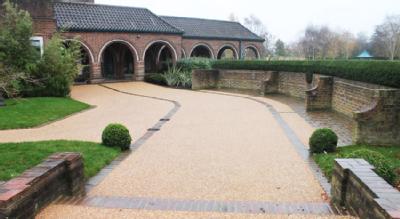 "We are really pleased with the paths, more importantly we have received great feedback from visitors to the crematorium."

- Natasha Bradshaw, Superintendent and Registrar at Mortlake Crematorium, Richmond - Upon - Thames, TW9 4EN
read more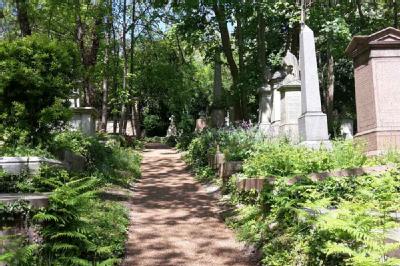 "The reason I went for Addagrip was that we were looking for a path that looked as natural as gravel, but was as maintenance free as tarmac, and which would reduce run-off so we didn't have to install a drainage network as well!"

- Ian Dungavell,Friends of Highgate Cemetery Trust, Highgate, London
read more
Projects
East-West Cycle Superhighway
Addagrip were delighted to see our BBA approved Terrabound Resin Bound porous surfacing installed at Constitution Hill to form part of the new East-West Cycle Superhighway which will run through central London from Tower Hill to Lancaster Gate. Working for Transport for London, F M Conway Ltd were responsible for the installation of a new stretch of the cycle path that runs alongside Green Park to provide a safe route for cyclists from Buckingham Palace to Wellington Arch. BBA approved Terrabound Resin Bound surfacing was selected to provide over 2,200m2 of smooth, seamless, porous paving that would be hard wearing and provide good slip resistance for the cyclists. The natural aggregate finish in a 6mm Rhine Gold complements the location alongside Green Park and will provide a low maintenance surface in this busy area of Central London. F M Conway Ltd carried out the installation over a 9-day period working in one of the busiest tourist locations in central London and during a period of very hot weather. They started at the Wellington Arch/Commonwealth Memorial end of Constitution Hill and finished the last 185m stretch outside Buckingham palace on Friday 8th July. Whilst the crowds gathered to watch the Household Cavalry ride up Constitution Hill from Wellington Arch, St James's, London to Buckingham Palace, there was also much public interest in seeing the team's coordinated system of installing the resin bound surface and watching the transformation as it happened.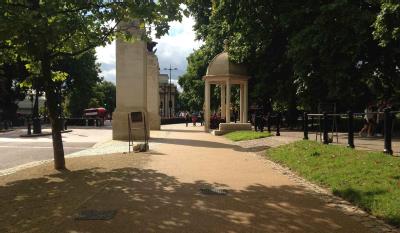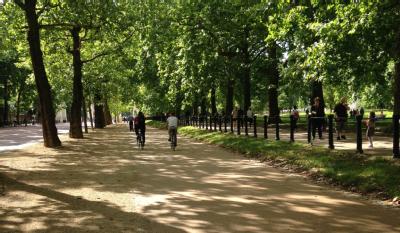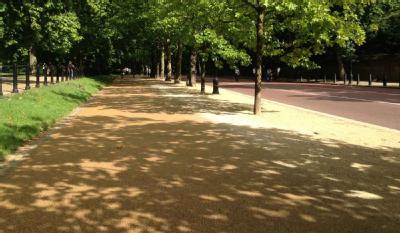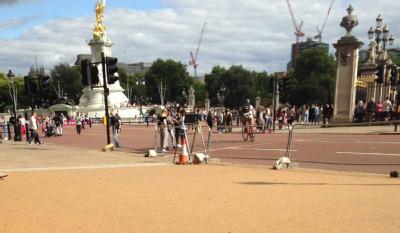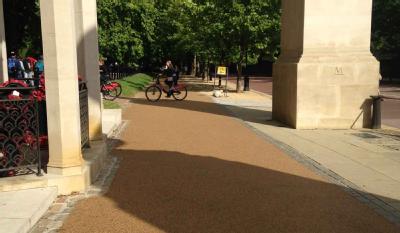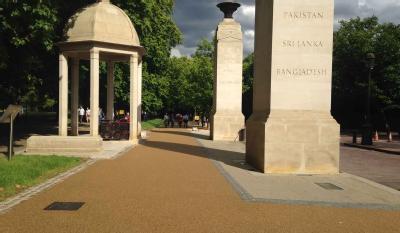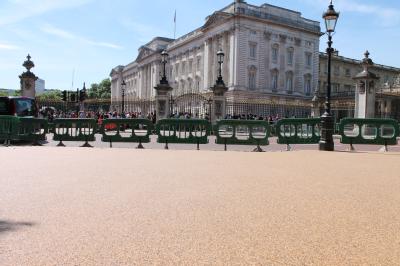 Liverpool Football Club - Anfield stand expansion
Addagrip are delighted to have been involved in the completion of Liverpool Football Club's newly expanded Main Stand at the existing Anfield ground with an installation of over 2,000m2 of Terrabound Resin Bound surfacing carried out by Addagrip approved contractor Soft Surfaces Ltd . With an extra 8,500 seats taking the overall capacity to around 54,000, the £260 million redevelopment of the Liverpool Stadium main stand makes it one of the largest all seater single stands in European football. The expansion plan for Anfield has allowed the Club to increase capacity whilst remaining at its physical and spiritual home Addagrip were approached by Planit-IE Landscape Architects at the design stage to discuss the resin bound surfacing element of the project. The requirement was for a decorative, hard wearing resin bound porous surface that would meet stringent performance requirements and provide low maintenance, seamless paving for the podium, concourse and stair landing areas of this premium public space around the new stadium. Various natural aggregate blend options were considered to ensure the selected surface was in keeping with the new red bricked building and club colours. The final choice was BBA approved Terrabound Resin Bound porous surfacing in Tuscan Pebble and Rhine Gold blends which provides a seamless low maintenance surface in keeping with the overall scheme.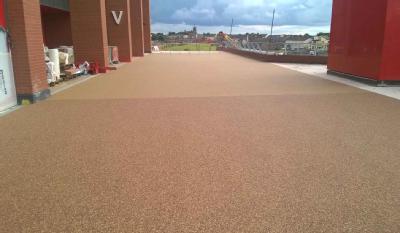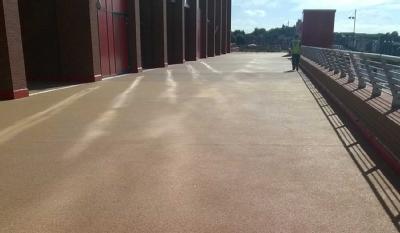 The Magic Garden, Hampton Court Palace
Addagrip are delighted that their BBA accredited Terrabound Resin Bound porous surfacing has been installed on the pathways at The Magic Garden at Hampton Court Palace. The palace's imaginative new play garden, which has been designed to encourage discovery and exploration of the palace's rich history, was officially opened by HRH The Duchess of Cambridge on Wednesday 4th May. Addagrip approved contractor, Total Protection (GB) Ltd was honoured to be appointed by Frosts Landscape Construction Ltd to install a total of 850m2 of Resin Bound pathways to areas of the garden which are rich in character. The design called for a smooth, seamless surface that would be porous and low maintenance whilst providing a bright, aesthetically pleasing paving. Resin Bound Terrabound was selected in a 3mm natural aggregate Autumn Toffee blend to provide walkways comfortable underfoot and suitable for wheelchair access. The inspirational Magic Garden, which has been 6 years in the making, is now open to the public and marks an exciting new chapter in the palace's 500 year history, which Addagrip are proud to have been a part of.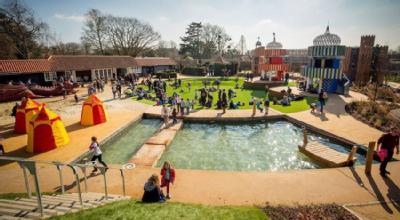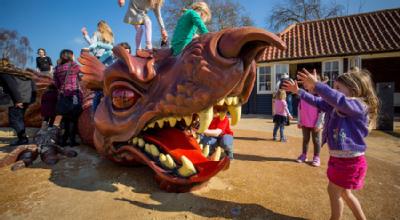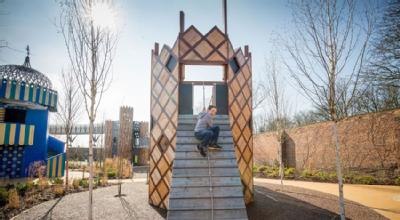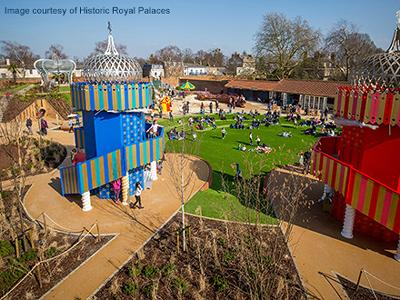 Mortlake Crematorium
Mortlake Crematorium has recently undergone re-landscaping at the front of the building, which features a central roundabout and newly planted borders. As part of the renovation of the grounds, it was decided to replace the existing loose gravel walkways, which were uncomfortable underfoot when wet and presented issues with migrating gravel and to resurface other paved areas with something more aesthetically pleasing. It was essential that any resurfacing work was carried out with great sensitivity with a natural looking, porous product that would be comfortable underfoot, low maintenance and could be installed with the minimum of disruption and noise to allow services at the crematorium to continue. Having seen the Terrabase Rustic Resin Bound pathway installation at Highgate Cemetery, Mortlake selected this product for over 1400sqm of pathways and garden areas in the crematorium grounds. Terrabase Rustic is our new patented resin bound porous paving system that can be installed without the need for a concrete or asphalt base. The existing loose gravel material and paving slabs were removed and a compacted MOT Type 3 base was installed to take the new Terrabase Rustic surface, providing a natural looking, hard wearing surface which can be power washed to keep it looking clean and to maintain porosity. Mortlake selected a Rustic Gold blend, installed by Addagrip approved contractor, Total Protection (GB) Ltd, to provide warm and inviting walkways throughout the grounds.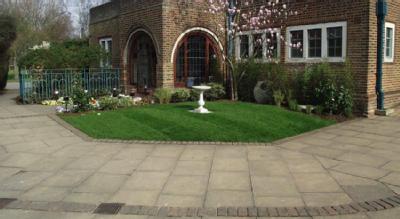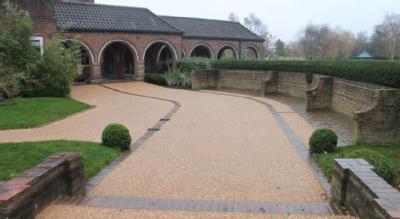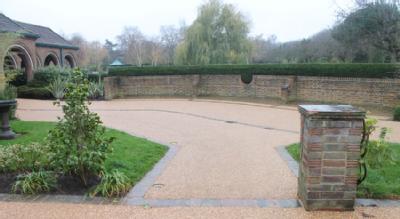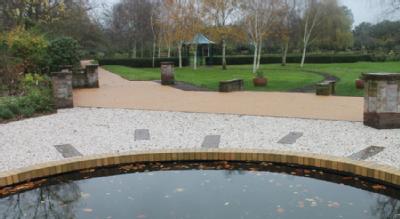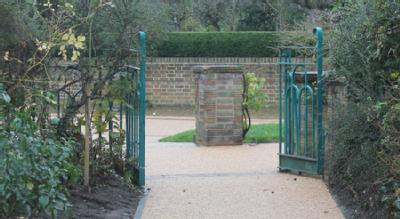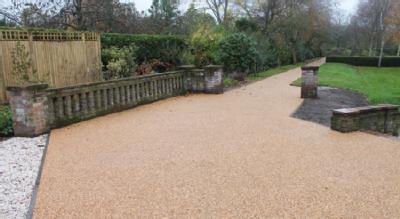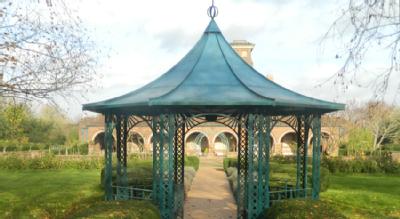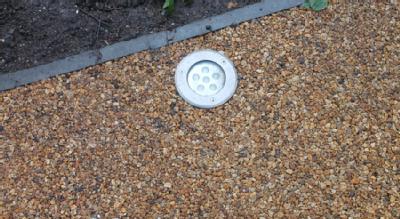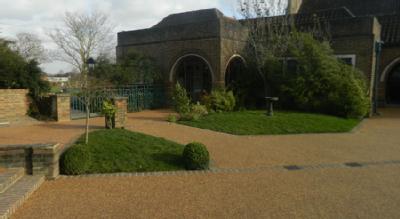 Royal Botanic Gardens Kew
Addagrip, the UK's leading manufacturer of resin exterior surfaces, has been involved in the "Broad Walk" project at the Royal Botanic Gardens, Kew, to create the longest double herbaceous borders in the UK. The 300m long borders either side of the Broad Walk, from the Orangery to the Palm House Pond, will be planted with swathes of vibrant summer flowering perennials, grasses and bulbs to form a spectacular new horticultural feature. Addagrip, together with approved contractor True Grip Ltd, installed over 3000sqm of innovative new porous paving system, Terrabase Rustic, on the instruction of main contractor Kier Facilities Services. The product provided the rustic-looking finish that Kew required and could be installed over the existing surface with minimum environmental impact and disruption. As drainage was another key requirement for the project, Kew also selected Terrabase Rustic for its larger stone size of 6-10mm to provide maximum porosity. The new Terrabase Rustic surface is hard-wearing and low maintenance, providing a seamless, natural rustic pathway with no loose stone, which looks very much at home in the grounds of London's historic Royal Botanic Gardens. The Broad Walk path has recently re-opened, allowing the public to begin enjoying the experience. New plants will begin to arrive in autumn 2015 and planting will continue until early summer 2016 to complete the project.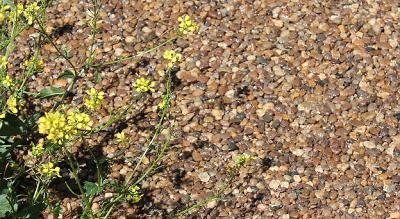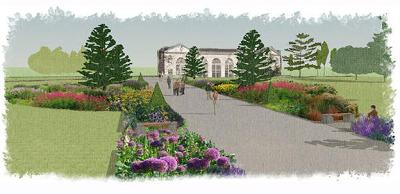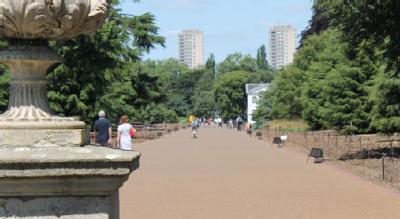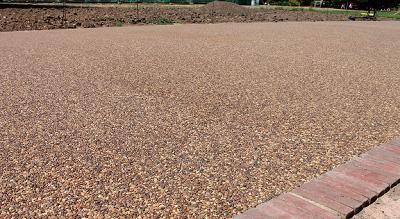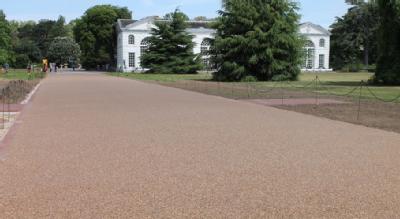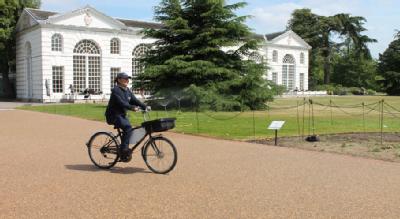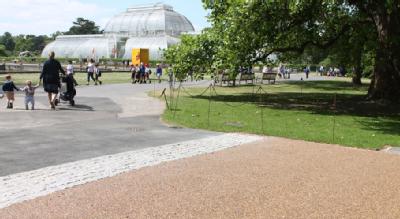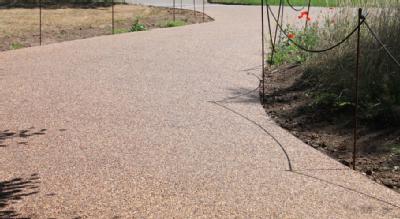 Wembley Car Park
Addagrip approved contractor Total Protection installed 2269m2 of Addastone Resin Bonded Surfacing in the car park at Wembley. The Addastone was in 1-3mm Chinese Bauxite, incorporating a geometric grey pattern composed of 1-3mm Guyanan Bauxite. To make the pattern, Total Protection created the perimeters by saw-cutting and cutting in the resin, as required, to adjoin the colours. The opening date was critical - so the need to work on an area constantly used by other trades was the biggest challenge. In addition, it was vital that the newly surfaced area was ready for access to the new shopping centre next to the stadium.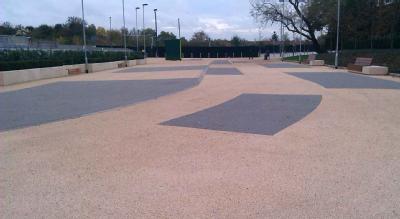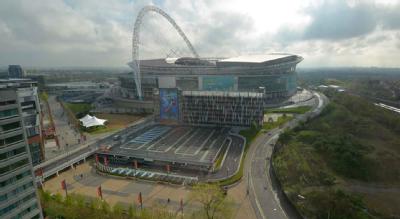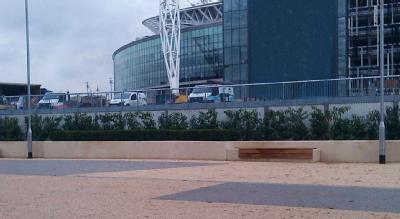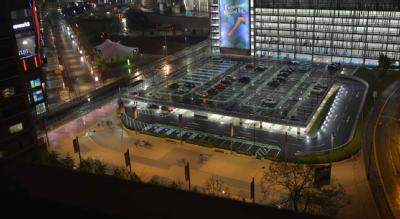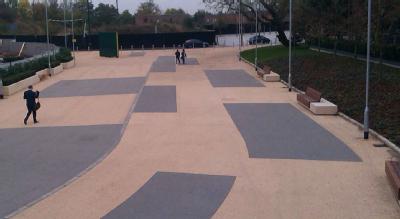 Hope On The Horizon Garden
Newcomer Matthew Keightley of Maidenhead based building and landscaping firm Farr and Roberts scooped the prestigious People's Choice award for his debut "Hope on the Horizon" garden, designed in aid of Help for Heroes at the RHS Chelsea Flower Show 2014. The garden has since been relocated to Chavasse VC House Recovery Centre, Colchester where Addagrip approved contractor True Grip Ltd installed Addagrip's new innovative surfacing product, Terrabase Rustic to the footpaths. The new product was ideal for this project as the client required minimal groundworks and Terrabase Rustic can be installed quickly, with minimum disruption and without the need for an invasive base build up. A 6-10mm Rustic Gold aggregate blend was selected to provide a decorative and natural rustic looking surface, with excellent drainage, to complement the design of the garden. The seamless Terrabase Rustic path links the two areas of the garden which is divided into reflective and active space to represent the complex and progressive path of recovery.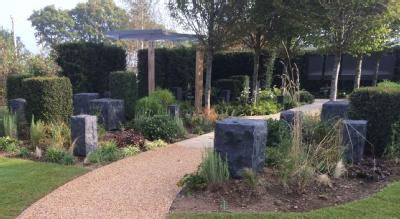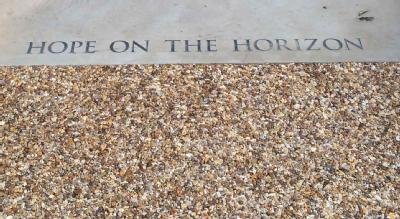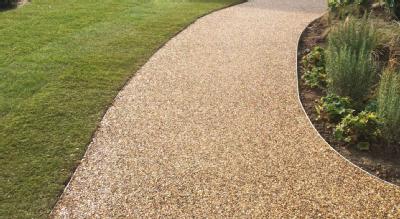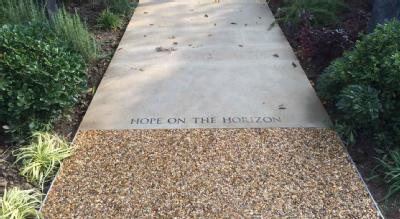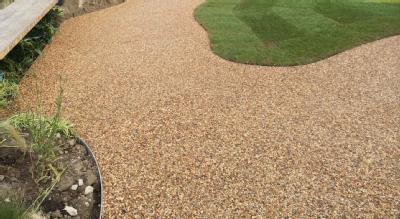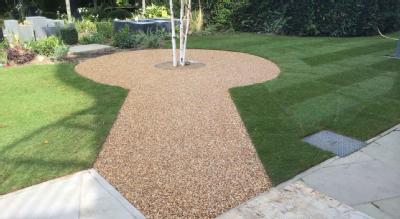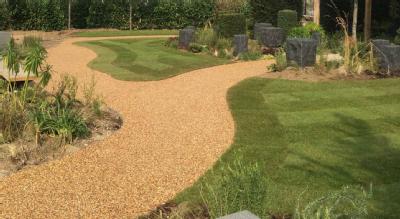 Culinary Institute of America
Addagrip approved contractor, Chameleon Ways, based in Pennsylvania, has recently completed a stunning porous Resin Bound surfacing installation at one of the world's premier culinary colleges, The Culinary Institute of America in New York. Founded in 1946, The CIA is an independent, not-for-profit college offering associate and bachelor's degrees with majors in culinary arts, baking and pastry arts and culinary science. The client selected a 3mm Oyster Addabound aggregate finish for the pathways of Heinz Plaza. Our Addabound surfacing is hard wearing and low maintenance, ideal for footpaths yet still aesthetically pleasing and decorative.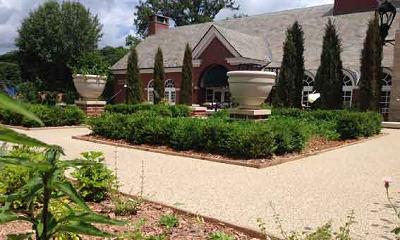 Holyrood Estate
Addagrip approved contractor, True Grip, was recently selected to install a complex design at Holyrood Estate in Southampton. The company went through a very stringent assessment process to win the contract and was appointed due to its track record in managing and installing projects with similar requirements. Addagrip's resin bound porous surfacing - Addaset, Addacolor and Terrabound - were used to create the axial pathway and adjoining areas at the Holyrood Estate. The installation team completed the project ahead of programme and with no snags, working around changeable Autumn weather conditions. The end result is a striking, yet practical, hard wearing pedestrian walkway scheme.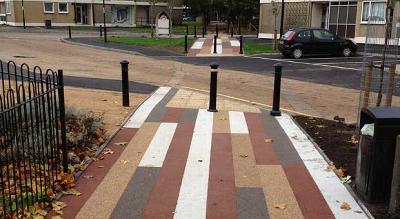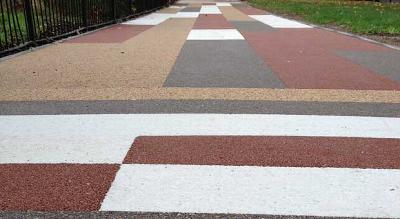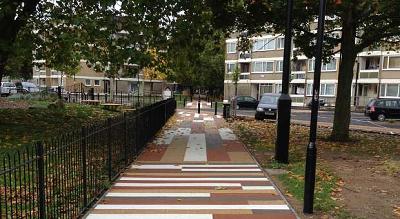 Highgate Cemetery
As part of the ongoing restoration process, The Friends of Highgate Cemetery Trust approached Addagrip regarding our new resin bound Terrabase Rustic system for an area of pathway that needed a low maintenance, natural rustic looking and porous finish sympathetic to the surroundings. Ian Dungavell (Friends of Highgate Cemetery Trust) explains: "The reason I went for Addagrip was that we were looking for a path that looked as natural as gravel, but was as maintenance free as tarmac, and which would reduce run-off so we didn't have to install a drainage network as well!" Addagrip approved contractor True Grip Ltd, was invited to install an area of 90sqm of pathway using our latest surfacing product Terrabase Rustic in an Oak blend. The 6-10mm stone size gives a rustic natural looking, low maintenance, hard wearing finish and is fully porous. The surface was installed without the need for an invasive base build up and noisy machinery, which was important given the nature of the location. The Trust are very pleased with the result: "The path looks so good that people don't notice it! Just the thing for our historic landscape" - Ian Dungavell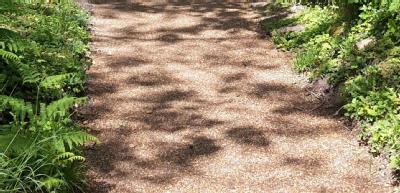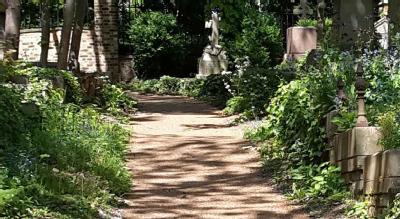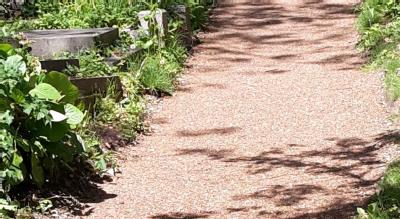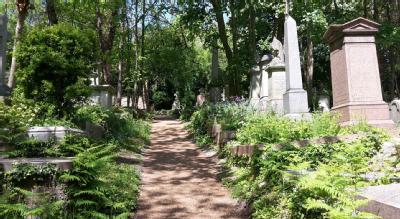 Brackenhurst Library
Addagrip approved contractor Nottingham Industrial Flooring Ltd were appointed by Nottingham Trent University to lay a resin bound surface of 100m2 of Addaset Autumn Gold 5mm and Addaset Trent 6mm in an eye catching design of semi circles in two contrasting aggregates. Each semi circle is divided by aluminium edging to give a professional finish to the entrance at the new Brackenhurst Library which has been built to the highest green standards within Brackenhurst Campus, Nottingham. The unique design was achieved with the fitting of aluminium trim in semi circles to encase the resin. Nottingham Industrial Flooring applicators hand trowelled the resin bound surfacing in lovely clement weather which ensured work was completed to schedule for the library open day three days later. Addagrip's resin bound surfacing enhances the modern aspects of the building and adds another dimension to the development with its unique and clever design.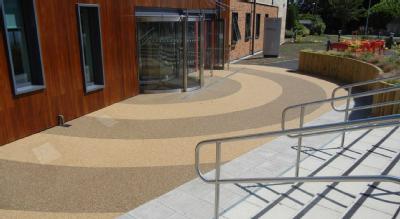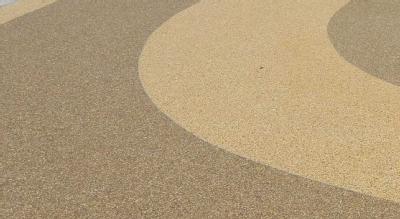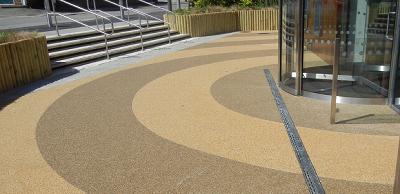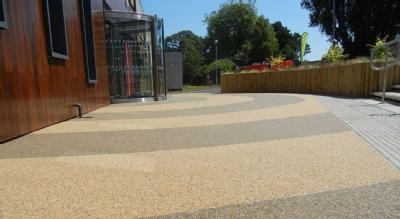 Contemporary Residence
True Grip were delighted to be involved in this stunning project in West Sussex in March this year. The project involved installing 273m2 of 3mm Addaset Lucerne Silver in a pattern designed to complement the strong lines of the building and to accommodate the Aco drains that were already in place at the property. The client required a low maintenance resin bound surfacing system and selected Addaset Lucerne Silver, installed in sections edged with granite sets, to provide a contemporary looking surface to suit the property and surrounding landscaping. The installation was completed in March 2015.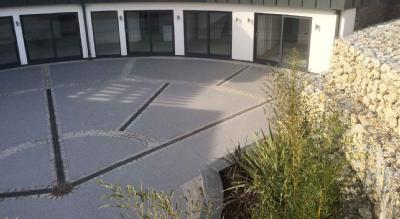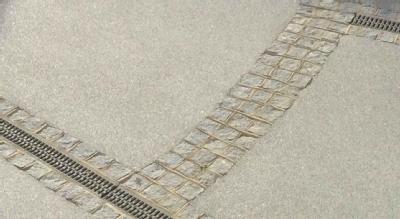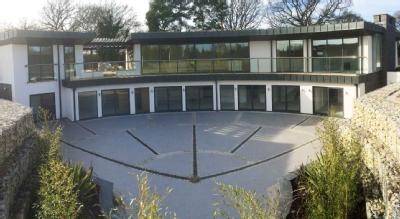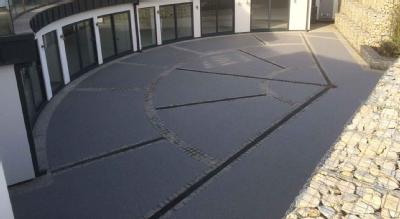 The Hurlingham Club
Addagrip approved contractor, True Grip, were delighted to receive an invitation to tender for a project at The Hurlingham Club, one of Britain's most prestigious private members clubs, set in 42 acres of beautiful grounds bordering the Thames in Fulham. The Hurlingham Club wanted to upgrade, refurbish and enhance the paths leading from the main entrance to the club house and selected True Grip as the main contractor for the project. Some years ago True Grip installed Addagrip's Resin Bound porous Addaset to the main reception entrance, which has proven to be both durable and aesthetically pleasing. The existing concrete edging kerbs were removed from all of the paths and treated timber edging was installed to soften the appearance of the pathways. Holes were drilled into the existing macadam to help remove surface water and 30mm thick of porous open-graded macadam surface course was used to regulate and smooth the existing deteriorating surface. Finally, Addagrip's 6mm Chocolate Buff Resin Bound porous surfacing system was installed to 1,000m2 of footpaths by True Grip, working in phases to accommodate the members and to cause minimum disruption to the operation of the club.