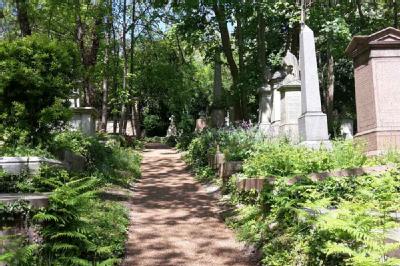 Project title:
Highgate Cemetery
Project client:
Ian Dungavell,Friends of Highgate Cemetery Trust, Highgate, London
Quote:
"The reason I went for Addagrip was that we were looking for a path that looked as natural as gravel, but was as maintenance free as tarmac, and which would reduce run-off so we didn't have to install a drainage network as well!"
Work undertaken by Addagrip Terraco Ltd:
An area of 90sqm of Terrabase Rustic in an Oak blend was installed for this historic cemetery. The 6-10mm stone size gives a rustic natural looking, low maintenance, hard wearing finish and is fully porous. The surface was installed without the need for an invasive base build up and noisy machinery, which was important given the nature of the location.
Reason for choosing Addagrip Terraco Ltd:
The Friends of Highgate Cemetery Trust approached Addagrip regarding our resin bound Terrabase Rustic system for an area of pathway that needed a low maintenance, natural rustic looking and porous finish sympathetic to the surroundings.