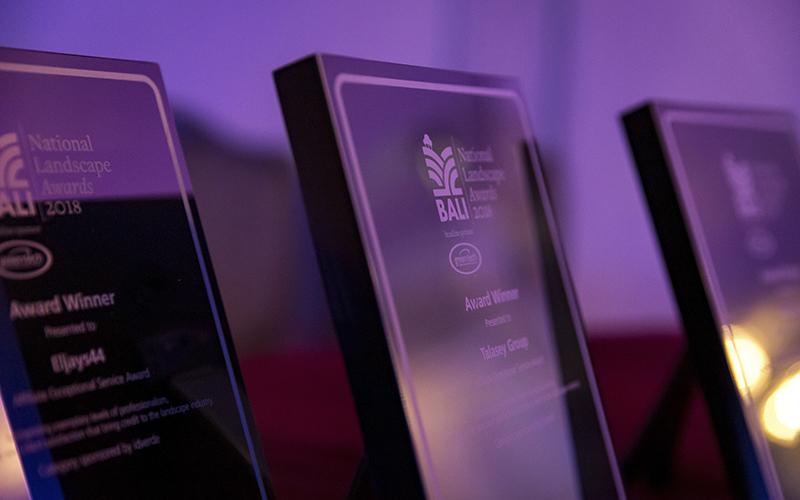 Why you should enter the 2019 BALI Awards
21 May 2019 | Industry Awards
With two weeks to go until the final entry deadline for Registered Contractors, Registered Designers and Groups, the BALI team explain some benefits of why you should enter the 43rd BALI National Landscape Awards and what this could mean for your company, your brand and your team!
Since the BALI Awards inception in 1976 they have grown in stature year on year and are now perceived as a key feature of the landscape industry's calendar across Europe – winning a BALI National Award promises to change the way that your business is perceived such is the kudos and respect these industry awards command.
Benefits of entering – A Contractor and Designer view
Reported substantial increase in enquiries after winning a BALI National Landscape Award
Engage your staff; appreciation for the quality of their work and their professionalism
Recognition and raised brand awareness for your company within the industry and your peers
Learning experience; Learn from your submission and gain individual feedback from Adjudicators on request. What has been done well? What could be improved?
All winners are promoted from September until the Awards Ceremony in December through industry press, BALI website and social media
Attendance and networking with over 1000 industry peers at the BALI Awards Ceremony in December
Client engagement; Involve them in your story, your success and show them how you compare to your peers
Excellent platform to showcase your company; Your company and your scheme showcased in front of over 1000 guests.
Promotion after ceremony for all Principal, Special and Grand Award winners through bali.org.uk, baliawards.co.uk, social media and industry press
Custom logos to promote and market your award-winning success for all Award Winners
Use your entry submission as sample portfolio and use this for marketing purposes in the future
PR Toolkit available with tips and advice on how to share your success with local press and gain the most out of your win
All winners displayed on www.baliawards.co.uk for three years and longer in archives
Award Winners Brochure circulated to all BALI registered members, Landscape Architects, Local Authorities and BALI VIP contacts
Final Deadline for Registered Contractors, Registered Designers and Group entries is 5th June 2019
Final deadline for Affiliate Exceptional Service, Employer Excellence and International entries is 10th July 2019
Award winners are announced during September 2019. Principal, Special and the Grand Award are announced during the BALI Awards ceremony on 6th December 2019.
For more information please visit baliawards.co.uk or contact BALI's Events Project Manager Leah Brookes on +44 (0) 2475 185613 or email leah.brookes@bali.org.uk