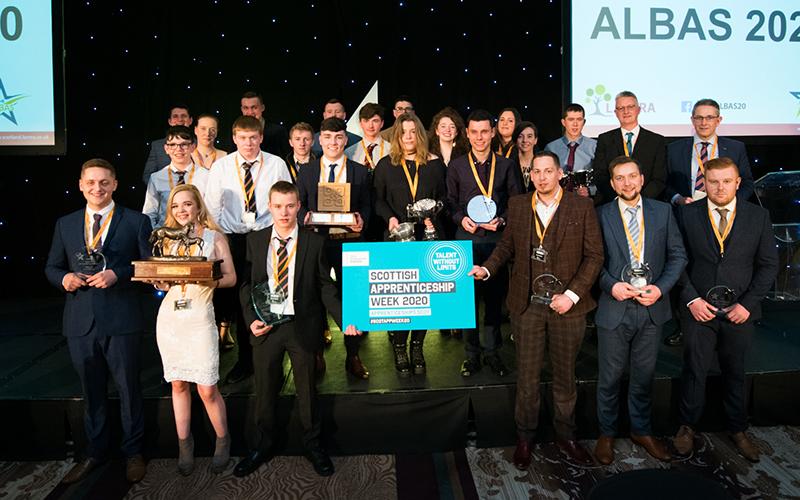 Search for top rural learners now underway
27 Sep 2021 | Industry Awards
Nominations for Lantra Scotland's 2022 ALBAS, the Awards for Land-based and Aquaculture Skills, are now officially open.
Rural employers, colleges and schools are being asked to put forward their top learners, and to help recognise and promote the industry's best talent.
ALBAS provide trainees of all ages with a springboard to succeed in their respective careers, as well as highlighting the need for businesses to invest in new entrants, training and skills development.
Industry categories cover agriculture, animal care, aquaculture, equine, environmental conservation, fisheries management, game and wildlife, horticulture, land-based engineering and trees and timber.
As well as prizes for Overall Winner, Runner-up and Modern Apprentice of the Year, there are also prizes for Higher Education, School Pupil and Secondary Schools, CARAS (Council for Awards of Agricultural Societies), Jean's Jam for inspirational tutor, the Tam Tod Trophy for outstanding young learner, and the Anna Murray Award for Partnership Working.
Liz Barron-Majerik, Lantra's Scotland Director, is proud of the role that the awards play in highlighting the extensive contributions that land-based and aquaculture industries make to Scotland's economy, particularly in rural areas. She explained:
Our ALBAS are known for celebrating the hard work and achievements of the most talented students, trainees, mentors, training providers and secondary schools in Scotland's land-based and aquaculture sector.
It is a privilege to hear some of the incredible stories that people have, and I know that our independent judges always have a difficult time deciding who the winners will be from such a strong field.
While we had to run the ALBAS as a virtual event last year, this time around we're especially looking forward to meeting everyone in person again at the DoubleTree by Hilton Hotel Dunblane Hydro on the evening of Thursday 3rd March 2022.
Closing date for nominations is Friday 3rd December. To enter, call Lantra on 01738 310364, email scotland@lantra.co.uk or visit the website.
Lantra's work in Scotland is supported by the Scottish Government.