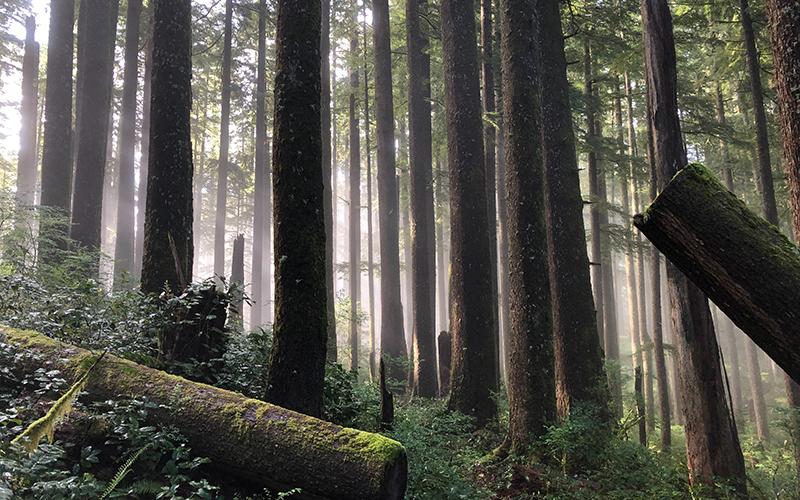 Phytophthora pluvialis discovered in England
24 Nov 2021 | Technical News
Phytophthora pluvialis is a fungus-like pathogen known to affect a variety of trees including western hemlock, tanoak, pine (Pinus radiata, Pinus patula and Pinus strobus) and Douglas-fir.
Although previously identified in USA and New Zealand, the pathogen was absent from the UK until earlier this year, when it was found in Cornwall on mature western hemlock and Douglas-fir trees, as well as Devon and Cumbria.
Symptoms
Phytophthora pluvialis is known to cause needle cast, shoot dieback and lesions on the stem, branches, and roots.
Defra has released a comprehensive symptom guide which allows stakeholders to identify key symptoms on trees identified within the UK. Please click on the link in the Further reading section of this article for more information.
Introduction of demarcated areas
Since Phytophthora pluvialis meets the criteria to be classified as a GB quarantine pest, the Forestry Commission has introduced demarcated areas around the confirmed outbreak sites and introduced movement restrictions on materials capable of spreading the disease.
The two areas are as follows:
Demarcated Area No. 2: covers parts of Devon and Cornwall and came into force on 19th November 2021.
Demarcated Area No. 3: covers parts of Cumbria and came into force on 26th November 2021.
The Notices prohibit the movement of any wood, isolated bark and trees (including live trees, felled or fallen trees, fruit, seeds, leaves or foliage) of the genus Tsuga, Pseudotsuga, Pinus and Notholithocarpus, that has originated within the demarcated area.
Links to the Notices associated with both demarcated areas are listed in the Further reading section of this article.
Plant health inspectors can authorise movements and processing of material from the demarcated area where this can be achieved without risking the spread of Phytophthora pluvialis.
Stakeholders can request an authorisation for:
plants for planting and Christmas trees - please contact your local APHA inspector: planthealth.info@apha.gov.uk
all other material - please contact your local Forestry Commission Plant Health Inspector: plant.health@forestrycommission.gov.uk

Further reading:
Area No. 2 (Devon and Cornwall)
Map associated with Demarcated area No.2 (Devon and Cornwall)