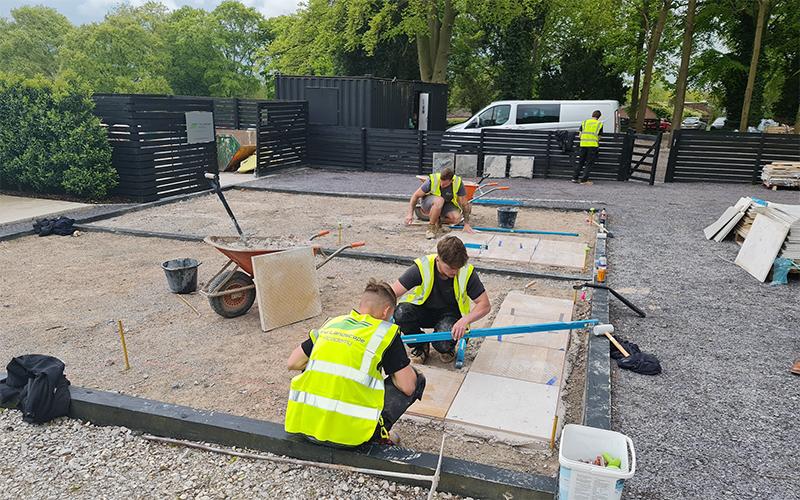 Landscape Academy becomes Lantra Awards Approved
08 Sep 2021 | BALI Member News
Accredited Training Provider The Landscape Academy discuss becoming Lantra Awards approved and the current state of play of training in the industry.
The landscape industry has seen a growth in the market over recent years, and whilst the pandemic has brought a number of difficulties to our industry, the interest in gardens, green spaces and landscaping has shifted to a different level.
With growth comes the need for more people to accommodate the rise. What we are finding now in the industry is a shortage of skilled individuals to manage the demand. There has been less and less money invested and many landscaping institutes have diminished. Individuals and businesses have very few options to turn to in terms of training, and many of the courses available do not meet the requirements of today's landscape industry.
The Landscape Academy is here to fill that void, providing a one-stop training centre, dedicated to raising standards in the industry. We are delighted to announce The Landscape Academy is now a Lantra Awards Approved Training Provider with several of our courses Lantra Awards Accredited. It now means our Learners taking our Lantra Awards Accredited Courses from September, will be awarded with a recognised landscape industry certification, helping individuals and businesses implement the appropriate training.
Lantra Awards are an awarding body who develop and certify specialist training and qualifications for land based and environmental industries. Lantra's qualifications are fully regulated and have equivalent status to those offered by other awarding bodies such as City & Guilds. Their nationally recognised courses and first-class training materials are developed by industry experts who know their subject inside out. Lantra's training materials and workbooks are recognised as some of the best in the business, ensuring Leaners' walk away with the knowledge and confidence they need to progress effectively and safely in their careers. The Lantra Awards accreditation is testament to our dedication to provide the industry with a full range of comprehensive and relevant courses, helping us to help others raise the standards within the industry.
At The Landscape Academy we believe training is an investment in your future, whether as an individual or a business. As a business, you're only as good as your employees, so having an effective and knowledgeable team in place can be make or break. Training your team is more than just ticking a box, they need to know that you are invested in them as individuals and support their need for growth allowing them to flourish. When staff feel valued and motivated, and work in an environment that fosters training and development, you'll successfully build a reliable team of experts, which in turn leads to successful projects, and happy clients.
As a Lantra Awards Approved Training Centre, The Landscape Academy provide specific industry courses, such as hard & soft landscaping courses, machinery courses, health & safety courses, plus lots more, or can offer businesses and groups bespoke training courses specific to theirs and their team's needs. Lots of dedication, research and development is invested into all our courses, ensuring our industry specific programmes are delivered effectively to the Learner and are relevant to today's market, meeting the compliance and knowledge needed to ensure successful growth of someone's business or personal development.
When our Learners come to The Landscape Academy, we want them to feel comfortable. Many are hesitant from having had bad experiences at school, but we have worked hard to ensure we are providing courses that are informative and engaging. Our trainers are excellent at guiding Learners through the courses, and connect with them as individuals, drawing on their own personal experiences and issues they have come across.
We have had a great response from Learners who have trained with us, and the feedback we've received on our courses enables us to make sure we are getting the right training to those who want it. Whilst it's been a difficult year with the restrictions, we are so thankful to the landscape community for the help and support we have received and we are really looking forward to the next few years, with lots more in the pipeline!