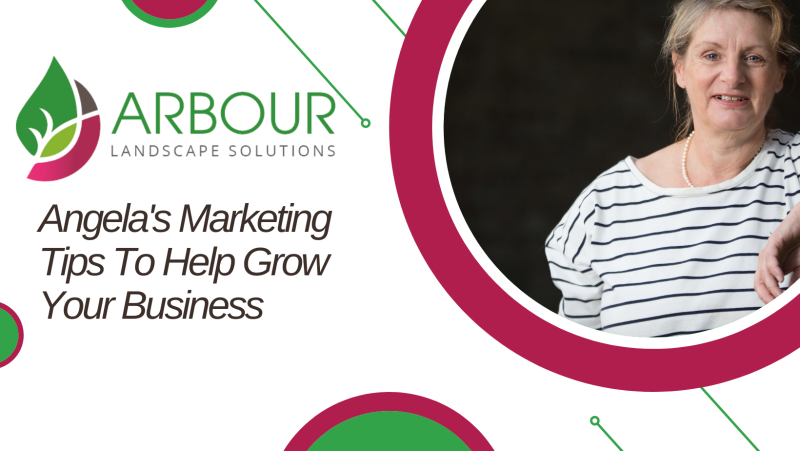 How to spread the word about your skills
11 Jan 2022 | BALI Member News
Accredited Supplier Arbour Landscape Solutions offer their top tips for Marketing your business effectively this year and beyond.
Whatever stage your business is at, and whatever plans you have for the future, you will need to address the issue of marketing - even if you're not comfortable with it. Marketing is key if you want to build a strong, sustainable business, but please don't overthink it - it's not as complicated as some agencies would have you think it is.
The UK landscaping industry as a whole is pretty weak at marketing. And that's probably one of the reasons that the British public tends to undervalue us and want to pay £10 an hour for our extensive skills sets - they see us as labourers. Grrrrrrr!
So how should you set about making a marketing plan for 2022 that will showcase your skills, attract the right clients and help make your business more profitable?

Making Marketing Easier

Decide What Sort Of Work You Would Like To Be Doing and focus your marketing around this. If you want to be building driveways - make your promotional materials about driveways. If you are offering design and build, showcase the work you've already done and tell people about your processes.

Set aside a Marketing Budget to cover costs of advertising, signwriting, corporate clothing, website hosting, search engine optimisation etc.

Get Testimonials from past clients and put them on Google My Business, Social Media, Your Website etc....these will help build trust in your organisation. Do it now - before you get too busy on the tools.

Organise your Pictures into folders so that you can easily find content for your social media posts and website updates. Block out a couple of hours a month for filing photos.
Update your Google My Business profile on a weekly basis - it won't take long to get into the habit of uploading your pictures.

Use Social Media to let people in your catchment area know that your business exists, you're good at what you do, and you can be contacted by phone or email. If you don't have time to manage your Facebook and Instagram accounts yourself, hire someone to help you. With social media, consistency is key.

Have a Website professionally built and put aside time each month to update it. Do some research, some local authorities may have grants available to help you build your business.
Adding regular Case Studies, images and articles to your website all helps with Search Engine Optimisation and will help make sure your website ranks well on Google, Bing, Yahoo etc. Again, hire someone to help you if you need to. It costs less that you might think and the return on investment will make it worth it.

Try to get your business mentioned on other, reputable websites too. Directories, Suppliers, Trade Bodies, local press. In an ideal world, those websites will link to yours to help give it authority. Web developers call these backlinks - you may have heard of them.
If suppliers give you an opportunity to showcase your work - jump at the chance. It's free publicity and the backlinks will help your Search Engine Optimisation.

Get your vans, trucks etc Signwritten.

Always carry some Business Cards, in case your client's neighbours decide they want you to do some work for them too.

Corporate Clothing for the whole team will make sure that your business is seen in every corner shop and takeaway they visit in the course of a day.

Finally - always do your best possible work, pay attention to detail and keep a tidy site. Little things like that will ensure you get plenty of Word Of Mouth Recommendation. Which is the best, and the cheapest form of marketing you can get.

How Arbour Landscape Solutions Can Help You To Reach More People With Your Marketing https://www.arbourlandscapesolutions.co.uk/
When Arbour Landscape Solutions was first conceived in Richard's home office, it was a much smaller business than it is now. It was fuelled by enthusiasm and a desire to provide the high level of service and reliability that landscapers and garden designers need in order to run their businesses well.
The business has grown mainly through word of mouth, with a little bit of paid advertising here and there. And the main channel for word of mouth has been social media.
Social media is surprisingly effective at spreading the world about your landscaping skills but you do have to stick at it, and you do need to be sociable. The platforms are sneaky. You can have thousands of followers for your profile, but if you are not interacting and engaging people, the platforms won't show your post to anyone. The more you interact with others, the more people will see your posts.
Arbour Landscape Solutions aim to help all of our customers to reach more people via social media by tagging them in posts, commenting on their posts and generally having an online conversation.
So Get In Touch Today - tell us about your Facebook Page/Instagram Account/Linkedin Profile and we'll mention you whenever we can.
Tag us in images of your work or in your posts or use the hashtag #landscapeindustryspecialists -we'll interact with the post to help it get more traction.
Email Or WhatsApp us with work in progress videos, pictures etc - we'll upload them and tag you in our posts
Talk To Anna about having your work featured in our Case Studies section - it'll help you with backlinks and we'll also post it to all of our social media platforms.
Need Help With Marketing?

We're not a marketing agency but we can offer lots of free advice and may also be able to put you in touch with people who CAN help you. Arbour Landscape Solutions is not just about landscaping materials - we're here to support you at every stage of your business journey.