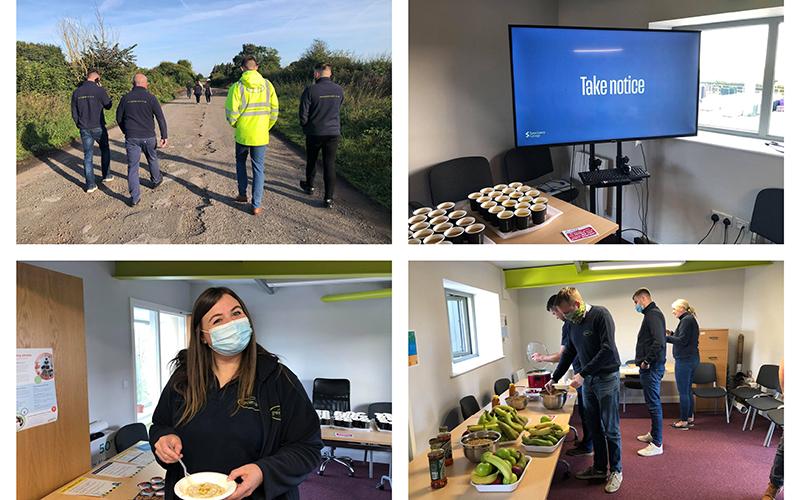 Green-tech supports World Mental Health Day
13 Oct 2021 | BALI Member News
The World Health Organisation recognises World Mental Health Day on 10th October every year. It seeks to provide an opportunity to raise awareness and talk about mental health.
Green-tech has long since been committed to breaking down the stigma surrounding mental health and provides its staff with the tools and opportunity to talk confidentially to one of several trained mental health first aiders.
In recognition of World Mental Health Day, the company provided the time and encouraging all staff to take a 20-minute Wellbeing Walk on Monday 11 October. They had several organised walks planned which enabled all colleagues to get away from their work area, to switch off and go for a relaxing walk.
After their walk, staff were treated to a healthy, energising breakfast which they could enjoy over one of the informative wellbeing presentation and information sessions which seeks to provide information about how people can improve their own wellbeing
Green-tech actively encourages people to talk about mental health. HR Administrator Charlotte Keithley commented:
It's an incredibly important subject and has far reaching effects so I'm delighted to be working for a company that isn't afraid to tackle this sensitive subject head on. We have four trained mental health first aiders onsite, and I feel we are gradually breaking down barriers surrounding mental health and encouraging our staff to talk. Today is all about finding ways and providing the time to support our staff with their positive mental wellbeing and health.
Green-tech is now part of the Origin Enterprises group, a HR spokesperson for the group commented:
One of our key values is people and this means the Health, Safety and Wellbeing of our employees is a primary responsibility and integral part of all our business decisions and work practices. We set high standards to ensure we effectively manage risk and enhance our health, safety and wellbeing culture, getting everyone home safe and well, every day. Our HR Teams across the Group are trained in Mental Health First Aid, and our People Managers are provided with in-house 'Mental Wellbeing Training'. We aim to ensure that employees have access to Employee Assistance Programmes and external wellbeing resources and materials. We ensure that the safety and wellbeing of our people is an imperative and a shared, uncompromised principle.