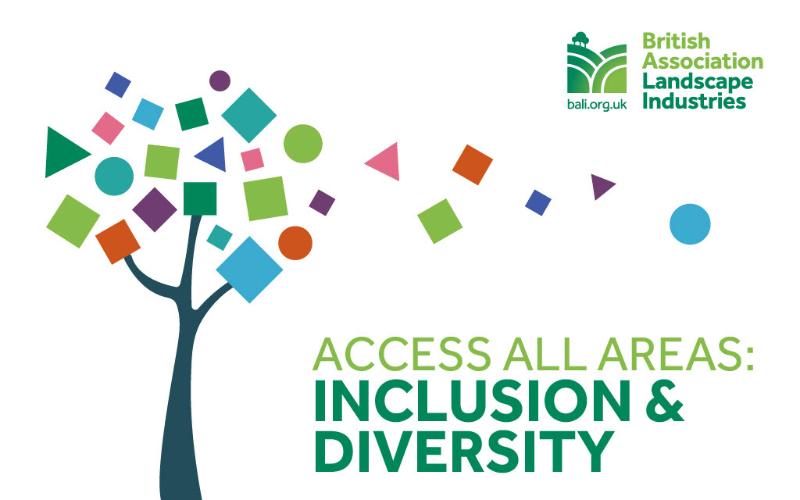 Association to host Landscaping Access All Areas event: Inclusion & Diversity
21 Oct 2021 | BALI Member News
The British Association of Landscape Industries is pleased to announce that it will be hosting an Inclusion and Diversity Panel discussion, 'Landscaping – Access All Areas' on 2 December 2021. Board directors Adrian Wickham and Paul Downer will host and facilitate discussion to explore the barriers that people within the landscaping industry, and those looking to enter it, face in relation to accessibility, attitudes, facilities and not being considered a suitable fit for a role.
In the recent 'Growing a Green Economy' report, researched and published by Oxford Economics and Foresight Factory, it was projected that the industry could be worth over £41 billion by 2030, an increase from £28.8 billion in 2019. The British public's embrace of outdoor green space during the pandemic, as well as the industry's role in combating climate change, are contributory factors to the growth, yet when it comes to our workforce there continues to be labour shortages and the industry is not visibly represented by our increasingly diverse population.
Hosts Adrian Wickham and Paul Downer will pose questions to the stellar line-up of panellists:
Manoj Malde: Award-winning Garden Designer, TV Presenter, Public Speaker, Blogger and RHS Judge
Mark Lane: BBC Gardening Presenter and writer
Flo Headlam: Designer and Gardening Presenter
Ashley Edwards: Head Gardener, Horatio's Garden
Dr Ekua McMorris: Artist and Curator for Sowing Roots
Helen Waddington: Head of Casework, Perennial
Together they will openly explore and discuss how to ensure the industry becomes more inclusive during the coming years as horticulture and landscaping delivers that predicted growth.
Guest panellist Manoj Malde commented:
"I am keen to help the energy, passion and creativity within the younger generations to be driven in a positive direction. This event is an opportunity for open discussion and a chance to raise awareness to an industry where everyone is welcome and where you can be a person that makes a difference for future generations."
The Association is committed to driving positive change and to actively facilitate and encourage discussion on how businesses within the industry are currently run and where opportunities exist to improve.
The 90-minute panel discussion will be live-streamed and recorded in front of a small audience at The Auditorium, Royal Society of Arts (RSA), London on 2 December 2021. The live stream will be available to watch across Association social media channels and the recorded session will be added to bali.org.uk post-event.
We extend our thanks to Accredited Contractor member Glendale Managed Services for their generous support of this event.