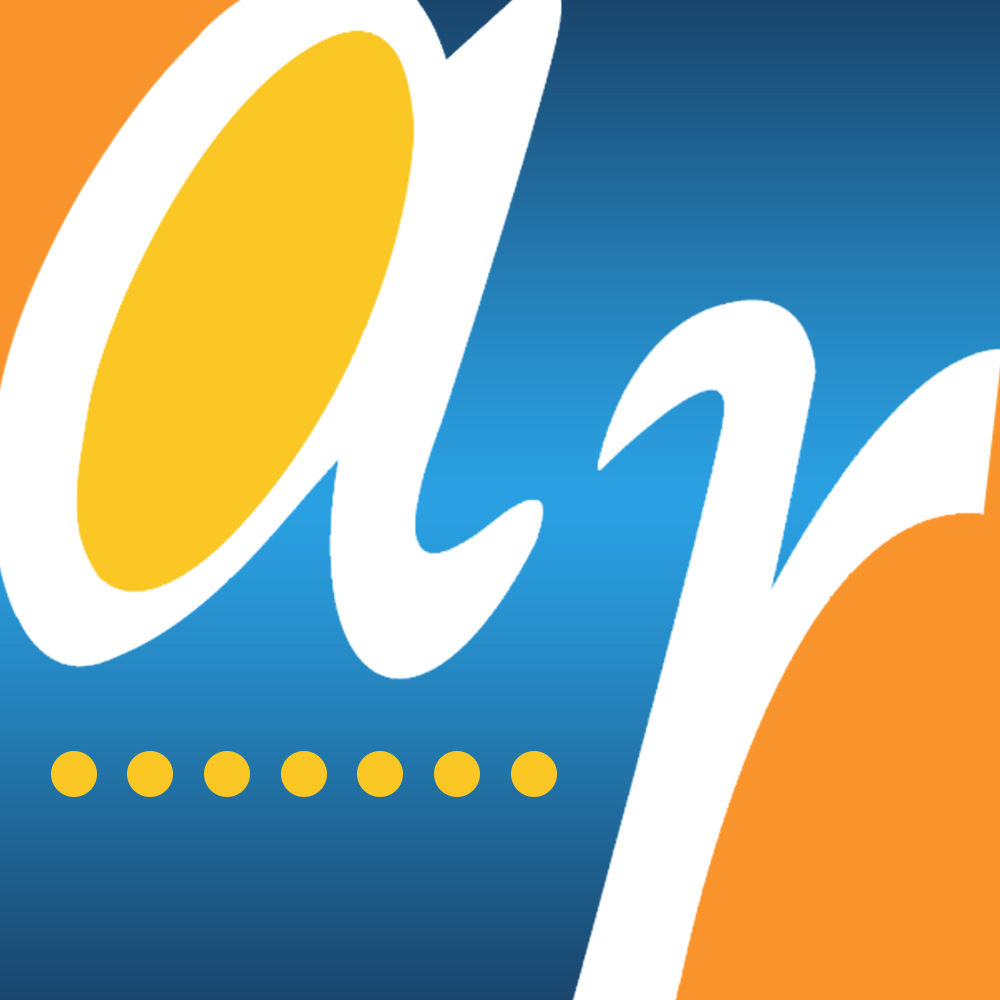 Accredited Supplier
Nottinghamshire, NG17 2PD phil.ball@alpharail.co.uk 01623 750214 www.alpharail.co.uk




Search again
About Alpha Rail Ltd
Alpha Rail manufacture and install a range of galvanized (and powder coated) metal railings, gates and pedestrian guardrail, juliette balconies, estate fencing. Working throughout the UK our team of specialists manufacture all metalwork in our own workshops which means we can also supply bespoke architectural metalwork and other finishing touches such as bollards, barrier gates and decorative archways. With over thirty years of expertise we are happy to work for directly for public sector organisations , architects etc.
Areas covered
South Thames, North Thames, South West, East Anglia, Midlands, Wales, North West, Yorkshire North East, Scotland, National (Eng/Wales/Scot/NI), Northern Ireland, UK Islands
Types of work undertaken
Fencing Materials (unlimited)
Hard Landscaping Materials (unlimited)
Commercial (unlimited)
Projects
Cliffe Castle Park
Steel balustrade manufactured and installed by Alpha Rail has formed part of a £4m restoration project at Grade II listed Cliffe Castle Park in Keighley, North Yorkshire. Established in 1892, Cliffe Castle Park and Museum was originally the spectacular home of a local Victorian millionaire and textile manufacturer who had links with the family of US President Roosevelt. The attraction has been a favourite location for local residents for a number of years and in an effort to improve the visitor experience Bradford Council applied for Lottery Funding to redevelop many of the iconic sites within the park. Heritage Lottery Funding was initially confirmed in 2013 through the "Parks for the people programme". £3.5m was allocated to the project and the remaining £500k had to be raised by Bradford Council. The funding has allowed for the restoration many of the original buildings, features and statues to be restored back to their original Victorian splendor. The £4 million restoration of the park begin in June 2016, and was officially opened to the public on 10th December 2017. Alpha Rail was contracted to manufacture, supply and install 95m of various height flat top balustrade and handrails. Over half of the bespoke balustrade supplied was used to help provide a DDA compliant access ramp leading to the newly refurbished glasshouse. In order to allow for the gradual rise of the gradient up to the access ramp, the metal railings were raked along the pathway.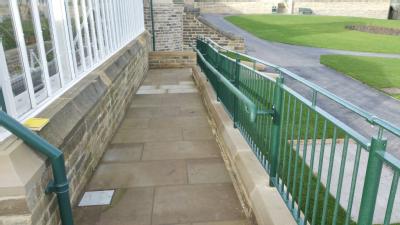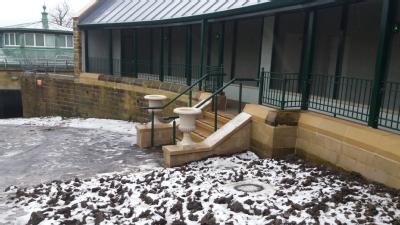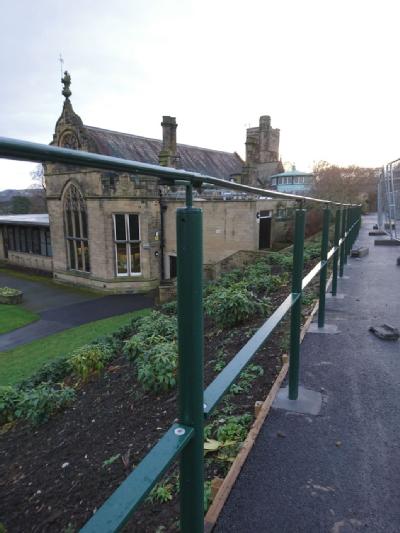 The Glebe, Bowness in Windermere
The Glebe is a popular recreational area, located in the Lake District National Park, South West of Bowness-on-Windermere town centre. Although a popular tourist attraction, research conducted by the Lake District National Park found that areas of The Glebe has significantly deteriorated. The area was identified as a strategic regeneration location in need of investment to transform it into a world class visitor destination. The focus of the Windermere Waterfront Programme is to maintain tourist numbers in Bowness Bay and The Glebe and ensure its continued economic contribution to the area. A dominant feature of the area, which detracts from an overall visitor experience is moving and parked cars. The improvement scheme will help to make the area more user friendly for cyclists and pedestrians. To help with this initiative, Alpha Rail was contracted by the Casey Group to manufacture and install bespoke metal railings and gates. In total, 243 metres of 1200mm high bow top metal railings and 143m of varying height vertical bar railings were installed to a number of locations within The Glebe in an effort to help pedestrianize the area. In addition to this, Alpha Rail also installed six 1200mm high bow top gates, four of which were single leaf, with the remaining two manufactured in a double leaf style. All metalwork manufactured by Alpha Rail for The Glebe regeneration project was supplied galvanized and polyester powder coated Jet Black RAL 9005.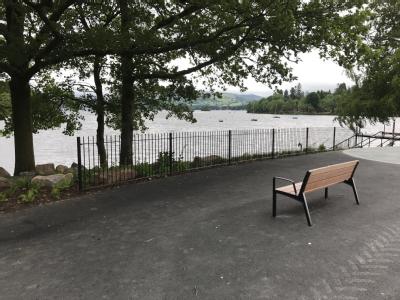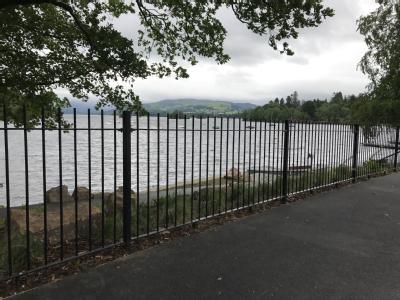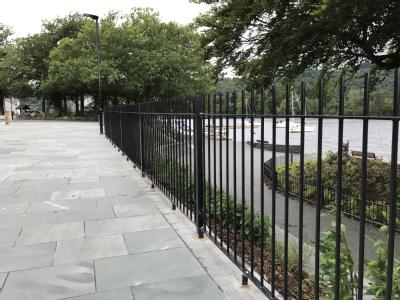 The Shrubbery, Southend on Sea
Alpha Rail has recently completed the installation of decorative metal railings on a Southend Borough Council funded parks and restoration project. Located close to the iconic Southend on Sea pier, the park known as The Shrubbery runs directly adjacent to the seafront and is a popular attraction amongst locals due to the quirky miniature model castles it encompasses. Due to varying gradients of the landscape, it was essential that Alpha Rail conducted a thorough site survey to take precise measurements of the proposed fence line. Further to the site survey, Alpha Rail technicians provided a full set of client approval drawings which, following approval, Alpha Rail manufactured, supplied and installed truly bespoke decorative metal railings. In total 30 metres of 1100mm high decorative metal railings were installed to the main frontages of the park. In addition to this, a further 44 metres of 1100mm high balltop metal railings, and 2 entrance columns were installed internally to provide perimeter protection for the remaining areas of the park. A single leaf gate was also added to provide staff with entry access to the park. All metalwork provided was supplied galvanized and polyester powder coated RAL 7035 Grey to provide protection from rust and adverse weather conditions including protection from the salty atmosphere, prevalent in a seafront location.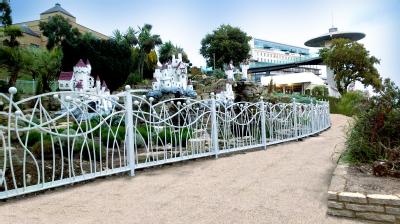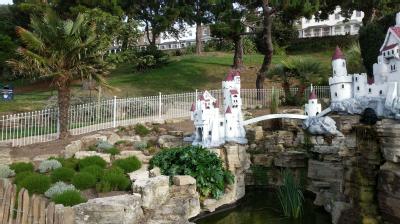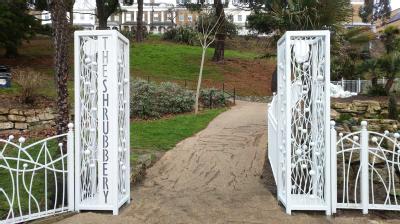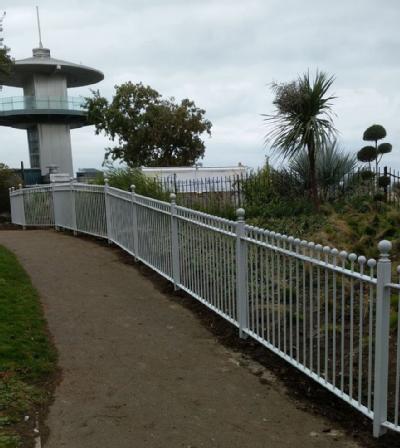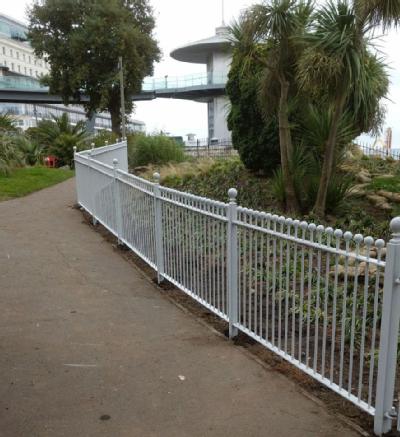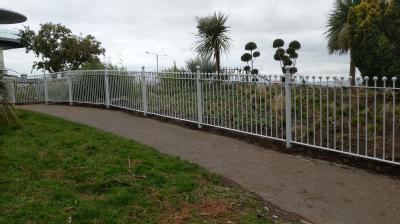 Burgess Park BMX wins BALI award
Burgess Park's BMX track, a project on which Alpha Rail supplied metal railings and gates, has been awarded a prestigious BALI National Landscape Award. The BALI awards are held annually and recognise exceptional excellence in landscape design, construction and maintenance by members of the British Association of Landscape Industries (BALI). Burgess Park's BMX track, constructed by Ground Control Ltd, won two awards for a Restoration and Regeneration Scheme and a Community and Schools Development scheme. Forming part of the £26 million master-plan for Burgess Park, the dilapidated adventure playground and kart track site was identified as the location for the creation of a new national standard BMX track with associated hard and soft landscaping. The site had been disused for many years and was blighted with anti-social behaviour in one of London's most deprived areas. The completed track is now one of the largest BMX tracks in the UK. It features a 350 metre track with three 3 metre high berms and its 70 metre pro straight is one of the most challenging in the country. Alpha Rail were appointed by Ground Control to supply new 1400mm high blunt top vertical bar metal railings supplied in a galvanized finish. Sales Director Phil Ball said, "Whilst we were only responsible for providing metal railings, the Burgess Park BMX track project is yet another BALI award winning project on which we have been involved. "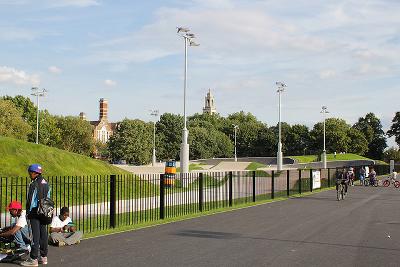 Imperial Wharf Parkland
Located in one of the most sought after locations on the north bank of the River Thames, adjacent to Chelsea Harbour, Imperial Wharf is a development owned by St George PLC, a company which creates vibrant new residential and mixed-use developments across London. The Imperial Wharf Parkland and Boulevard project was commissioned to provide landscaped parkland and paved boulevard pathways for these exclusive properties located alongside the River Thames. The project won a 2014 British Association of Landscape Industries (BALI) award in the Hard Landscaping Construction (Non-domestic) category for projects valued over £1.5m. Alpha Rail designed manufactured and installed all the metal park railings, which consisted of approximately 350 linear metres of galvanized and powder coated 1.5 high vertical bar railings and various gates to the perimeter of the Parkland. The finished effect of the railings has provided safe walking areas along the riverside pathways and an attractive boundary to gardens for residents to enjoy. "We received lots of valuable advice regarding the design and types of metal railings to consider installing. Communication from Alpha Rail was excellent throughout the project. Some issues were encountered during installation but the way Alpha Rail responded ensured everything was resolved satisfactorily in the end." Dave Twist, Director, Elite Landscapes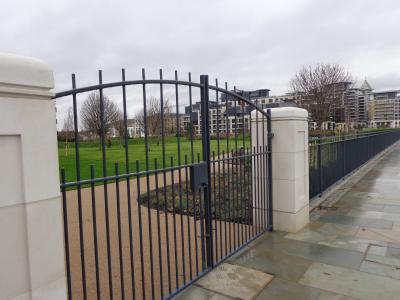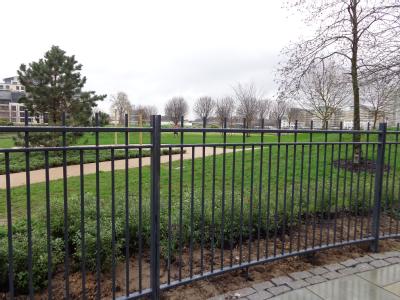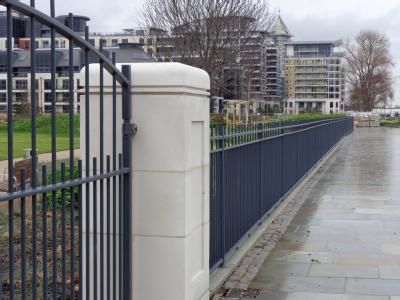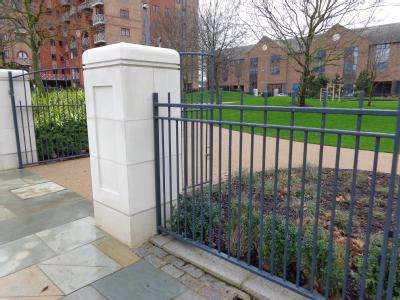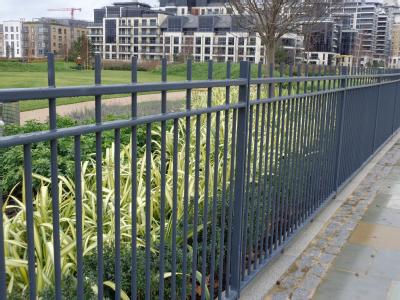 St. Giles in the Fields Church
Ground Control was appointed by the London Borough of Camden to restore and regenerate the grounds of this historic site. Works included the replacement and restoration of historic paving, railings, gates and structures throughout the churchyard. Alpha Rail was appointed to manufacture and supply 8 metres of 1500 high decorative vertical bar railings and matching finials for the gable end of the ball court, and two double leaf metal gates. the BALI award judges said, "The grounds of this church were completely overgrown and a magnet for anti-social behaviour. Funding secured by Camden Borough Council has transformed the grounds into a welcoming space that is widely used by local residents, workers and visitors for relaxation." Andy Harris, Construction Manager for Ground Control, said: "We are absolutely thrilled to win this prestigious award, and would like to thank Alpha Rail and everyone else involved for their hard work. We had many challenges along the way, including restoring the entire external area and delivering materials on to the site in the most efficient manner possible, whilst keeping the church and vestry fully operational and accessible to worshippers and visitors." - Andy Harris, Construction Manager for Ground Control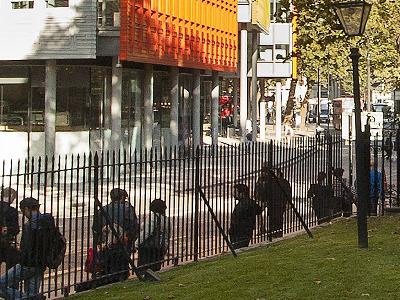 Herschel Park Metal Railings
This hidden park was first created within the Upton Park estate in Slough in 1842. It was purchased in 1949 by Slough Borough Council and renamed Herschel Park. In 2010 it benefited from a 2.7m grant from the Heritage Lottery Fund which was used to restore the park to its former Victorian glory. The works were contracted to the Landscape Group and architects LDA Design Consulting LLP. The full restoration included refurbishment of the lake and construction of new stone bridges, extensive soft landscaping, installation of irrigation systems, lighting and footpaths. The Victorian coach house was also transformed into a Visitor centre. The project subsequently won a British Association of Landscape Industries (BALI) award in 2011 in the Restoration and Regeneration Scheme category. To bring the feel of this historic park back to its historic state, Alpha Rail was appointed to install 600m of 1200mm high estate railing to the boundaries of the park. We also supplied 920m high interlaced bow topped railing, metal guards to protect trees, and metal gates and estate railings at entrances. We also manufactured bespoke balustrades for the bridges which were manufactured from 900mm high panels featuring woven metal lattice work. The horizontal bars were then finished with a wooden plinth handrail and a further flat rail installed on the top with wooden inset rail.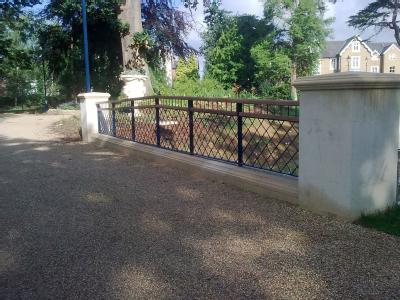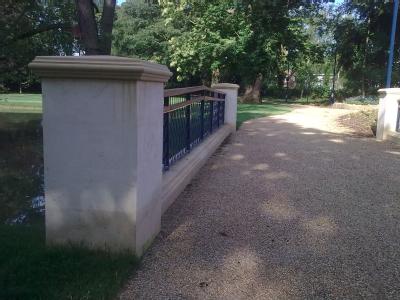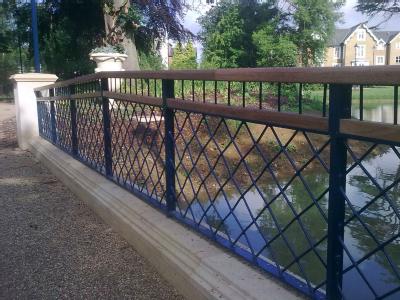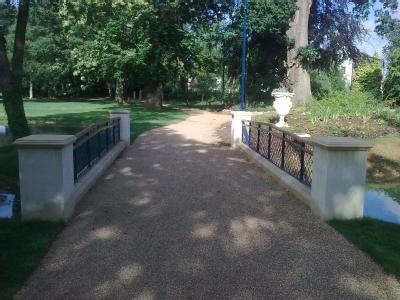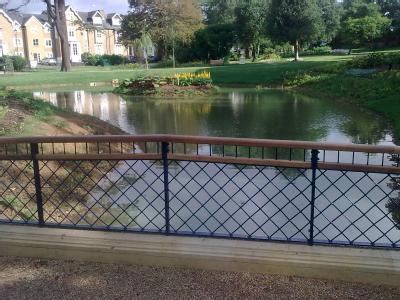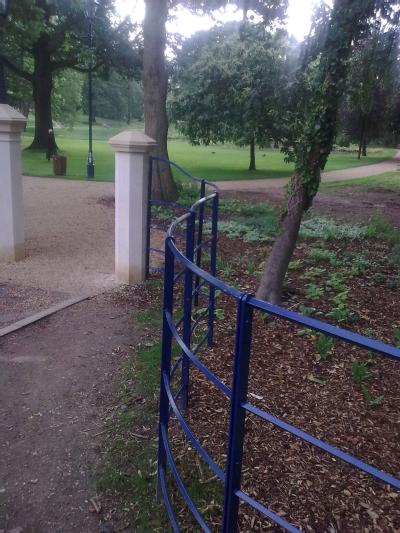 Jubilee Gardens, Southwark
Alpha Rail is delighted to announce that the Jubilee Gardens Project was winner of the hard landscaping award for projects values over £1.5m. The £3.2m Jubilee Gardens project was a scheme to transform a riverside park in time for the Queens Diamond Jubilee celebrations. It is a 1.6 hectare site which was the centre of the Festival of Britain in 1951 with its Dome of Discovery, and was laid out as a garden in 1977 to celebrate the Queens Silver Jubilee. Alpha Rail were appointed by Frosts Landscape Construction, to supply railing and gates for the children's play area.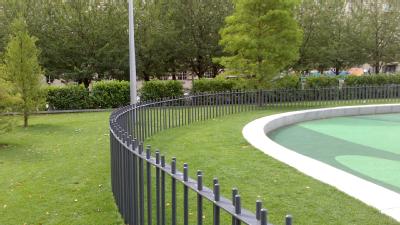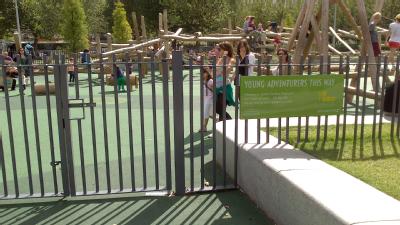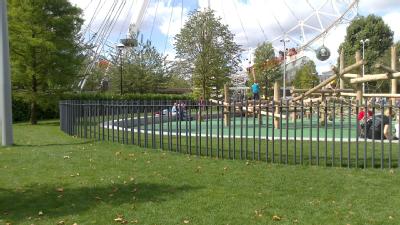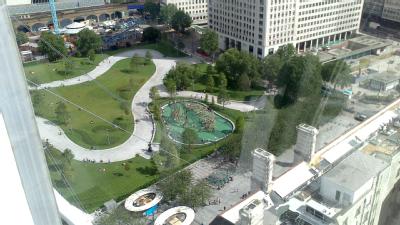 Broadley Street Gardens
Broadley Street Gardens are located in London, just behind the busy Edgeware Road. This area was formally housing dating back from 1974 and is now a densely populated inner city area with a much needed public open space. In 2010 a restoration project was completed to restore the park and in 2011 the project won a BALI award in the restoration and regeneration scheme category. Alpha Rail supplied 100m of 'Westminster' style railings.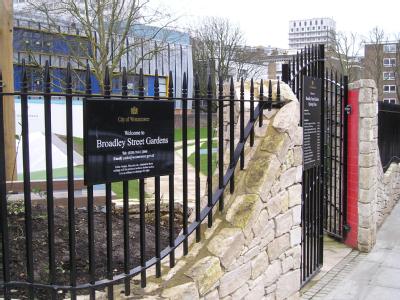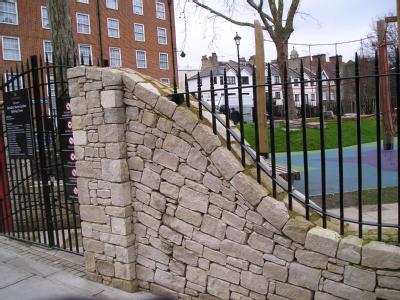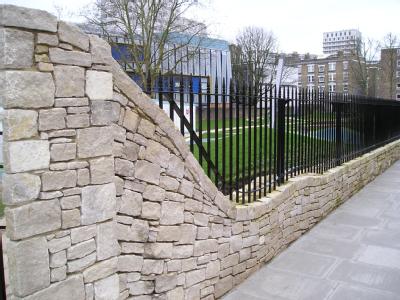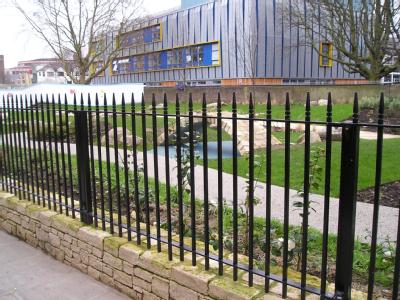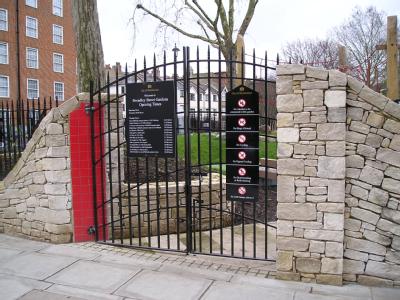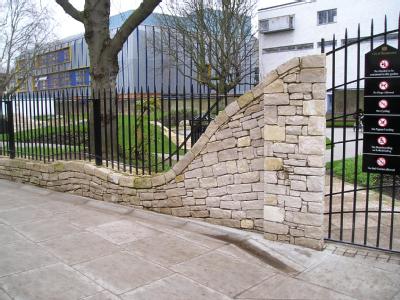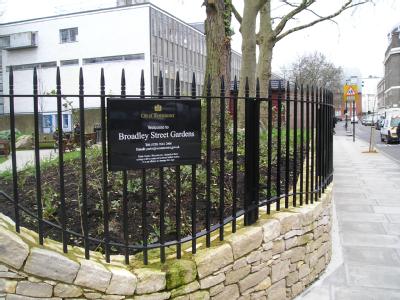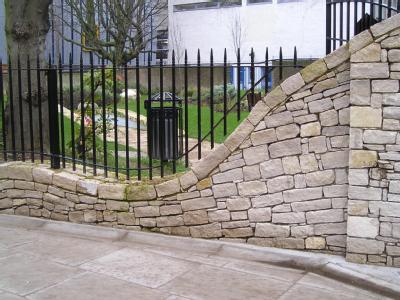 Brownfields Housing Estate, London
The project involved the rejuvenation of the densely populated Brownfields Estate in London to create a safer and nicer environment for the residents. Regeneration work consisted of new frontages to houses by building brick walls and railings and gates with play areas etc. Alpha Rail helped to develop the designs and offer advice on the type of railings required and which would be best suited to the environment. Alpha Rail supplied over 1km of galvanised and powder coated in anthracite grey flat infill bar railings, which a majority were wall mounted. This scheme has also won a BALI award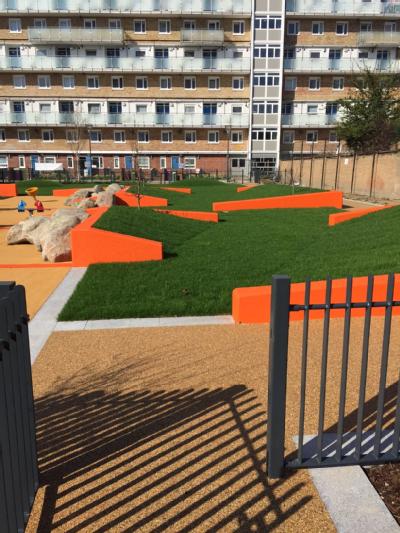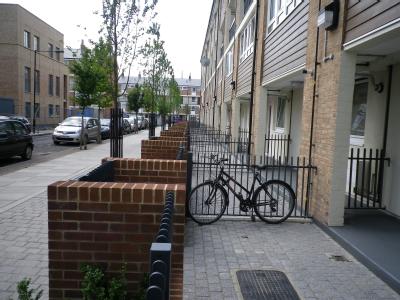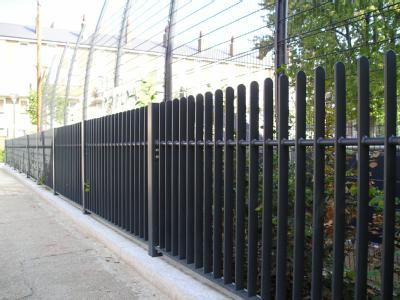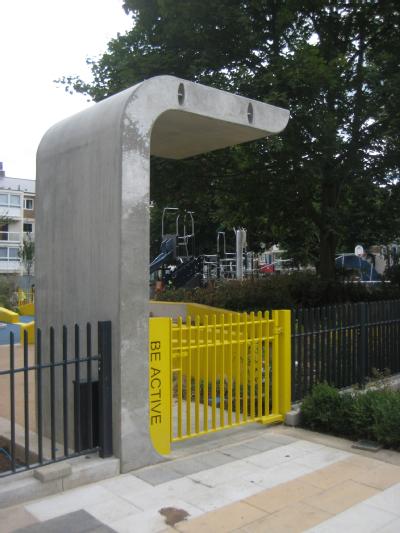 Goodmans Field, London
Alpha Rail installed metal railings at Goodman's Fields, East London. We are proud to have played our part in this stunning development of a truly unique mixed use 7 acre development in the heart of the City of London. The external development consists of stunning landscaping including a new public park and plaza. Alpha Rail manufactured and installed over 100 linear metres of black powder coated vertical bar metal railings and two bespoke double leaf gates complete with decorative metal arch feature panel above. The wall mounted railing posts featured "pineapple" style finials. Another BALI award scheme.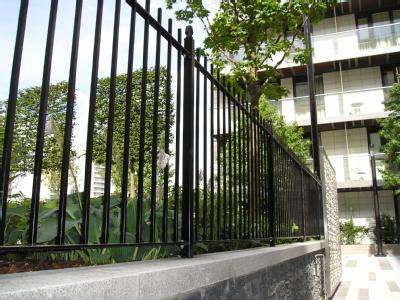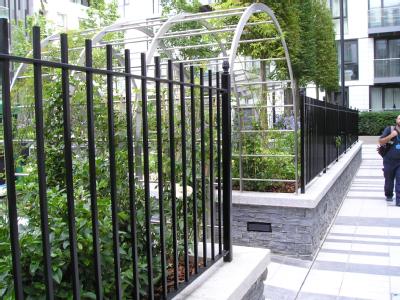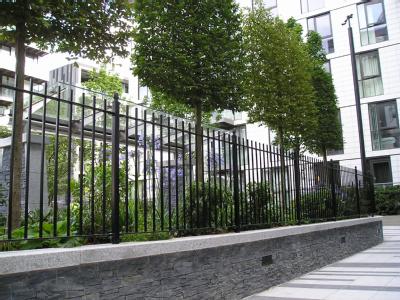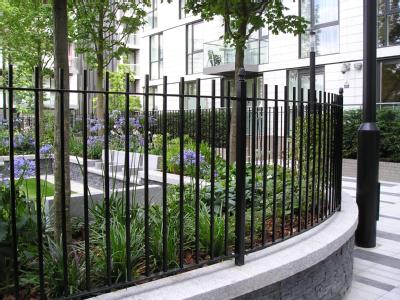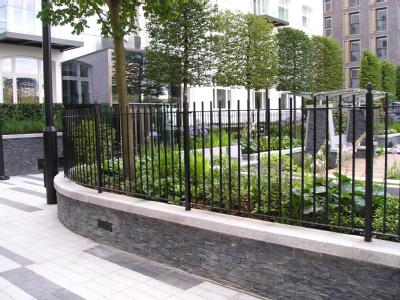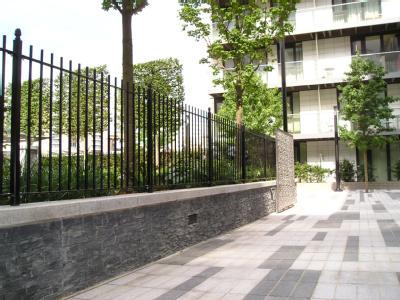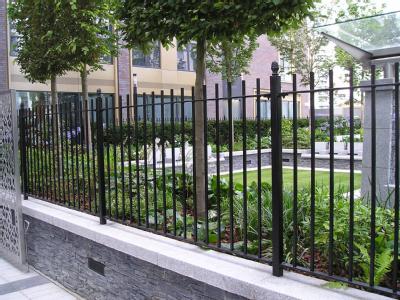 Cathedral Gardens, Leicester
Richard III and the City of Leicester have been all over the national news in 2014 after the discovery of the King's remains under a Leicester car park in 2013. Alpha Rail was therefore delighted when asked by Casey Limited to manufacture the metal railings in Leicester for a scheme they had been contracted to develop in the grounds of Leicester Cathedral. The Cathedral Gardens project on Peacock Lane, is a £2m scheme to provide a visitor friendly pedestrianized public realm area close to the place where the remains of Richard III were found. Alpha Rail has manufactured and installed 16 linear metres of Churchill metal railings and two single leaf metal gates in front of terraced houses on St Martins which are opposite Richard III's statue. The statue was moved from Castle Gardens to a location outside the King Richard III Visitor Centre opposite the Cathedral. another BALI award scheme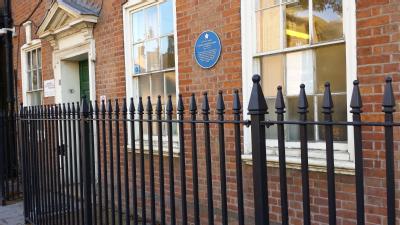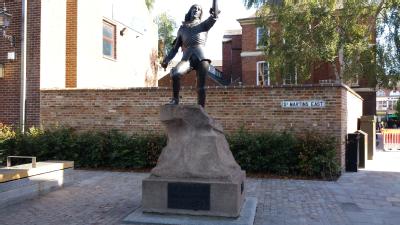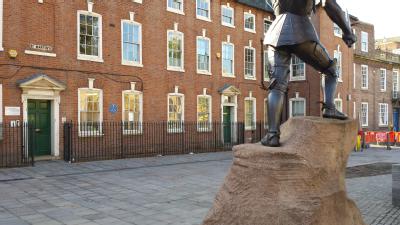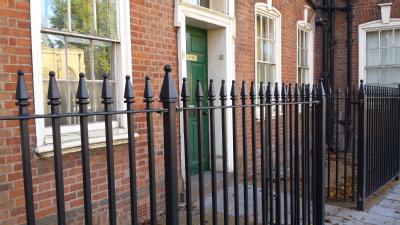 Beacon Park
Dating back to the late 1800s, Beacon Park is set in more than 70 acres of beautiful formal gardens and open space. The park has undergone extensive renovation thanks to a £3.9m grant from the Heritage Lottery Fund and Big Lottery Fund. Beacon Park areas include the Museum Gardens, the Recreation Grounds, a play area and a community gardening facility. It also features an area dedicated to Martyrs' Plaque, which is the remains of a carving of the city's common seal that was originally set in the facade of the Guildhall. Following a Victorian rebuild of the Guildhall it was moved to a rockery in Beacon Park and it has now been restored and a bronze commemorative plaque mounted on decorative upstand to mark its location and explain its history. Alpha Rail Solution Alpha Rail has supplied the metal commemorative "Martyrs' Plaque" which was mounted on a decorative upstand with inscription to explain the history of the plaque. We also supplied over 600 metres of new railings within Beacon Park as part of a contract valued at £80,000. Client Comment "We needed a specialist who we could trust to supply the bespoke metalwork for a suitable plaque to commemorate our city and metal railings for our beautiful park. We also knew it would later be visited by a member of the royal family. We are pleased with the effect the railings and the metalwork for the commemorative plaque have added to the visual appeal of the park and gardens." Maxine Turley, Lichfield District Council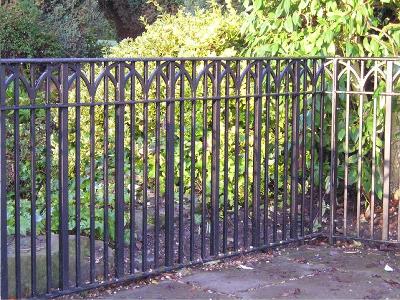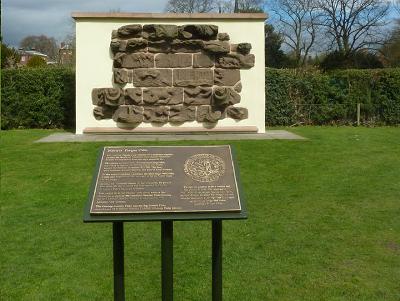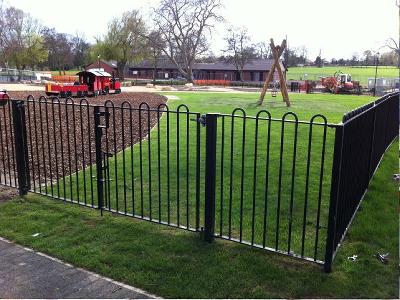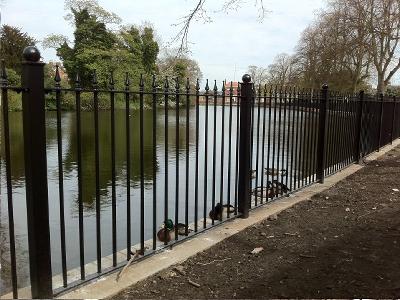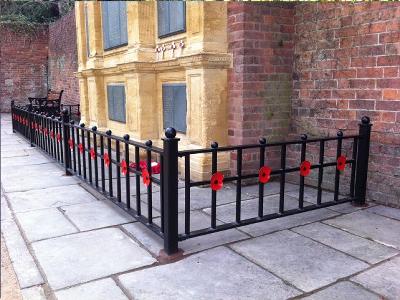 Shirley Park
HAND DRAWINGS FOR DECORATIVE ARCHWAY BECOME REALITY When rough sketches for a decorative archway featuring a beautiful array of floral work arrived in the inbox of our 3D graphic designer there was a definite air of excitement that this was a project that would allow Alpha Rail to really excel and display their ability to turn visions into reality. The hand drawings were for a feature archway and metal railings for the Hurdis Road and High Street main entrances of Shirley Park. Originally farmland, the landscaping of Shirley Park has delivered wonderful ornamental gardens and walkways which take pleasant journeys through the Park. A period of expert design and bespoke metalwork manufacturing followed, and the end result is that Alpha Rail has installed two 3m high decorative archways with matching pillars and bespoke railings either side. The metal archways are supported by steel legs which extend 800mm into a concrete foundation. The decorative features on the decorative archway and railings are particularly stunning as they show bright orange flower heads with hand painted white stamens. Only by looking at them can the true complexity of the bespoke metalwork fabrication process really be appreciated. Made using laser cut profile lettering, the Shirley Park name is centre of attraction, and the arch joint location arch has been tastefully hidden using bespoke metalwork floral designs. The pillars of each archway feature weaves of flower stems, culminating in a colourful flower bud. The railings extend out 12m either side of each archway and comprise a complicated network of petal and flower buds which have also been powder coated orange RAL 2008 and white RAL 9010. Shirley Park officially re-opened on 14 June 2014, following over 600,000 worth of improvements, funded by Solihull Council and Shirley Advance.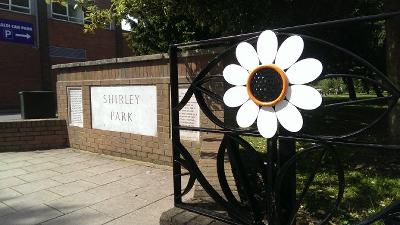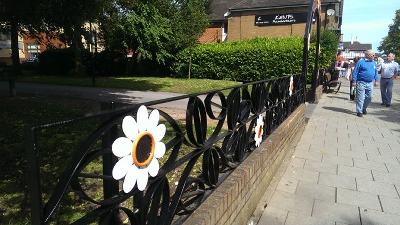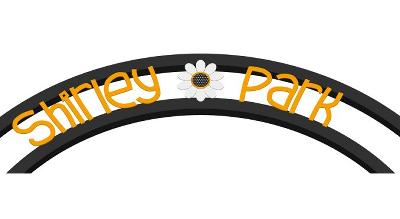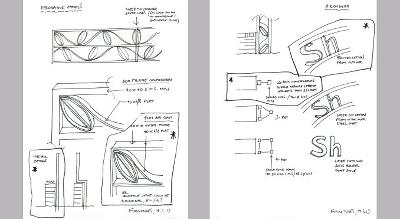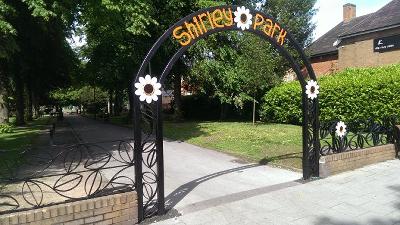 Friary Estate
Metal railings in London for housing estate Project Overview The Friary Estate is a residential community in East Peckham, London comprising several complexes of council owned flats. Southwark Council were installing new metal railings around the perimeter of the site. A number of the existing railing panels had been relocated to the Friary Estate from another Council project where they were no longer needed. There were not enough to complete the perimeter so a key project aim was to install additional matching panels to complete the estate perimeter in the same style. In addition, several panels were stolen in 2010 and needed to be replaced. Alpha Rail Solution Alpha Rail were responsible for the fabrication, supply and installation of new matching cast aluminium panels and posts. This involved removing an existing panel which was used as a template for pattern work at a specialist foundry. This enabled an exact match to the very detailed panel design. This also included manufacturing a new double gate in the same style. Installing metal railings delivered many benefits and improved the visual appearance of area for the community. Having an estate boundary also improved security and reduced the amount of casual litter that had a tendency to be deposited on the grassed area behind the boundary wall from an adjoining street. "Alpha Rail bring experience and reliability to projects such as this one, where high quality matching panels are required. The existing panels are a complex ornate design and required a high standard of consistent workmanship and attention to detail. Alpha Rail has a long established reputation and can be trusted to deliver high quality projects. I am very happy with their works to date." Project Manager, Southwark Council