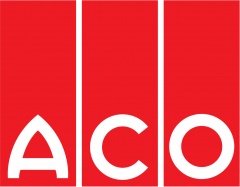 About ACO Technologies plc
ACO Technologies plc is the UK division of the ACO Group. Established in 1984, ACO Technologies plc is based in Shefford, Bedfordshire and uses a diverse range of materials including polymer concrete, iron, stainless steel and plastic to develop innovative products that are supported by a comprehensive design and after sales service. Manufacturers of products, aimed at surface water management. These include linear drainage, drainage kerb, Stormbrixx soakaway system, vortex flow control, ground stabilisation tiles, Rainwater Harvesting, and oil separation systems. ACO has a broad range of surface water management systems designed to provide the optimum solution in stormwater control and sustainable drainage systems. These ranges are designed to suit many applications including internal and building drainage, parking areas, retail and commercial developments, highways, residential developments and airports and docks. The portfolio includes oil separators, stormwater attenuation and infiltration systems, traditional channel and grate assemblies, monocast and high capacity drainage systems as well as solutions for environmentally sensitive projects.
Areas covered
East Anglia, International, Midlands, National (Eng/Wales/Scot/NI), North Thames, North West, Northern Ireland, Scotland, South Thames, South West, UK Islands, Wales, Yorkshire North East
Types of work undertaken
Fencing Materials (unlimited)
Lighting (unlimited)
Design Facility (unlimited)
Hard Landscaping Materials (unlimited)
Commercial (unlimited)
Ground Reinforcement Systems (unlimited)
Technical Advisory And Recruitment (unlimited)
Water Feature and Irrigation Equipment (unlimited)
Domestic (unlimited)
Projects
ACO HexDrain Brickslot helps provide a step-free level threshold
GOLD STAR FOR SILVER HOW
Developing a house worthy of the prestigious RIBA House of the Year shortlist is no mean feat. It requires every intricate detail to be well thought through, from the choice of tile to the drainage infrastructure. When a team of award-winning architects required a discrete drainage solution that would support the bold, seamless transition from the inside of a home to the outside, it turned to ACO Water Management for support.
Please visit our website to read more