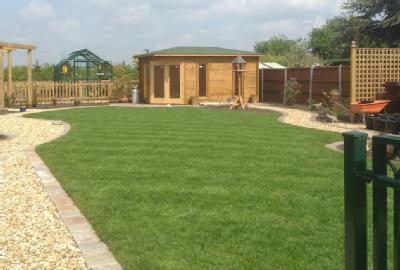 Project title:
Carlton
Project client:
Sandra Critchlow - taken from Yell.com review, Newark, Nottinghamshire
Quote:
"Some things are worth waiting for. It is almost one year since I first contacted Acer Landscapes. As they were busy, always a good sign, I knew that I would have to wait my turn. It was more than worth it. Acer turned my blot on the landscape into a beautiful space, which I am thrilled with. Old hedge out, new one in. Ground levelled, new fencing, pergola, paths and patios for greenhouse and summerhouse have been created. The garden has been split into three spaces, orchard complete with new fruit trees and wildflower meadow, formal veg garden with raised beds, and a lawned area with borders. I chose to plant the borders up myself, but my husband and I would not have been able to achieve the landscaping that has been created here for us. The staff were a pleasure, reliable and more than willing to adjust the odd thing if needed. We just love it. I would highly recommend Acer Landscapes to anyone. "
Work undertaken by Acer Landscapes Design & Construction Ltd:
New lawn and gravel path with set/block edge
New patio and summer house base
Boundary fence
Vegetable garden
Raised beds, paved green house base and picket fences and gates
Pergola and garden trellis screen
Four new trees in garden
Orchard planting 5 new fruit trees native hedge row and new wildflower meadow.


Reason for choosing Acer Landscapes Design & Construction Ltd:
Unknown