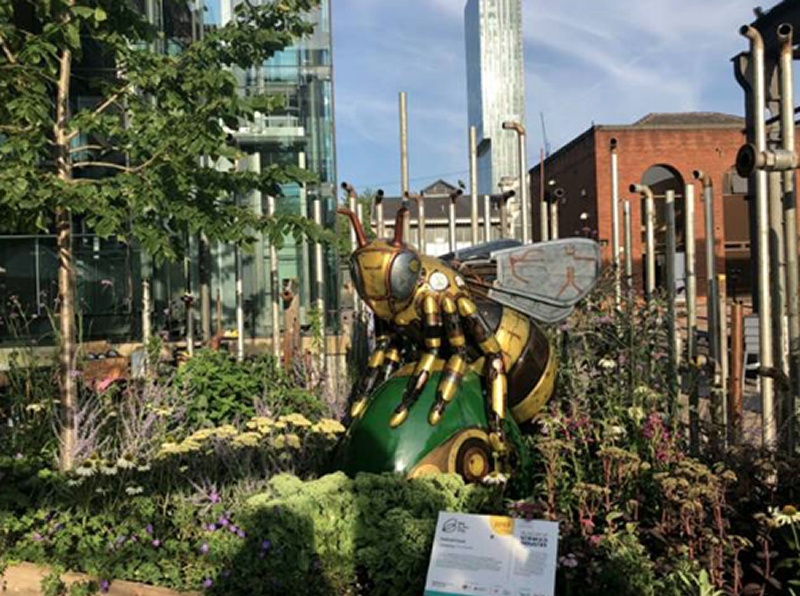 To Bee or Not to Bee for BALI Registered Affiliate Rolawn
29 Aug 2018 | BALI Member News
There really is no question about it, bees are one of the most vital components of the eco-system and in the past five years, there has been a shocking decline in their population of over one third. There are many reasons for the reduction in bee numbers and together they make for worrying reading.
Regardless of whether climate change is the actual cause, an increase in temperature is leading to longer periods of drought in the spring and summer. This, in turn, affects plants which produce fewer flowers. The fewer flowers there is the less food there is for bees.
Man has played a part in the destruction of the eco-system too by using pesticides and chemicals that have an adverse effect on insects, and the bee is not immune to the harm caused by neonicotinoids and other pesticides designed (ironically) to encourage greater crop production. The banning of neonicotinoids since 2013 on flowering plants has been a step in the right direction. Urbanisation of the environment and city creep have also pushed the bee population back as green spaces, wildflowers and cultivated gardens have made way to housing developments with decreasing areas set aside for nature.
Against a tide of challenges, the humble bumble bee is fighting back with a little help from conservationists, bee lovers and gardeners keen to see the bee back in our gardens and once again adding to the eco-system and food chain. A new project, 'Bee in the City' in Manchester has commissioned RHS Gold award-winning garden designer, Alexandra Froggatt to take part in a celebration of our favourite insect and a symbol of Manchester's industrial revolution, and more recently, a symbol that defined the spirit of the community following the tragic bombing of the Manchester Arena last May. Alexandra is designing a summer bee garden commissioned by the Museum of Science and Industry that will attract bees. Her design includes an insect hotel bench and a range of flowers designed to attract the industrious insect.
Working with Britain's leading supplier of high quality sustainable soft landscaping products, York-based BALI Registered Affiliate Rolawn provided beds and borders topsoil and soil improver, which Alex used as a mulch in the summer bee garden. "Garden designers and gardeners everywhere need products they know will provide the best environment, especially with events like this, where the plants and flowers need to thrive quickly and look established. The garden needed to flourish quickly and all importantly, attract bees. The quality and provenance of our topsoil and mulches mean we are confident to supply leading garden designers and garden shows with products that they can trust." Rolawn Sales and Marketing Director, Jonathan Hill said.
Alexandra Froggatt said "The Summer bee garden is a quirky and fun outdoor space centred around a giant bee sculpture (by artist Tim Sutcliffe) which showcases simple but effective ideas the public can use to attract bees. Nectar-rich plants such as Echinacea purpurea 'white swan', Sedum 'matrona' and Penstemon 'purple passion' are mingled together to create both a beautiful display and provide food for the bees all summer and well into the autumn.
"Bees are essential in pollinating the crops we eat so a range of edibles including herbs, fruit and salads are grown to highlight this crucial connection.
"Many people have limited outdoor space or a small budget so the garden uses recycled materials in a creative way, such as turning reclaimed pallets into a living wall abundant with herbs and strawberries, proving that you don't always need a big budget to have big ideas."