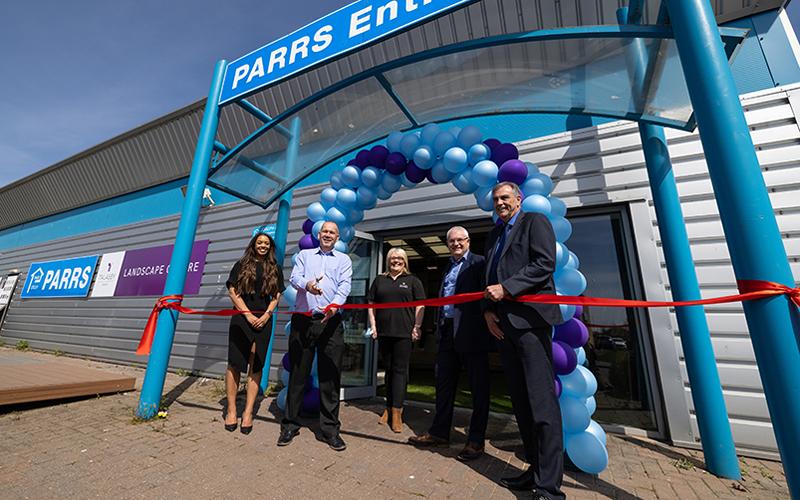 Talasey partners with Joseph Parr for Landscape Centre
05 May 2021 | BALI Member News
Leading landscaping solutions supplier, Talasey Group, have been selected by merchants, Joseph Parr as their main supplier for their newly refurbished Joseph Parr Landscape Centre.
This exciting new venture comes after Talasey were selected to partner with them on their existing showroom, situated in Stockton. The Landscape Centre is the first of its kind for Talasey, who have been trading nationwide for over 17 years.
Talking about the new exciting opportunity for Talasey, Business Development Director, Geoff Moulton said:
The launch of the Joseph Parr Landscaping Centre is a creative and clever development initiative for the Talasey Group.
The unique location of this facility and the close partnership we have with Joseph Parr at Stockton has provided a great opportunity to display the Talasey Group brand products and other outdoor landscape products all provided by Joseph Parr.
We hope to attract all types of customers including consumers, trade installers and designers to visit the centre to look at the displays and be inspired to create new outside spaces.
The centre will be open 7 days a week, with staff on hand to provide a warm knowledgeable welcome and offering support and guidance through the displays.
Visitors can take away product literature, samples, and great advice on how to bring their outdoor dreams to fruition.
Offering a creative design service to contractors, designers and homeowners, the Landscape Centre also provides a unique element for visitors to visually see a complete transformation beforehand, with their selected choice of landscaping products.
Dave Anderson, Managing Director at Joseph Parr Middlesbrough said:
Joseph Parr and Talasey have worked closely for a number of years, we have always promoted a good range of products, but we have together taken this cooperation to a new level unique in our industry.
The range of products they have on offer are both modern and traditional and suit all project types. We have partnered together to turn our retail showroom into what I believe is the best environment in the North East to view and buy paving/landscaping products. Together with the excellent marketing team from Talasey, we have co-branded the showroom to give it that WOW factor.
This is a genuine one stop Landscaping shop from design to delivery giving both our companies an opportunity to develop and grow our business together for many years to come.
The Landscape Centre is located at Portrack Trade Park, Cheltenham Road, Stockton, TS18 2AD.