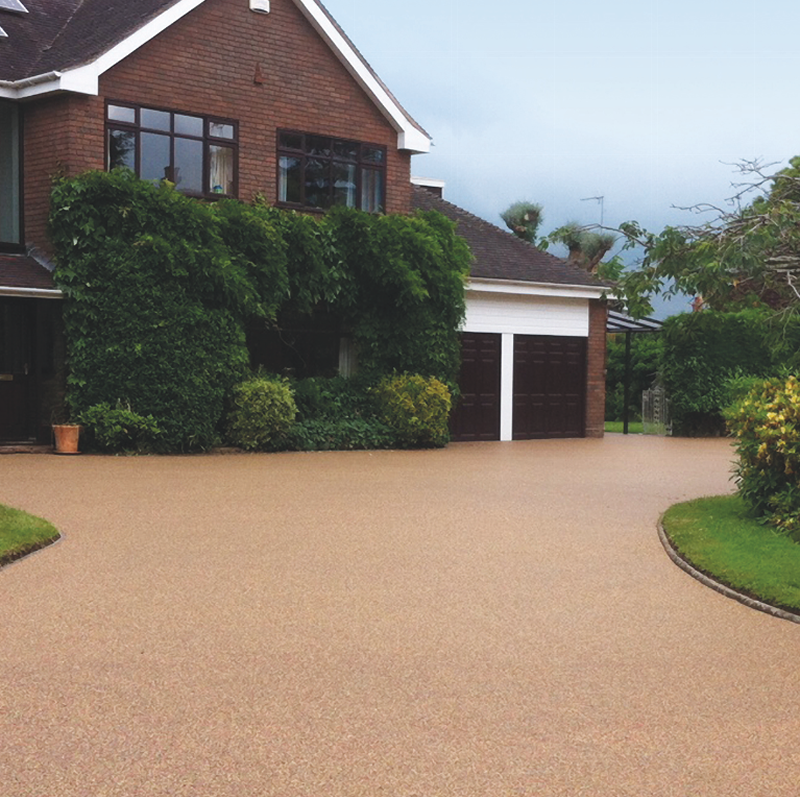 Talasey Group announce their latest landscaping product
25 Jan 2018 | BALI Member News
BALI Affiliate member The Talasey Group, formerly known as Natural Paving Products (UK) is delighted to announce the release of the latest landscaping product to its portfolio with the launch of a new resin bound aggregate system, Resiscape.
The Resiscape system can be used in a number of applications on both commercial and domestic projects and is quick and easy to install. Resiscape provides homeowners and specifiers with one of the strongest systems available on the market to create a low maintenance surface that is hard wearing while also, being flexible and resistant to cracking. The system is flat in appearance and features an even and uniform finish on its surface.
The Resiscape aggregates come in pre-measured bags and are available in a range of six standard colours – Dorset Gold, Black Basalt, Brittany Bronze, Danish Quartz, Red Granite and Silver Blue – giving users many options for matching it to complement other aspects of a property. Other colours are available on special order.
The product requires an existing base to which the system can be applied to as an overlay. Resiscape must be laid on a solid sub base, with concrete and tarmac being the strongest options available. For best results, the existing base should be in relatively good condition to help ensure the durability of the overlay. It is also important to note that Resiscape must not be applied to paving with joints between each unit, such as block pavers, as this can lead to cracking.
Unlike other resin-based products that might discolour under ultraviolet radiation, Resiscape has been manufactured to be UV stable. This ensures they will not go brown over time, meaning homeowners and specifiers can be confident their project will continue to look great for many years to come.
Speaking about the launch of the new product, Malcolm Gough, Group Sales & Marketing Director, Talasey Group commented: "We're really excited to be launching our new resin bound aggregate system, Resiscape to market. This new product allows us to satisfy customer demands for low maintenance, attractive, hard wearing landscaping products."
A resin bound system such as Resiscape involves combining the aggregate with the resin mixture before laying. The mixture is then trowelled and flattened onto the surface giving a uniform flat finish. This is different from a resin-bonded system, which involves the resin laid onto the surface before the aggregate is then poured over it. This technique can result in a textured, rough finish, with some stone becoming exposed and not entirely covered by the resin.
Each Resiscape Kit will cover a maximum of 4m2 at 15mm depth, based on laying on a smooth surface – it does not take into account surface texture or wastage. For heavy traffic areas, a thicker layer of the product is required to ensure the integrity of the system.
The product is delivered directly to the site, complete with installation kits, which contain the right measures of aggregate and resin for installation. This helps to reduce fitting difficulties making the installation process more time-efficient.
The Talasey Group continues to deliver as the number one independent supplier of natural stone and landscaping products to the UK landscaping industry and has recently launched its operations across Europe and the USA. Samples from the Resiscape range are available on request.
For more information on Resiscape, please visit: www.resiscape.co.uk