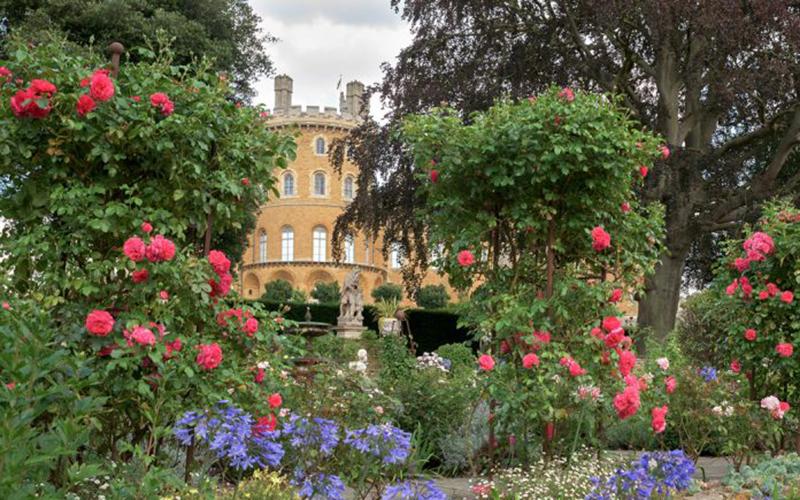 Our Association gardens at Belvoir for the first time
30 Jun 2021 | BALI News
The British Association of Landscape Industries and its careers initiative, GoLandscape, have joined forces with Oakham Garden Services to create a spectacular 'Bring your holiday home' themed garden at Belvoir Castle Flower Show, Grantham, 17-18 July 2021.
This will be the first time that the Association has created a garden at Belvoir Castle Flower and Garden Show and the 2021 garden theme will be a nod to the increased number of 'staycations' due to take place this summer. The Association will also be promoting careers in the industry through its GoLandscape initiative, continuing its work addressing the industry skills gap. Education Officer Stephen Ensell will be there to chat to career changers, school leavers, parents and teachers about the benefits of a career in the horticulture and landscape sector.
The design of the garden will showcase what is possible to achieve in a restricted space with a focus on encouraging nature, in particular bees and butterflies. With the availability of materials posing a challenge to the construction industry, the design has also emphasised simplicity and the upmost effort has been made to source UK-based products.
Chris Howkins, Oakham Garden Services Company Director said:
We are increasingly asked by customers to provide a little bit of holiday joy at home to remind them of happier times spent abroad. This has been a great opportunity for us as designers to let our creative juices flow to reflect that theme and to produce a unique eco-friendly outdoor space.
Wayne Grills Chief Executive, British Association of Landscape Industries commented:
The global Covid-19 pandemic has brought many challenges and much heartache, but if we can take a positive from recent events it is that we have come to appreciate spending time with our loved ones in local green spaces, be that our own gardens or visiting parks. While many of us will not be able to travel abroad this year, we will be enjoying our gardens more than ever and reaping the physical and mental benefits of spending time outdoors.
As well as showcasing a spectacular outdoor space created to the highest standards by British Association of Landscape Industries' Accredited members, the garden aims to raise awareness and promote career opportunities available in the landscape industry to attract in new talent, directly tackling the skills deficit.
Learn more about the important work of GoLandscape