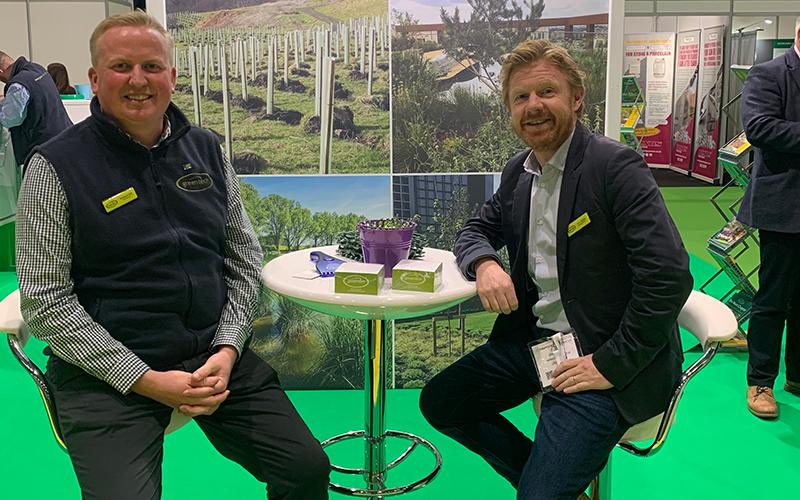 New Futurescape venue declared a success
25 Nov 2021 | BALI Member News
Futurescape 2021 was held at ExCel London on Tuesday 16th and Wednesday 17 November and exhibitor Green-tech has announced it was a success for them.
In a bold move, the event organisers Eljays44, moved the event from a one-day at Sandown Racecourse to two-days at the much bigger ExCel venue in London.
Green-tech was showcasing its range of John Chambers wildflower seed, Green-tree topsoil, grass protection products and green roof portfolio. Sales Director Richard Gill commented:
It was fantastic to see so many exhibitors and visitors attend Futurescape. It was a great event for us, we had plenty of footfall and we all enjoyed seeing people in person rather than over a screen. It was a jam-packed event with plenty going on for visitors.
Green-tech's Mark Wood joined the Great Soil Debate representing the Green-tree brand of soils and substrates. He was joined by British Sugar, Boughton, Bourne Amenity and Bury Hill Topsoil. The five industry experts discussed some of the biggest challenges facing soil and what the future looks like for soil, amongst other things.
The 30 under 30 initiative is sponsored by Green-tech who this year hosted a drink's reception for all past and present winners. They were joined by four industry experts - Richard Kay from Green-tech, Adrian Wickham from Glendale, Phil Jones from Cultura Group and Alexandra Noble, who each offered their advice and shared their experiences. The first of its kind, the event provided the opportunity for all winners to meet and network before the ceremony when the class of 2021 winners were presented with their awards. Richard added:
It was great to see so many past and present winners, including some of our own Green-tech 30 under 30s. It is a great platform for the future generation to use to springboard their careers. I met some very impressive young people.
Newly appointed Managing Director Kris Nellist, who took over from Richard and Rachel Kay on 1 November joined the Green-tech team and added:
It was great to attend one of the biggest events on the calendar and see the team in action. I met many of our customers and suppliers and gained a good insight into the industry. It was a busy event for us as we were exhibiting, took part in a live debate, hosted the 30 under 30 reunion reception, and had a table at the evening Pro Landscaper summit dinner. Futurescape offered relevant and timely content and I'd like to congratulate the Eljays44 team on a job well done.