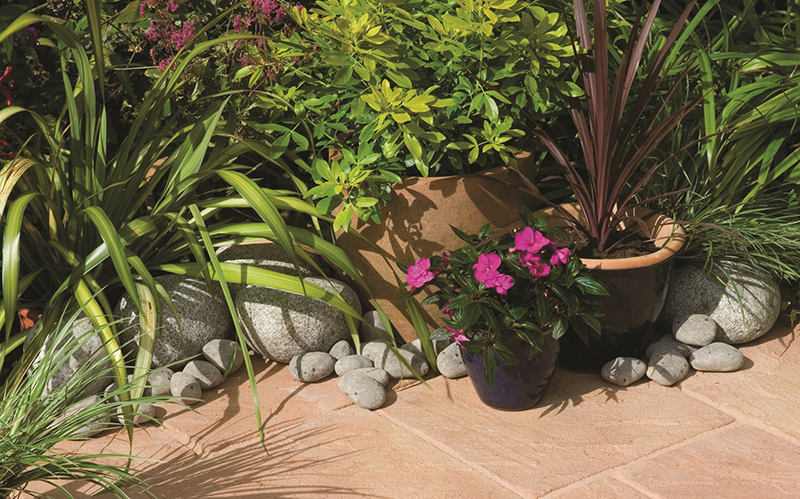 New Bradstone range offers low carbon products
31 Mar 2021 | BALI Member News
Domestic hard landscaping brand and Accredited Supplier Bradstone, part of the Aggregate Industries group, has launched a complete range of low carbon products for patios and driveways that offers a 20% reduction in carbon footprint compared to the previous versions of the products. Whilst the new Bradstone ECO collection offers a comprehensive selection of products, the company announces its commitment to review the entire concrete products range with a view to lowering its carbon footprint.
The paving brand, which celebrates its 65th anniversary this year, has made the move as part of its ongoing commitment to sustainable construction. The first products to be awarded Bradstone ECO status are now available and feature an improved design mix using sustainable materials and practices.
This has been achieved through improvements in manufacturing and design mix to help reduce the carbon footprint of each of the Bradstone ECO products. The change in design mix means a typical patio measuring 30m2 will now produce up to 66kg less carbon during manufacture compared with the old mix design, the equivalent of the CO2 reduction generated by 3 mature trees over one year*.
The first products available in the Bradstone ECO range include Old Town ECO, Old Riven ECO, Aged Riven ECO, Ashbourne ECO, Edale ECO and BradDrive Cobblestone ECO, from the brand's concrete paving and driveway collection. All pack sizes and colours will remain the same.
In addition to improving the eco credentials of its existing wet cast products, Bradstone has launched a new Old Town ECO Evolve product that is more than 35% lower in carbon compared to the previous Old Town product. The paver is lighter and easier to handle. With its specific laying pattern it is now faster to lay as well. The reduced weight means more product can be included in each pack and larger quantities can be transported at the same time, helping to further reduce CO2 emissions.
The first product to launch is Old Town ECO Evolve paving in Silver Grey, a traditional style product that uses a secondary aggregate in the mix to give it a contemporary colour and unique sparkle. Available in a 7.2m2 pack, the concrete patio pack includes 900 x 600 pavers.
Simon Marriott, Managing Director of Aggregate Industries' Concrete Products Division, said:
Taking the decision to improve the eco credentials of our wet cast paving products is a real milestone for Bradstone – and something we're incredibly proud of. We're especially excited that in the brand's 65th year, we are launching Bradstone ECO, our first ever complete low carbon range, that's manufactured right here in the UK.
As one the UK's largest building materials suppliers, it is our aim to be a leading sustainable business that is contributing to building a greener, smarter world for all. We seek to accelerate our carbon reduction not only by introducing environmentally friendlier products but by identifying opportunities in all our manufacturing processes, be it by reducing the plastic in our packaging or by using recycled boxes for our samples. Bradstone ECO is just one of many initiatives that is helping us achieve our ambitions to be at the forefront of sustainable construction.
To find out more about the Bradstone and the new ECO range, visit their website.