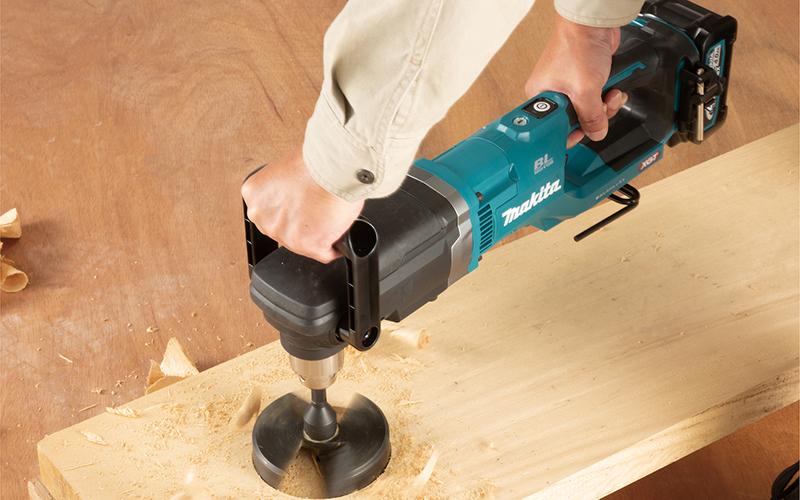 Makita launches two new XGT 40VMAX machines
06 Jan 2022 | BALI Member News
Leading power tool manufacturer and Accredited Supplier Makita UK has extended its powerful XGT 40VMax range of machinery with the launch of the DA001G Brushless Angle Drill and DG001G Brushless Earth Auger.
DA001G XGT 40VMax Brushless Angle Drill
The DA001G is a powerful addition to any toolbox. It delivers a no-load speed of up to 1,500rpm and a maximum torque of 136nm, offering outstanding performance for heavy load applications. The DA001G features two mechanical gears and variable speed control, so operators can easily adjust the output to suit the task in hand.
To ensure efficiency, the DA001G includes Makita's innovative Automatic Torque Drive Technology that works to automatically adjust the output according to the load conditions. The inclusion of a torque limiter also protects the machine from mechanical overload and damage, and the operator if the bit gets jammed when drilling during high-demand tasks.
To ensure user comfort and safety, the DA001G can be used with either a front or side handle. It also features an auto power off function which shuts down the machine if it is idle for extended periods, protecting the user from accidental injury.
DG001G XGT 40VMax Brushless Earth Auger
For high performance earth boring with even and consistent holes for fence posts, landscaping, construction and soil sampling, the DG001G is up to the task. Comparable to a 36cc engine product, this XGT 40VMax machine has a no-load speed of up to 1,500rpm and a maximum drilling capacity of 200mm. It also delivers up to 136nm of torque. With two mechanical speeds to choose from, operators can easily drill into high or low resistance soil – and the reverse switch makes extracting the machine effortless.
For improved user handling, the earth auger attachment includes a bar which receives reaction force and an auxiliary handle which makes drilling holes easier. The DG001G also features Makita's Automatic Torque Drive Technology which works to ensure that the machine is always working at its optimum.
As with all XGT machines, the DA001G and DG001G both benefit from the inclusion of Makita's brushless motor. As there are no moving parts in the motor causing friction, no energy is lost through heat production and tool run time is extended, maximising user productivity. Brushless motors also do not need regular maintenance or replacement parts, which keeps the lifetime cost of the machine to a minimum.
Kevin Brannigan, Marketing Manager at Makita said:
"For any construction professional, having a range of powerful cordless machines to hand is key to ensuring maximum on-site efficiency and productivity – especially when embarking on high-demand applications. Our XGT range has been specifically designed to tackle these tasks without compromising on battery run time, so users can keep working disruption free for longer."
To find out more about Makita visit: www.makitauk.com