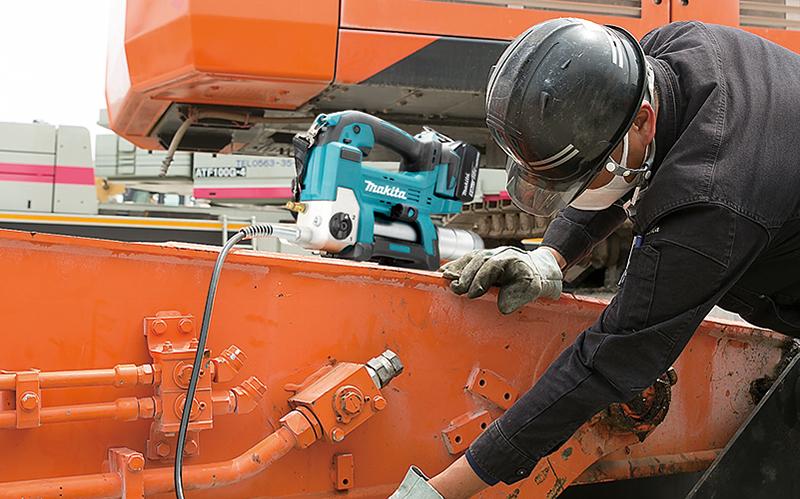 Makita launches new 18V cordless grease gun
01 Apr 2021 | BALI Member News
Makita UK has announced the launch of its new 18V DGP180 LXT Grease Gun. Delivering up to 10,000 psi operating pressure, the new solution is ideal for professionals working on demanding lubrication applications for vehicles and machinery.
Makita's new DGP180 18V LXT Grease Gun combines powerful performance with the versatility and flexibility of a cordless tool.
The grease gun can reach a maximum 10,000psi discharge pressure level, whilst maintaining a 290mL/min discharge rate. As such, the new system is able to dispense grease even at high pressure for the most demanding of applications.
Designed with efficiency and productivity in mind, the new DGP180 features an automatic pressure switching function, which detects the pressure and automatically reduces the grease flow rate as machinery components are filled. For greater control, the variable speed trigger allows users to manage the amount of grease that is dispensed depending on the job or requirements. For hard to reach areas and fittings, the tool is equipped with a long 1,200mm flexible hose and a bright LED light to usefully illuminate job areas.
Utilising Makita's innovative Lithium-ion (LXT) batteries, the DGP180 Grease Gun can dispense 410g grease cartridges or the 455g cylinder can be bulk filled. In turn, the added power can help those using the tool to increase their performance and productivity levels. Charging can take as little as 45 minutes when using a 5.0Ah battery.
As well as providing powerful performance, the product benefits from an ergonomically designed handle with a soft grip to allow long-term, comfortable use. A shoulder belt provides users with greater convenience for transportation around site, or for applications that require working at different heights.
Speaking on the new product, Kevin Brannigan, Marketing Manager at Makita UK commented:
We're delighted to introduce our new DGP180 18V LXT Grease Gun as part of our growing LXT range of cordless solutions. The DGP180 is particularly ideal for those working in the agricultural, automotive and farming sectors, enabling users to easily and efficiently manoeuvre around, and grease, large machinery and equipment without the constraints of cables.
The new DGP180 18V LXT Grease Gun joins an exciting roadmap of new LXT and XGT product launches this year, including the recent launch of the 40VMax XGT Brushless Circular Saw and 40VMax XGT Brushless Linetrimmer.
For more information about Makita's power tools and equipment, visit www.makitauk.com