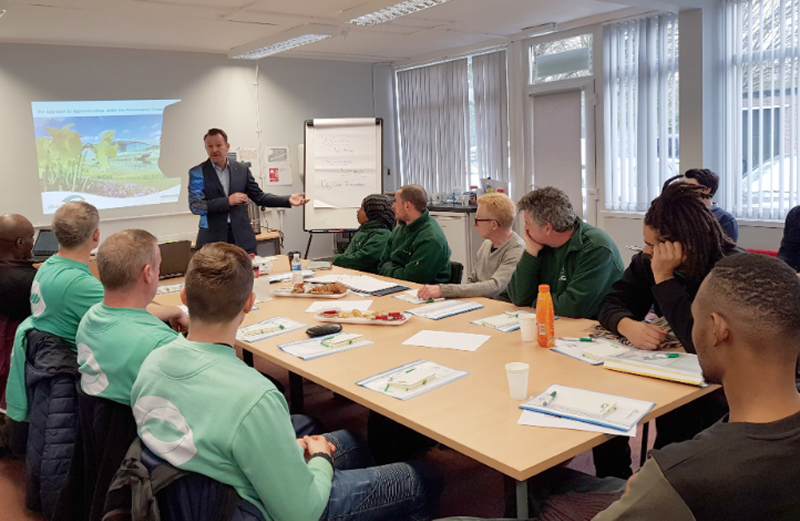 idverde launches performance campus in the UK
08 Mar 2018 | BALI Member News
BALI Registered Contractor member idverde is proud to launch its new Performance Campus. The launch of the UK Campus completes a Europe-wide rollout of our facilities to develop our colleagues to be the best that they can be.
Our Performance Campus is led by Elaine Callaghan, idverde's Head of Learning and Development. Under her leadership, idverde can offer learning and development opportunities for all our colleagues at any stage of their career. We have designed programmes for apprentices, supervisors, managers, and leaders.
idverde is on the Register of Apprenticeship Training Providers and will draw on its Apprenticeship Levy contributions to fund appropriate elements of the Campus prospectus. We were pleased to appoint Damon Lee, an experienced horticultural colleague with an outstanding background in developing our people internally, as our Learning and Development Specialist. Damon will guide the first tranche of apprenticeships in the London region. Where we need specialist input, we will partner with other organisations, as we have with Element Skills Training (part of Cardiff and Vale College), to support the delivery of our Level 2 Horticulture and Landscaping in areas of the UK we are unable to cover.
The Performance Campus launch began at High Elms Country Park in Bromley, with idverde's Chief Executive, Doug Graham, welcoming the first cohort of apprentices for Level 2 Horticulture on their learning journey with us. Speaking at the launch, Doug said: "I am passionate about the development of our people. Our launch of the Performance Campus in the UK enables us to further develop our own people and grow our own talent within the organisation."
Further cohorts of apprentices signed up for their programme at The Regent's Park, and Melksham, Wiltshire, with a total of 29 Apprentices being enrolled over the course of the three events.
Luke Saggers, one of idverde's new apprentices, said of the experience: "I think the induction day was a great day overall. There was so much information passed onto us about the company and the course, and it was good to get to know other apprentices and the mentors who will be helping us along the way. I think the course will be very beneficial to me and broaden my knowledge, and help me in the long-run in my career with idverde."
Elaine Callaghan, idverde's Head of Learning and Development, added: "It was very heartening to listen to the experiences of our apprentices and why they wanted to pursue further training. For some of our colleagues, putting themselves forward took real courage, and they can count on our full support."
A key element of any apprenticeship is the 20% 'off the job' learning, which must be recorded. This will include classroom training, learning practical skills alongside a 'buddy', revision, reading, research, assignments and preparation.
idverde is now building its complete prospectus for the Performance Campus, which will include:
· Apprenticeships in Horticulture, Arboriculture, and Engineering;
· LANTRA supervisory training;
· Level 3 and Level 5 Management
· In-house idverde training in people management, equality and diversity, health and safety, environmental management and biodiversity;
· Leadership development programmes to enable colleagues to progress to the next level of their careers;
· Business traineeships – for people wanting to make a real difference in business;
· Interns – exchange programmes with our French colleagues and other institutes around Europe. idverde insists that all interns are paid at National Living Wage, and does not support the concept of unpaid internships;
· Professional development tailored to the needs of the colleague and the business. This includes degree-level training, MBAs, Chartered Institute of Marketing, and Chartered Institute of Landscape Architecture.
Andrea Gomm, HR Director for idverde sums up the launch of the Performance Campus: "Since joining the business in 2016 the establishment of the Performance Campus has been an imperative for me. I am extremely proud of what the team has achieved as we continue to drive to make idverde a great place to work."