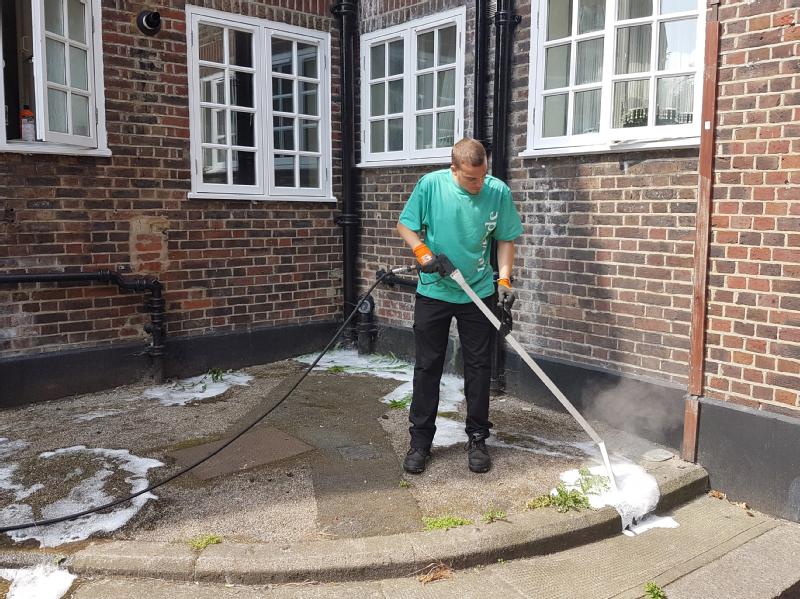 idverde adopt chemical-free weed control solution
18 Jan 2018 | BALI Member News
Registered Contractor idverde has been providing grounds maintenance services to Hammersmith & Fulham Council since 2008, at sites including parks, sports pitches, and over 190 housing sites.
In light of the uncertainty surrounding the chemical weed killer, glyphosate, and linked with its goal of being the greenest borough in the country, in June 2016 Hammersmith & Fulham Council banned the use of products containing glyphosate in grounds maintenance operations in the borough (with the exception of the treatment of non-native invasive species, such as Japanese Knotweed).
As glyphosate is found in almost all chemical-based weed treatments, finding an effective alternative weed control solution was initially challenging.
Hammersmith & Fulham Council and idverde sought demonstrations from various companies offering alternative weed control solutions, before settling on the Foamstream system from Weedingtech. Foamstream kills weeds using an application of hot water and foam made from natural, non-toxic ingredients including plant oils and sugars. When the solution is applied to a weed, the hot solution acts as a thermal blanket, keeping the heat on the weed long enough to kill it. The system also has the advantages that it can be used in all weathers, and hence, all year round, and can be safely used in environmentally sensitive areas, such as close to water courses.
In the spring of 2017, and following training for staff delivered by Foamstream's manufacturer, idverde deployed five van-mounted Foamstream machines on its operations in Hammersmith and Fulham. Three Foamstream machines are now used in our operations at the borough's housing sites, and two in the borough's parks.
As with the introduction of any new system, there were some small initial problems, but working in partnership with Foamstream's manufacturer and our client these were soon overcome with minimum disruption to our operations schedule. For example, due to the limited access on some of the sites at which we work, it was necessary to change the standard 50-metre application hose for a 90 metre one in order to access weeds in narrow alleyways between houses. We have also revised our operational schedules to co-ordinate our operations with the council's other cleansing providers, who sweep the dead weeds from the hard surfaces once the treatment has taken effect. This has produced a more 'joined-up' method of working which minimises inconvenience for residents.
The Foamstream system is now fully operational across the borough, with idverde currently delivering between five and eight treatments per year at 176 of Hammersmith and Fulham's housing sites.
Cllr Wesley Harcourt, H&F Cabinet Member for Environment, Transport and Residents' Services commented: "To be the most environmentally positive borough in the country we have to be bold and innovative in what we do. That's why we were the first London borough to halt the standardised spraying of potentially harmful glyphosate weedkillers. We're really excited about pioneering the use of chemical-free weed control that is better for people, pets, and the environment."
idverde Contract Director, Ben Binnell, added: "We are very excited about being able to implement the option of chemical-free weed control in the London Borough of Hammersmith and Fulham. We believe that this is an important factor in LBHF's goal of being the most environmentally friendly Borough in the country, and we intend on working further greening measures to reduce our environmental impact wherever possible."