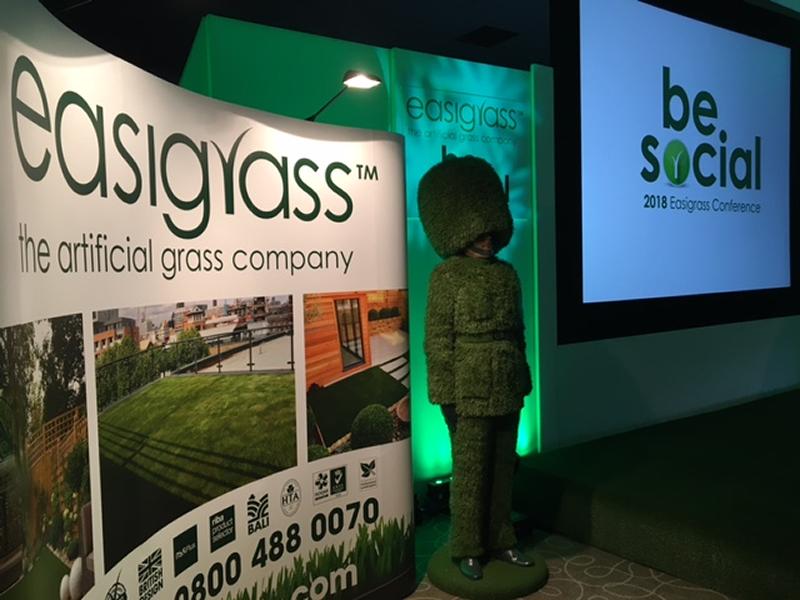 Easigrass Annual Conference 2018 'Be Social"
25 Jan 2018 | BALI Member News
BALI Registered Affiliate member, Easigrass hosted their 2018 annual conference at Ramside Hall in Durham on Friday 19 January. The award-winning artificial grass supply and installation company invited industry leaders to join in with the celebrations of the expansion of an ever-growing team of partners and an exciting array of new products launching in 2018.
The Easigrass conference had a theme of 'be social'. This certainly was portrayed in the whole set up of the day which included a guest speaker, Sarah Fynn, whose presentation on the 'do's and don'ts of social media for businesses' was engaging and insightful – coming away with some great Twitter tips. The contractors working under the Easigrass brand were able to socialise and network throughout the fun-filled day. Easigrass' Managing Director, Anthony Gallagher provided an update and overview. Taking a moment to Tweet, Anthony wrote, "Every year our Easigrass conference gets bigger and better and this year was no exception. Our growing team of partners from all over the world joined us to celebrate the launch of new products and to toast the exciting year ahead. We look forward to sharing these products with you."
BALI's Chief Executive, Wayne Grills was delighted to be included as a key industry speaker at the event, discussing all the valuable benefits of becoming a BALI member. Wayne summarises the 2018 conference as, "an informative and beneficial day, with what promises to be a busy and interesting year for Easigrass" It was also a fantastic chance for BALI's CEO to network with existing BALI members such as, Hahn Plastics and CORE Landscape Products as well as meeting many new faces.
Thank you to all at Easigrass for their hospitality at the 2018 conference. BALI would like to wish Easigrass and all its partners a very successful year ahead.