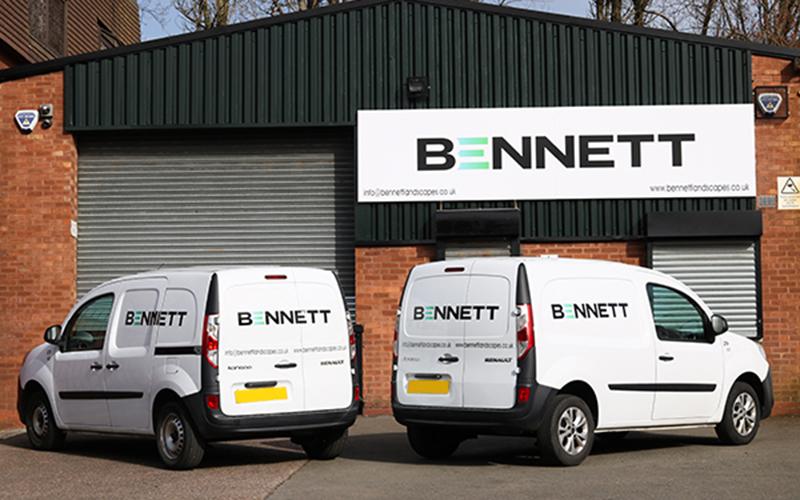 Bennett Landscapes & Maintenance sees 40% growth
08 Apr 2021 | BALI Member News
Accredited Contractor member Bennett Landscapes & Maintenance Ltd, a Midlands-based grounds maintenance company, recently rebranded and unveiled a new company logo, redesigned website, service vehicles and uniform. Since 2003, Bennett Landscapes & Maintenance has been supplying a comprehensive range of services to both the public and private sector. With this rebranding, Bennett Landscapes & Maintenance is innovating the foundations of the company without losing the core family roots.
As a third-generation family business, Bennett's has evolved into a 78 head office and grounds personnel empire, growing at a rate of 40% YoY and is set to expand further in 2021. Now one of the leading grounds maintenance companies within the Midlands, their mission is to give their clients the most comprehensive grounds maintenance expertise possible. Their contract portfolio is spread across a number of different industry sectors including:
Commercial & Industrial - maintaining over 200 individual offices, business parks and industrial estates, the largest being in excess of 25 acres in size
Retail & Leisure - including several large, out-of-town retail parks as well as numerous chain-run restaurants, public houses and leisure complexes
Residential and Retirement Developments - maintaining over 550 block residential properties, the largest of which is in excess of 35 acres consisting of over 250 dwellings
Educational Establishments - maintaining several school contracts which include bespoke services such as sports grounds maintenance, football and rugby pitch maintenance, grass cutting, pitch marking and athletics track marking
Their new website highlights the company's core business in grounds maintenance, incorporating both soft and hard landscaping to provide a one-stop management solution. Bennett's has been a collaborative project over the past six months with creative agency Sevensun, with their logo and website showcasing a fresh new look for the company, whilst utilising a responsive and easy-to-navigate design.
Matt Bennett, Managing Director said,
I'm extremely proud of our company and all of our teams working across the service departments and we're excited about our brand upgrade. I feel it suits the innovative, progressive nature of our business and aligns us perfectly with how we're taking the business forward to the next level
Website visitors will find a comprehensive list of year-round services available from grounds maintenance, street cleaning, commercial landscaping, road sweeping, rapid response and winter services as well as leading company accreditations. With long-standing client relationships such as Calthorpe Estates, Mainstay Group, Savills and Knight Frank; Bennett Landscapes & Maintenance ensure client satisfaction is at the core of their business and stay true to their motto - 'Driven by Excellence'.
Visit their website to explore Bennett's services and sector case studies.