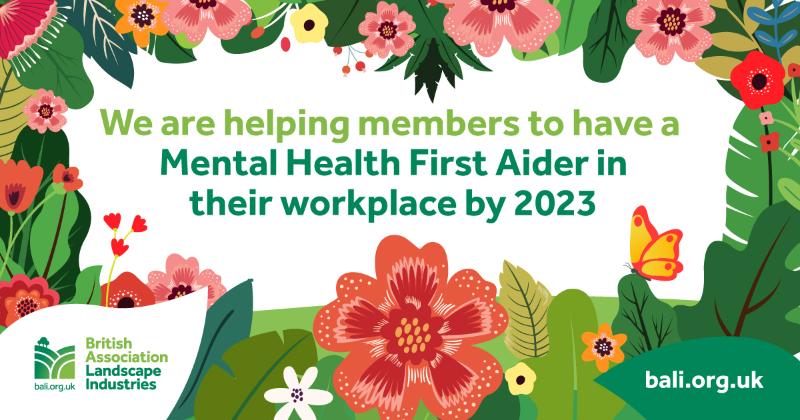 Pledge your support on World Mental Health Day
10 Oct 2021 | BALI Member News
This World Mental Health Day, the British Association of Landscape Industries is launching a Mental Health initiative focusing on the often-overlooked importance of mental health support in the landscaping and horticulture sectors.
We are reaching out to members to consider the value of having a Mental Health First Aider in their team, and to commit to supporting mental health in the workplace. We have partnered with EDP Training to deliver a series of Mental Health First Aid England (MHFA) courses, starting in November 2021. We are asking every Association member to pledge to have at least one member of their team trained in Mental Health First Aid by 2023.
The importance of supporting mental health
With the growing impact of the coronavirus pandemic, mental health support has never been more important. One in four people experience poor mental health every year, with men between 40-49 years old at the biggest risk of experiencing a mental health crisis – demographics enormously represented in our sector.
One in six workers will experience depression, anxiety or problems relating to stress over the course of their lifetimes. With mental health problems costing businesses £1,300 per employee every year, there are key business incentives to improve pastoral care.
As Health and Social Care Secretary of State Sajid Javid stated at the recent Global Mental Health Summit 2021: "Our mission must be for mental health to be treated with the same urgency as physical health. After all, its effects can be just as harmful." He went on to say that "In England, we've committed an extra 2.3 billion pounds per year to transform mental health services by 2023, expanding them to reach families, communities, workplaces and schools."
Key facts about mental health in the workplace
· 18 people are lost to suicide every day in the UK
· Suicide is the single biggest killer of men under the age of 45
· Male site workers are three times more likely to die by suicide than the average daily rate for men
· 69% of UK line managers say supporting employee wellbeing is a core skill, but only 13% have received training
If Association members lost 18 people per day from our paying membership, then it would only take roughly 53 days for every paying member to lose a member of their team. By coming together, we can work towards prevention by supporting each other – both in our industry and beyond.
British Association of Landscape Industries Chief Executive Wayne Grills commented:
"By taking a stance on supporting members within our industry with their mental health, we are demonstrating the importance to speak out and support our colleagues to safeguard them with invaluable training, skills and knowledge."
Watch our launch video featuring Board Director Tony Woods
What is the role of a Mental Health First Aider?
Trained Mental Health First Aiders will be able to recognise the early signs and symptoms of common workplace mental health illnesses and have the necessary skills to have a supportive, non-judgmental conversation with those who need it. They will have the knowledge and confidence to guide colleagues to the appropriate professional support if they require it as well as promoting greater awareness of mental health in the workplace to reduce stigma.
Mental Health First Aid training
We recognise the need for regular First Aid training and the empowerment it can offer to alter a life changing situation into one with a more positive outcome. Mental First Aid training is the next and logical step in that training. Situations may not evolve at the speed of an on-site accident; but being able to identify a potential mental health situation and supporting that person back to health is enormously important for both the individual and the industry.
About the trainer, Bianca Jones, MHFA England
The British Association of Landscape Industries has partnered with Bianca Jones, a qualified MHFA England Instructor and a member of the MHFA cooperate and communities' team to deliver bespoke Mental Health First Aid training for Association members.
Bianca is passionate about adult learning and utilising accelerated learning techniques to aid training. Bianca's own lived experience of depression and anxiety helps her to deliver authentic training which she is passionate about, and it also highlights the importance of prevention, self-help, and empowering people to take control of their own wellbeing.
Emily Catling, from Accredited Contractor member The Landscaping Consultants shared the following feedback from a recent Mental Health First Aid course:
"The course was a real eye-opener. It has highlighted how important this is and how much goes unrecognised due to heavy stigma attached to mental health issues. In a predominantly male industry, I feel it is beneficial for everyone to raise awareness and understanding, working to remove that stigma, and providing a first point of call to anyone in need. Bianca was a fantastic coach, and I am so grateful for the opportunity to take part. Thank you!"
About the course
The Mental Health First Aider course will be delivered remotely over two days, with at least one course hosted per month. Each course will welcome between 12 and 16 delegates at a subsidised cost of £150 plus VAT per person which will include course materials and certificate. A financial donation will be made by the Association on behalf of each participant to Perennial, the UK's only charity dedicated to helping everyone who works in landscaping and horticulture, and their families, when times get tough.
Upcoming course dates:
· 22 to 23 Nov 2021
· 29 to 30 Nov 2021
· 09 to 10 Dec 2021
View and book available courses