Accredited Supplier
North Yorkshire, HG5 0FF sales@green-tech.co.uk 01423 332100 www.green-tech.co.uk




Search again
About Green-tech Ltd
Green-tech - a BALI Affiliate Exceptional Service award winner and Principal Award winner, is the leading UK supplier of landscaping supplies and consumables. In their 27 years of trading Green-tech has gained a reputation for offering extensive product choice and outstanding customer service experience, making Green-tech the first choice in the landscaping industry. Green-tech has over 16,000 products within their product range; everything from cable ties to highly specified tree irrigation equipment. Wildflower seeds to artificial grass. Green-tech has the knowledge and technical know-how to advise on product selection; helping you make the right choice for your project. Green-tech offers a specification service under the brand gtspecifier, to assist with product specification and selection. Whether you require CAD drawings, product advice or a professional development seminar- gtspecifier has a wealth of information available for project planning. www.green-tech.co.uk www.gtspecifier.co.uk www.green-tree.co.uk www.johnchamberswildflowers.co.uk
Areas covered
East Anglia, International, Midlands, National (Eng/Wales/Scot/NI), North Thames, North West, Northern Ireland, Scotland, South Thames, South West, UK Islands, Wales, Yorkshire North East
Types of work undertaken
Domestic (unlimited)
Hard Landscaping Materials (unlimited)
Commercial (unlimited)
Surfacing Materials (unlimited)
Natural Stone (unlimited)
Soft Landscaping Materials (unlimited)
Chemicals, Pesticides And Fertilisers (unlimited)
Compost, Mulches and Soil Conditioners (unlimited)
Machinery (landscape and horticultural) (unlimited)
Street, Garden Furniture And Sculpture (unlimited)
Fencing Materials (unlimited)
Water Feature and Irrigation Equipment (unlimited)
Technical Advisory And Recruitment (unlimited)
Roof Gardens/Green Roofs (unlimited)
Tree Anchors (unlimited)
Interior Landscaping Supplies (unlimited)
Design Facility (unlimited)
Turf Grass and Artificial (unlimited)
Ground Reinforcement Systems (unlimited)
Top Soil And Aggregates (unlimited)
Seeds (unlimited)
Testimonials
"One of our major challenges was finding a suitable top soil product that was light enough for a roof garden. Green-tree?s bespoke lightweight soil mix was the perfect solution to this problem. "

- Martin Woolley of Martin Woolley Landscape Architects , Leeds, West Yorkshire
read more
Projects
Chancellors Court Rooftop garden
Green-tech was invited to help with a project specified by Martin Woolley Landscape Architects, to create a sustainable roof top garden for inner city Chancellor's Court Roof top garden, part of the University of Leeds. Soil weight, water retention and appropriate planting were all issues for the architects. They needed soil that was light in weight but also nutrient-rich to ensure successful growth of the low-maintenance wildflower meadow that was to be planted. Green-tech's Green-tree roof garden substrate was the perfect answer as it was light in texture with a controlled nutrient content. The roof garden substrate ticked all the boxes, its bulk density compiled with the structural engineer's recommendation without compromising on quality. The Green-tree brand provides excellent water holding properties, reducing run off and retaining essential water for the plants and wildflowers used in the roof garden. The topsoil is a fertile and organic-rich material, compliant to BS 3882:2007 standards.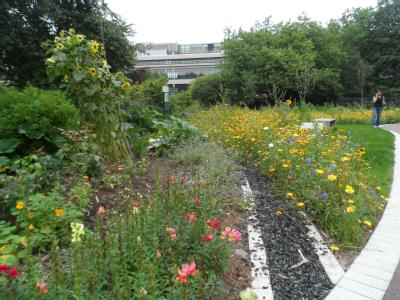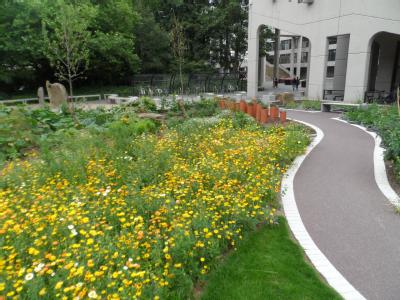 Harton Quay, South Tyneside
The 2.8 million waterfront park development of Harton Quay aims to become a flagship destination for locals and visitors to South Tyneside. The park is designed to meet the needs of all ages and abilities, with accessible cycle and footpaths and a respectful acknowledgement of the history associated with this particular area. The Green-tree Topsoil was utilised specifically for the landscape works that formed the park area. Green tree Topsoil was required for this type of installation as the high fertility composition of the topsoil ensured quick establishment for the turfed and seeded areas of the park. The topsoil is manufactured from recycled green compost and natural sands offering exceptional sustainability credentials for the project overall. Plus, by conforming to British Standards, Green-tree topsoil guaranteed that every load delivered maintained the same high levels of fertility, friability and consistency, another reason for choosing Green-tech.