Accredited Contractor
Surrey, GU10 5RJ mail@goddards-landscape.co.uk 01252 850637 www.goddards-landscape.co.uk




Search again
About Goddards (Landscape Contractors) Ltd
Established in 1977 Goddards (Landscape Contractors) Ltd operates throughout Southern England building soft landscape schemes to exceptionally high standards to a variety of client types including high end Private and Commercial Residential, Schools, Universities, Hospitals, Office Buildings, Sports Facilities & Hotel Complexes. The Company excels in planting of all shapes and sizes, from 3-5 litre shrubs to 12m tall trees, parkland to intensive small city plots. Experienced Management and Implementation Teams ensure that projects are completed on time and at the agreed budget. The Company also contract grows plants for specific contracts and offer a range of associated disciplines.
Areas covered
North Thames, South Thames
Types of work undertaken
Commercial (unlimited)
Pesticide/Weed Application (unlimited)
Hydroseeding (unlimited)
Irrigation (unlimited)
Soft Landscaping (unlimited)
Domestic (unlimited)
Ponds And Water Features (unlimited)
Reclamation And Erosion (unlimited)
Roof Gardens/Green Roofs (unlimited)
Disabled/Historic Gardens (unlimited)
Fencing (unlimited)
Interiorscapes (unlimited)
Land Draining/Sand Slitting (unlimited)
Grounds Maintenance (unlimited)
Sports/Leisure Facilities (unlimited)
Arboriculture (unlimited)
Forestry/Mature Tree (unlimited)
Decking (unlimited)
Projects
B&Q Head Office
In corporate orange, another award winning commercial scheme completed. Goddards were successful in tendering to construct the soft landscape for this new build for B&Q's product and research development head office. BALI Judges comments: "Good strong plant material well executed & maintained. A credit to the Contractor." Goddards won the Principle BALI award in their category for this scheme.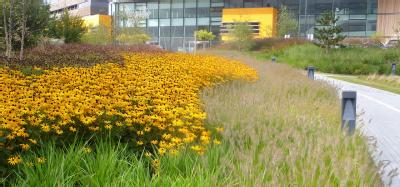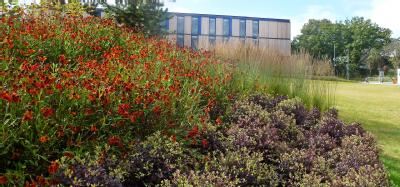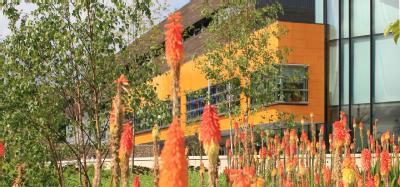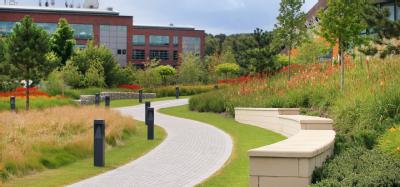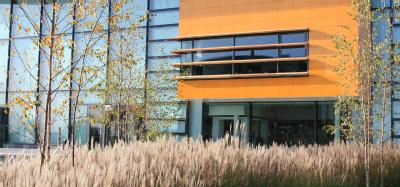 Kidbrooke Village
Kidbrooke Village for Berkeley Homes Urban Living - Reputed to be the biggest urban regeneration project currently under construction in Europe. The site formally regarded as one of the most deprived areas of London, now boasts luxury Parkside apartments with spacious roof terraces, a ribbon park, naturalized planting and water-courses.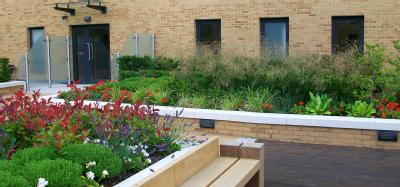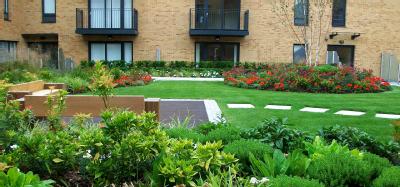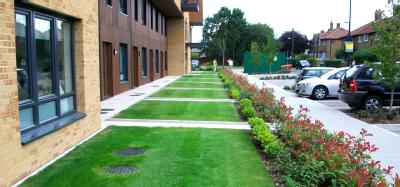 Bersted Park
A large mixed housing scheme incorporating a new school, community centre, playing fields and other amenity areas. Extensive semi-mature tree and specimen shrub planting along main access roads with individual plots receiving shrub planting and turf to fronts and rears. Also native mix tree and whip planting along with seeding and wetland regeneration works along either side of the new 1 kilometre Northern Relief Road and roundabout. We also have maintained all our works since we started working on this development in 2013.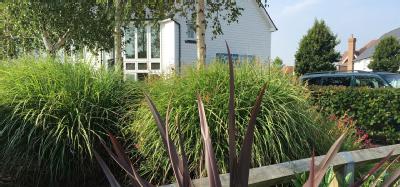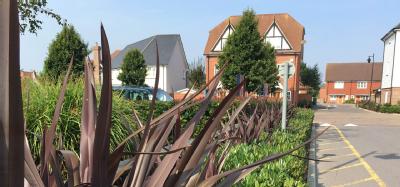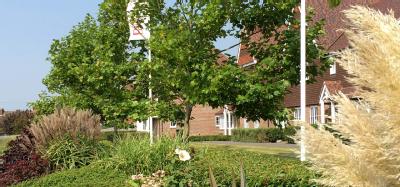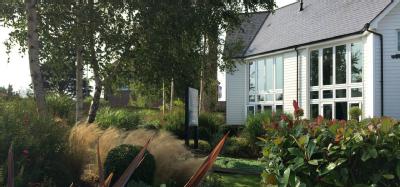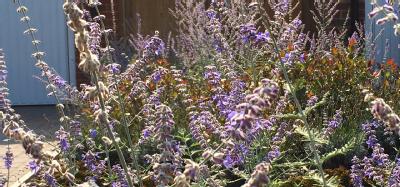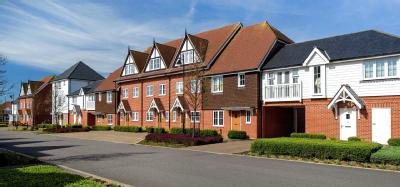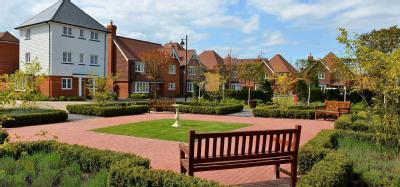 Private House - Weybridge
Wildflower woodland walks, fine lawns, temperate and sub-tropical planting areas supported by formalised specimen tree and shrub planting all supported by a fully automatic irrigation system and an intensive maintenance regime has created a great garden to reflect the Client's vision.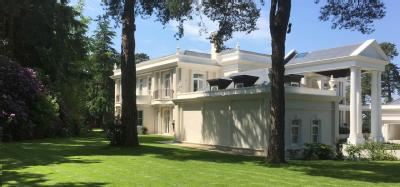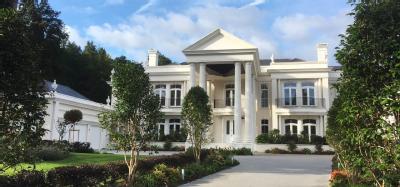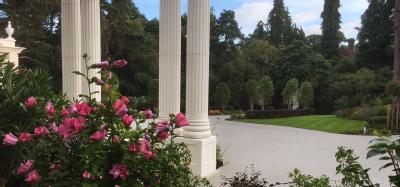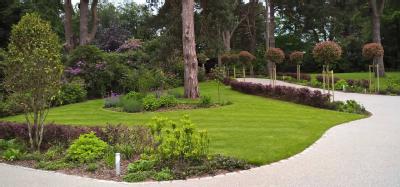 Grosvenor Waterside
After 7 phases over 10 years, this award winning residential development on the Chelsea Embankment is now complete. Sited around a Dockside Watergarden with bespoke floating wildlife habitat, and framed by avenues of mature Dawn Redwoods to soften the monumental architecture.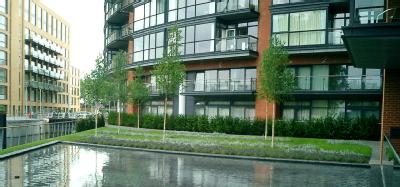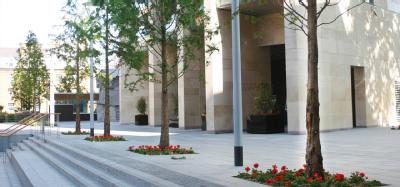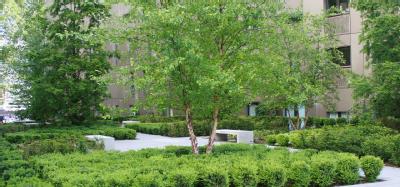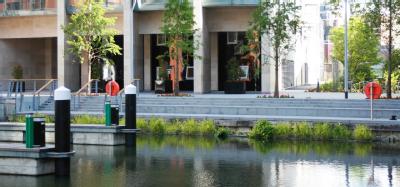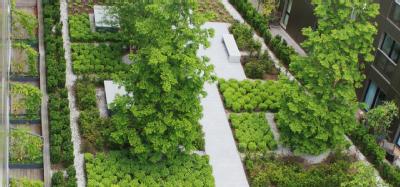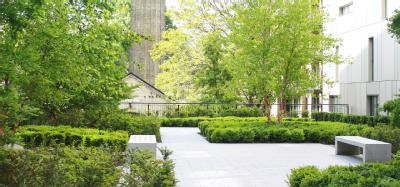 Chalfont Dene Retirement Village
A large "retirement village" built on a sensitive rural site which required tree clearance works, topsoil strip and storage for later reuse, import and planting of large numbers of semi-mature and specimen trees, specimen shrub planting and the planting of evergreen and flowering shrubs to give all year round colour along with the laying of extensive turfed areas many thousands of metres of wildflower turf and seed have also been installed.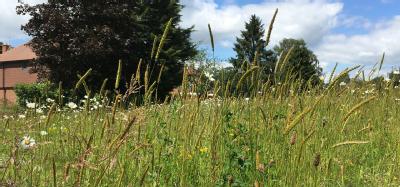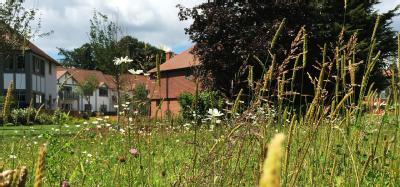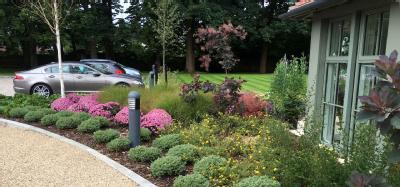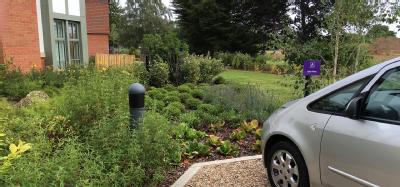 Arora Hotel
A magnificent hotel and residential development adjacent to the O2 has been surrounded with fine lawn areas, over 150no trees ranging in size from 16cm to 50cm girth and over 4000no contract grown 5 litre shrubs all completed within the short contract programme to meet the Client's opening night.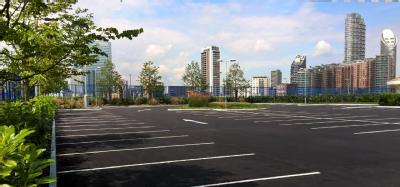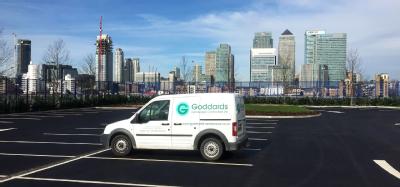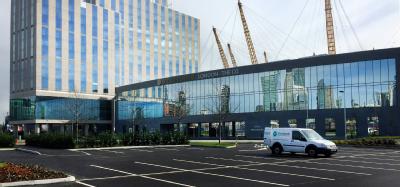 AEG Access Road, O2 Arena
Client - VolkerFitzpatrick - the continuation of a long relationship with the landscape on the Peninsula and Volker..supply and installation of over 2000 tonnes of manufactured substrateand the installation of 17no Box Headed London Planes in excess of 80cm girth and 21no Box Headed Limes in excess of 50cm girth along with extensive numbers of 250 & 300cm + high laurels to screen security fencing and private access areas at the Arena.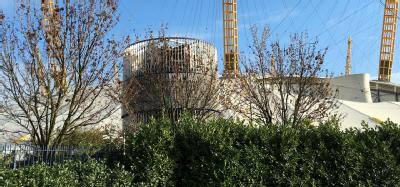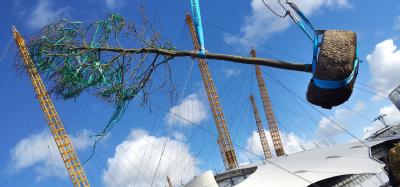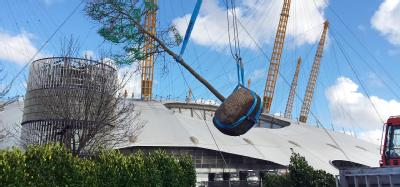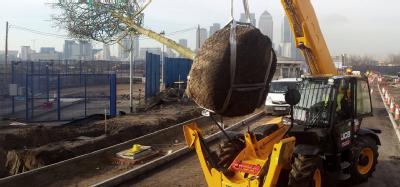 Private House
A formal garden designed and built across a sloping site to give level lawns supported by large unilog walls and terraces. Knot Gardens and clipped topiary to front and rear with the Client's favourite roses planted in "standard" form as part of the design. Flower and Leaf colours throughout the site was designed and graduated across less formal beds using Gertrude Jekyll's "colour wheel" to meet the Client's wishes. Exceptions to this was within the lower terrace play zone (with trampoline) and Japanese Zen garden and tea room.