Accredited Designer
Gloucestershire, GL6 7HG design@christinefacer.com 01285 821215 www.christinefacer.com
Search again
About Facer Hoffman, Christine (MBALI)
We are a design-led consultancy producing high quality professional specialist designs for contemporary landscapes and gardens. Working alongside leading architects the consultancy pays special attention to existing architecture, views and spaces to which the design will relate. All designs naturally use mathematically harmonious proportions and employ the use of the patterns and numbers found in nature. Projects range from large country house landscapes to small town gardens and public landscapes. Another characteristic of the practice is the innovative planting style using drifts of grasses and perennials in new and exciting combinations and patterns. Christine Facer Hoffman has produced innovative and radical designs for clients in the UK and Italy and highly acclaimed show gardens. She has appeared frequently on television in both a scientific and landscape designer capacity. She is a Fellow of the Linnean Society of London (FLS) and frequently lectures to, and acts as an external examiner of, Landscape Architecture students studying at the University of Gloucestershire. Her own garden at Througham Court in the Cotswold Hills is widely acclaimed and has been described as " an extraordinary garden for the 21st century".
Areas covered
Midlands, North Thames, South Thames, South West, Wales
Types of work undertaken
Decking (unlimited)
Fencing (unlimited)
Commercial (unlimited)
Hard Landscaping (unlimited)
Soft Landscaping (unlimited)
Disabled/Historic Gardens (unlimited)
Design Facility (unlimited)
Domestic (unlimited)
Irrigation (unlimited)
Ponds And Water Features (unlimited)
Projects
MAGGIE'S CHELTENHAM
The landscaping at Maggie's Cheltenham uses the mathematical tilted S-shaped Sigmoid Curve, a metaphor for life & living, as inspiration for the design. The Entrance Garden with its visually stimulating S-shaped moundettes weave gently between the trees alongside the dramatic S-shaped water sculpture by Bill Pye. A Courtyard Garden creates a private and tranquil space with seating, bespoke pergola and highly scented planting. Colour is important in restorative gardens for its profound effect on mood. Visitors pass the 'flower forest', a wide flower border planted with vibrantly coloured burnt orange and violet-hued perennials and bulbs: colours symbolising energy and optimism: a continuous link with nature throughout.
TEATRO FIBONACCI
The music-loving clients requested that their existing farm courtyard, currently a building site surrounded by newly restored buildings, be transformed into a dramatic landscape for entertaining and holding the occasional musical performance. A dramatic , gently sloping, terraced theatre takes the Fibonacci number sequence and the Golden Section as inspiration for the design with simple strong lines and intriguing features. Each of the 5 terraces (edged in French limestone and Cor-Ten steel) is positioned in accord with the Fibonacci sequence with all terraces sloping to one side for added drama. A tumbling rill effectively links the terraces. Planting is minimal with an accent on orange-brown coloured flowers to compliment the Cor-Ten used for hard landscaping and bespoke planters.
COLOUR THE WIND
A 3 acre designed landscape from an existing field with a contemporary feel yet blending in with the glorious Welsh mountain backdrop of borrowed landscape. One of the clients is a renowned artist & sculptor with a clear brief: a radical design with colour an important component and spaces to display the sculpture. The design is asymmetric, formal towards the house & progressing to informal with naturalistic planting as the garden progresses up the slope. The radical design uses wide gravelled areas and a 'river' of fine blue Welsh slate. The extensive planting was designed with drifts of grasses and late perennials to give a rich tapestry of colour, all interspersed with curving blocks of clipped yew to provide essential structure. Because the planted area was large, a flexible grid plan was created in order to implement the planting scheme.
THE OCEAN SINE WAVE GARDEN
A garden with water frontage on the Fowey Estuary and spectacular, unspoilt coastal views. The clients requested a series of wide steps progressing through the site to the house from an entrance high on the cliff top road. The sides of the stone steps will be landscaped as soft grassy mounds linked by wide swathes of planting. Called Ocean Sine Waves, the planting design comprises just 4 species of seasonal perennials growing in a sine wave pattern - a pattern found frequently in nature as in wave formation. The garden is currently under construction.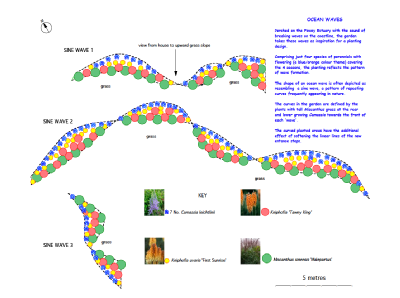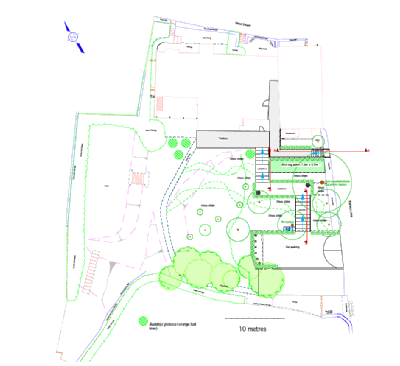 THROUGHAM COURT GARDEN
Christine's own garden where design inspiration comes from her previous scientific career and includes the numbers and patterns in nature and contemporary scientific facts and theories. This is a garden of ideas in the tradition of Stowe. It includes Chiral Terrace, Fibonacci's Walk, the Cosmic Evolution Garden and the Six Pillars of Scientific Wisdom. All the gates and seats are designed by her. New planting designs are incorporated into the designs. Currently there isan 'experimental' area of North American perennial wild flowers, now in their 3rd year. The garden is featured on radio and TV and in many periodicals and books including 'The Cotswolds Finest Gardens' by Tony Russell; The New English Garden by Tim Richardson; Garden Designers at Home by Noel Kingsbury; Througham Court Garden by Christine Facer; Exclusives Garten Design by Ullrich Tim and many more. It has been described by Tim Richardson as "An extraordinary private garden for the 21st century". The garden continues to evolve.