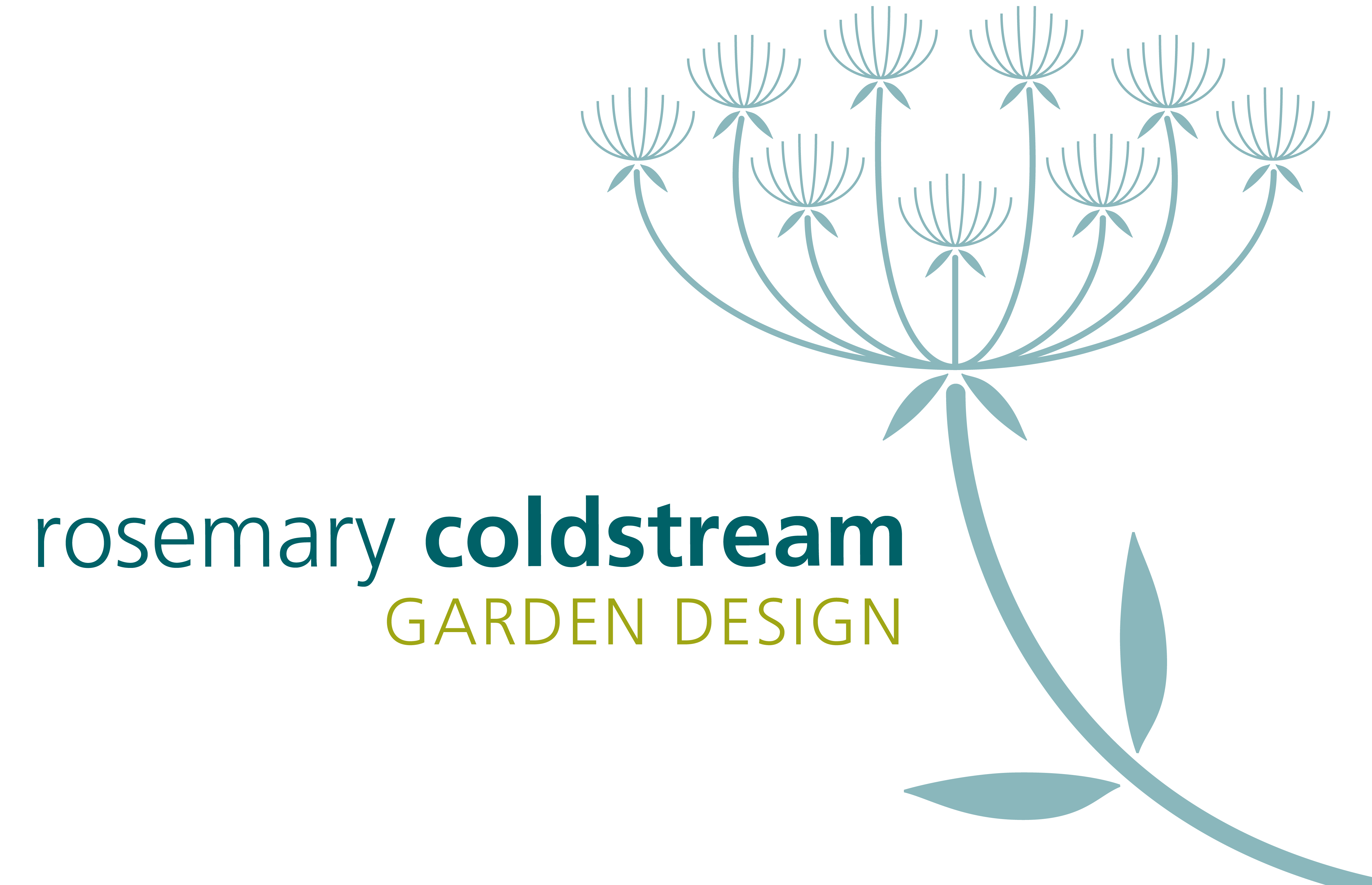 Accredited Designer
Hertfordshire, AL4 9PD info@rosemarycoldstream.com 01727 860092 www.rosemarycoldstream.com




Search again
About Coldstream, Rosemary (MBALI)
Rosemary's work is characterised by bold forms and naturalistic planting. She is influenced by the dramatic landscapes of her childhood in New Zealand, combined with a lifelong passion for English garden traditions. Rosemary brings a personalised approach to designing that is shaped around the needs of each client. She enjoys developing a dialogue with garden owners, to gain a deep understanding of their tastes and needs. She combines this with flair, imagination and experience to create distinctive gardens with personality that sit perfectly in their surroundings. Rosemary started her company in 2006 and has worked on a vast range of projects from small London gardens and roof terraces to large country estates. In 2018 Rosemary was awarded a Gold Medal at Hampton Court Flower Show for her 'Best of Both Worlds' garden for BALI along with awards for Design Excellence from BALI and the Society of Garden Designers. With expertise in all aspects of horticulture, landscaping and detailing - including water features and lighting - Rosemary and her team offer a complete design service, from initial concept ideas to the final realisation of your dream garden.
Areas covered
South Thames, North Thames, South West, East Anglia, International, UK Islands
Types of work undertaken
Decking (unlimited)
Playground (unlimited)
Interiorscapes (unlimited)
Hard Landscaping (unlimited)
Design Facility (unlimited)
Soft Landscaping (unlimited)
Disabled/Historic Gardens (unlimited)
Commercial (unlimited)
Ponds And Water Features (unlimited)
Fencing (unlimited)
Roof Gardens/Green Roofs (unlimited)
Domestic (unlimited)
Arboriculture (unlimited)
Swimming Pools (unlimited)
Grounds Maintenance (unlimited)
Irrigation (unlimited)
Projects
Modern Garden Hampstead
The front garden and driveway are landscaped in seamless detail with sophisticated blue-grey granite and a 'black planet' puddlestone sculpture. The back garden is for entertaining and relaxing with outdoor sofas and a sleek kitchen. The lawn is constructed on top of a rear basement extension, affording a sense of openness. Pleached trees, shrubs, perennials and grasses bring subtle changes in colour throughout the year. A luxurious roof garden with lavenders, thyme and sedums provides a private space to feel connected to nature in the heart of London.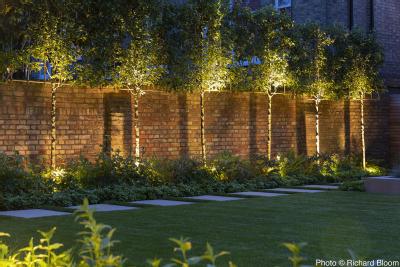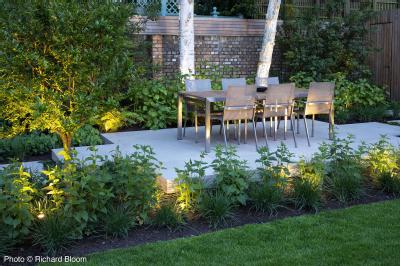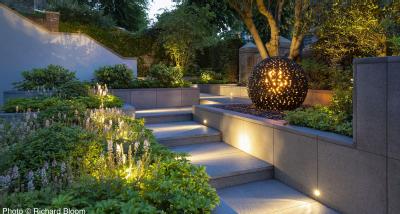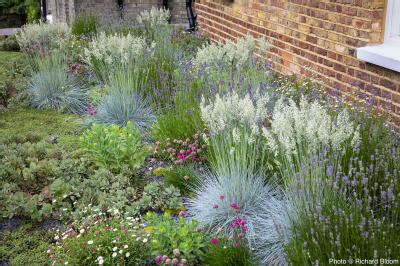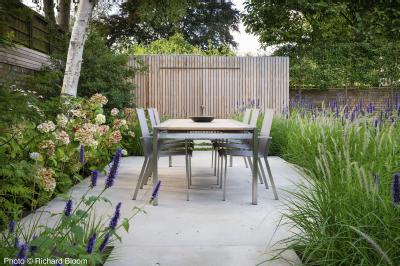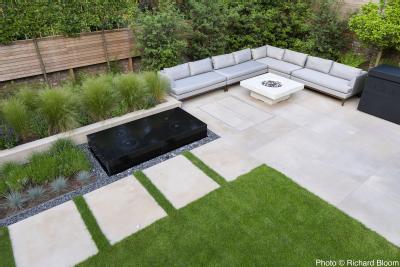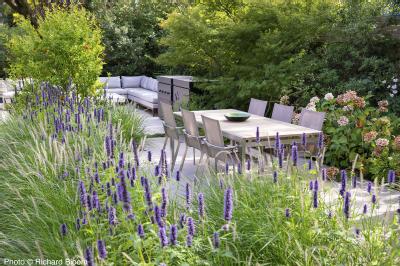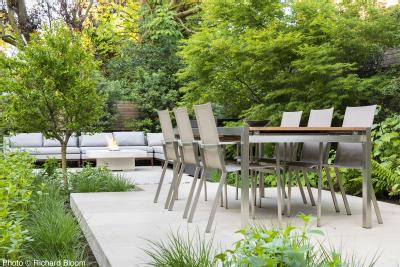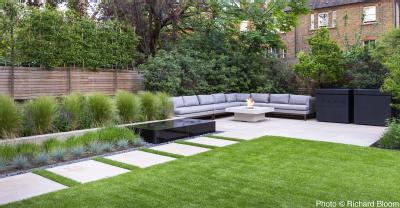 Country Garden
The client wanted to update this beautiful country garden in the chalky Chilterns. The front entrance has been defined with drum-shaped beech pillars and lavender leading to the front door. A gravel garden has relocated the parking further from the house. A series of terraces wrap around the house with evergreen structure and perennials creating colour and drama through the year. The swimming pool was renovated adding new pool copings, paving in French Limestone and a stone-clad wall for safety. New borders were added, framing the views to the vineyards.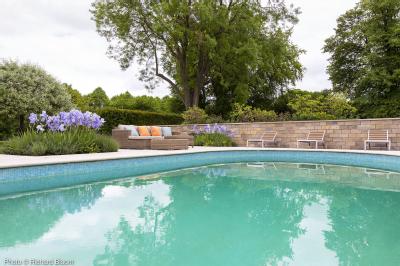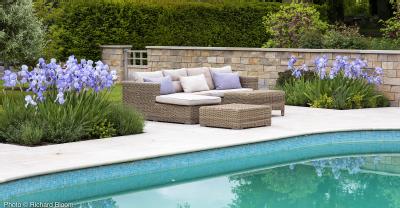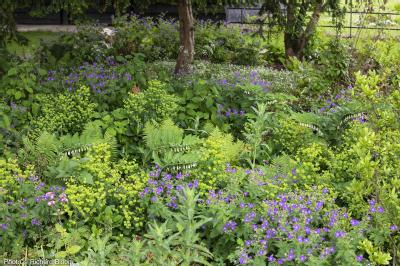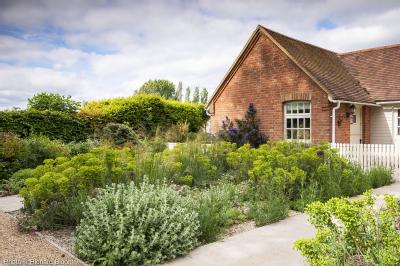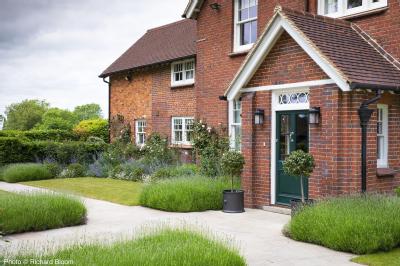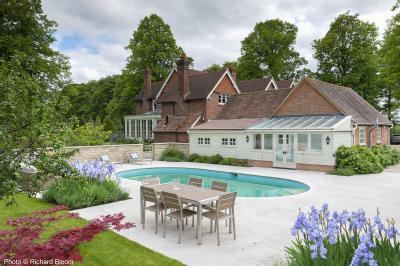 Copper Courtyard
This jewel of a courtyard is a tranquil haven for relaxing – and also provides a beautiful backdrop with framed views from the kitchen. The central feature is a fish pond with a copper water feature. A curved laminated Ipe bench flows from one side to the other, bisected by the pond. The timber adds warmth to the space, while the Venetian plastered walls and porcelain paving bring sophistication. Carefully integrated lighting provides drama and a sense of luxury. Designed in collaboration with artists Evan James Design & Lala Pangolin.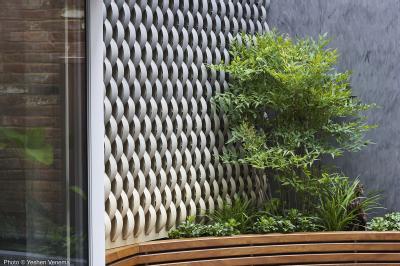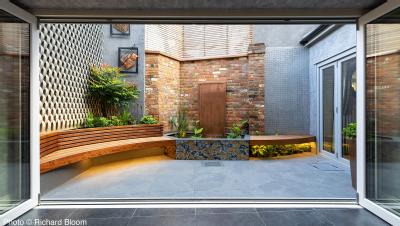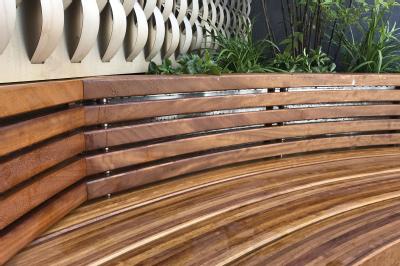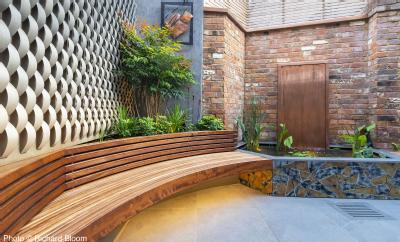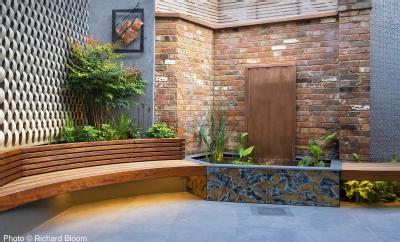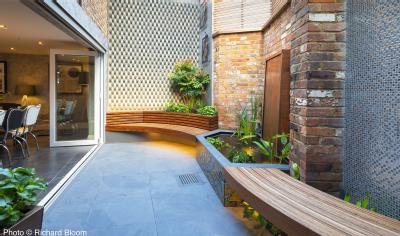 RHS Hampton Court Flower Show
Best of Both Worlds is a show garden inspired by the stories of couples who share a love of gardening – but have very different tastes. On one side, a traditional space with loose planting; on the other, more defined contemporary geometry. The traditional side has seating for breakfast and lunches; the contemporary side a sunken area with a fire-table for evening relaxation. The garden won a Gold Medal at the RHS Hampton Court Flower Show 2018 in the Show Garden category. Sponsored by GoLandscape for BALI.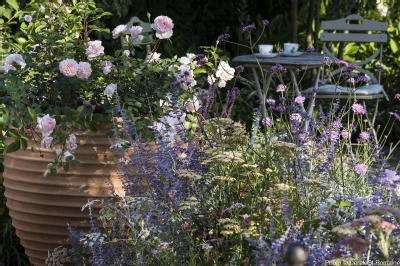 The River Garden
This is a modern courtyard garden in a dramatic setting. The client's brief was to make the most of this beautiful location next to a small river. The geometric design, with an emphasis on horizontals, maximises the width and helps frame the view. The lower terrace is reminiscent of a jetty, cantilevered over the water and wrapping around the tree. The curved seating offers a late afternoon spot to sit and watch the world – and the local wildlife – drift by. Principal winner Design Excellence under 50K BALI Awards 2015.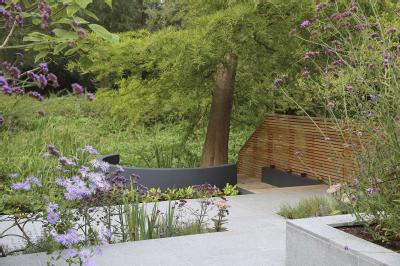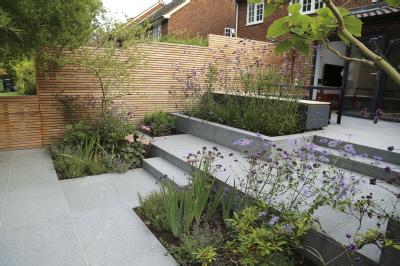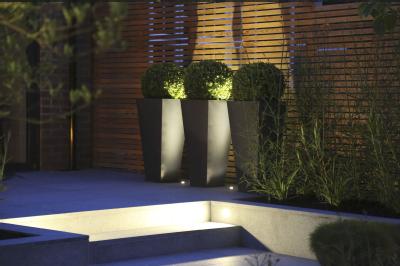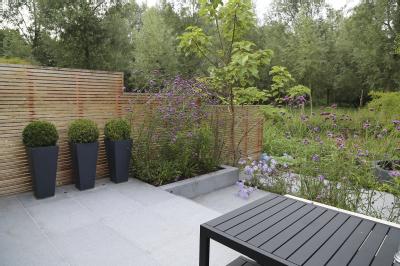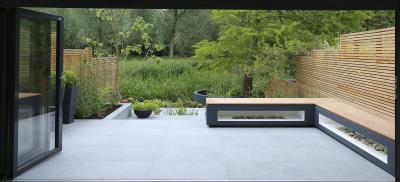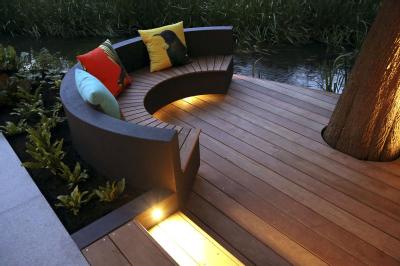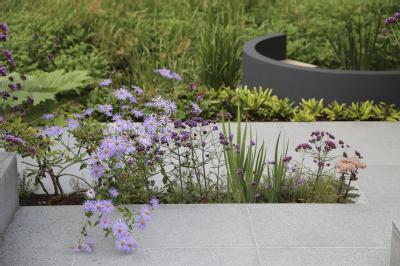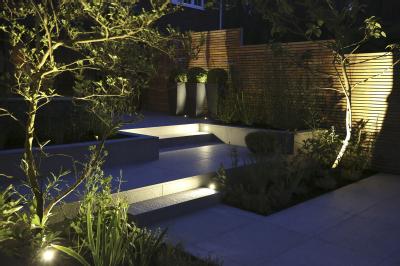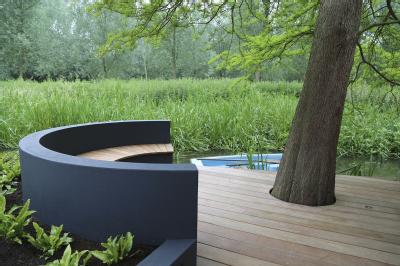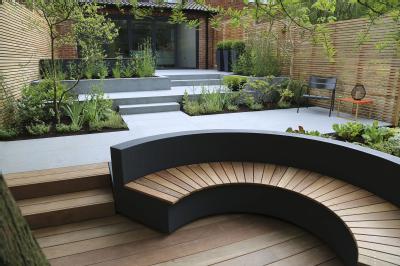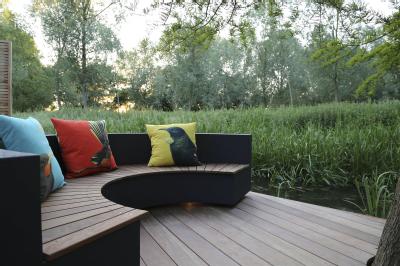 Contemporary Curves Garden, Camden
This shady London garden was brought back to life with light stone paving and splashes of colour. The design follows the architectural curves of the house. The basement terrace combines steps and seating with vibrant walls. A flowing path widens and narrows leading to a lawned area with curving bench and a terrace. The water feature adds rippled light to the space. Planting is designed to make the most of the shady aspect with Japanese maples providing structure. The old rocking was found a new home in the planting.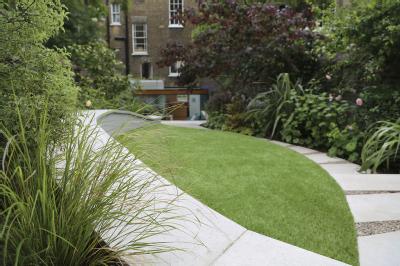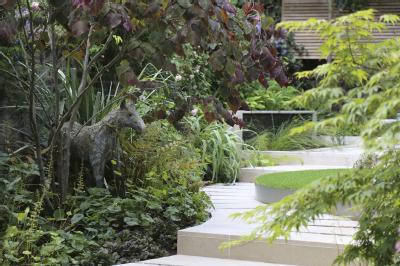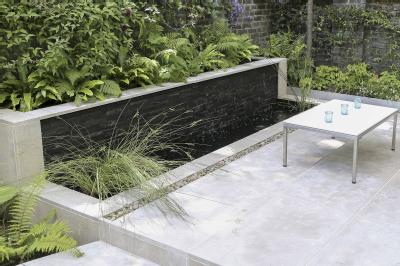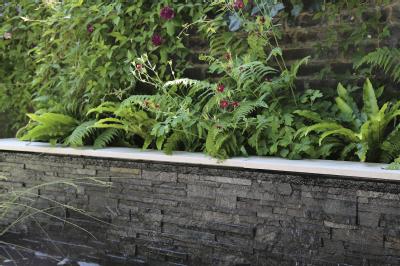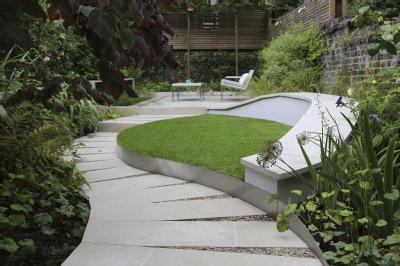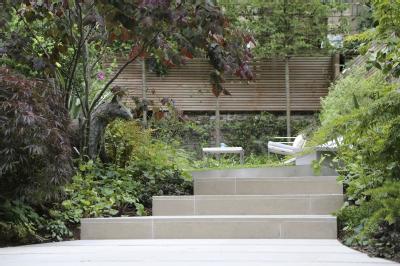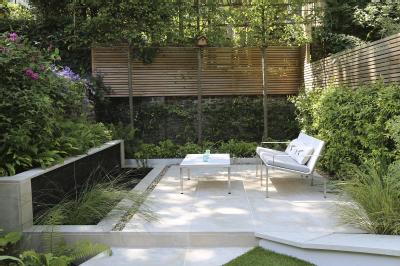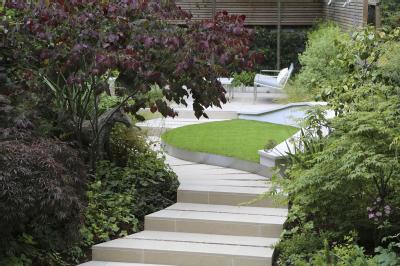 Contemporary Family Garden
This garden combines the childhood essentials with year round plant interest. A central lawn is the venue for family games. Side paths create secret passages through planting, including a 'jungle' designed for young explorers. Planting screens the trampoline and swings from the main views. Decking next to the house and outside the garden studio provide space for relaxation and dining. In the lower terrace are four small but productive vegetable beds. When the play equipment is no longer required, more space will be given over to a productive garden.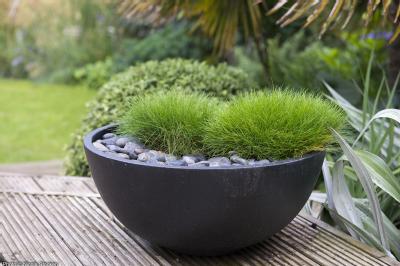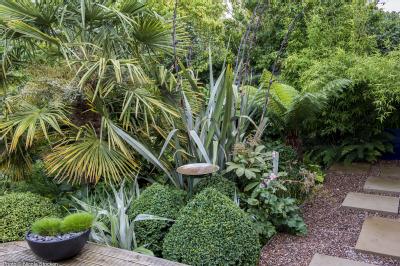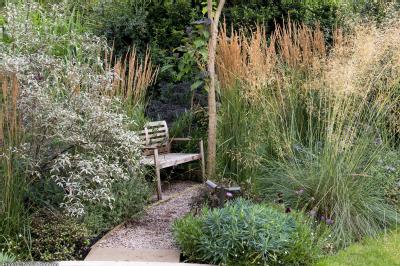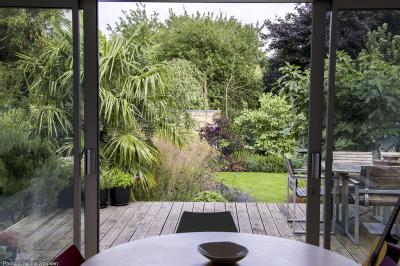 Family Garden
This large family garden needed renovating. A terrace now leads from the house to a sunny seating area. Two oval lawns are woven together with curving paths and sweeps of planting. On one side, a woodland garden; on the other the sunny dining and relaxing area. Granite, hardwood timber and pebbles bring a sense of natural harmony. A child-safe water feature in polished black granite cubes and custom-designed benches add to the detail. Colour was injected into the design with a range of perennials and autumn colouring trees and shrubs.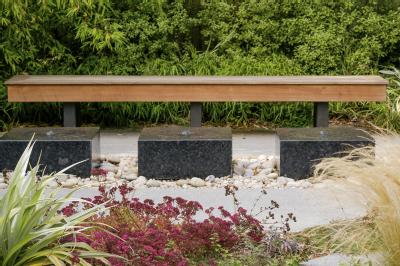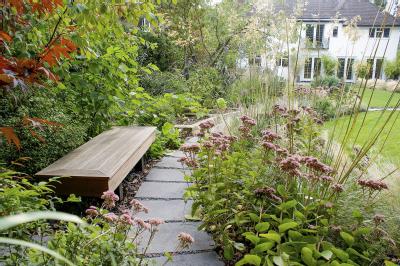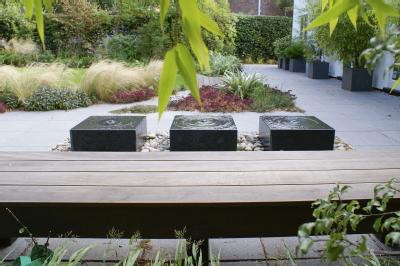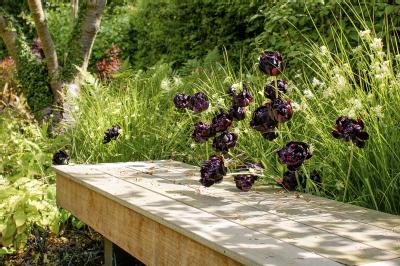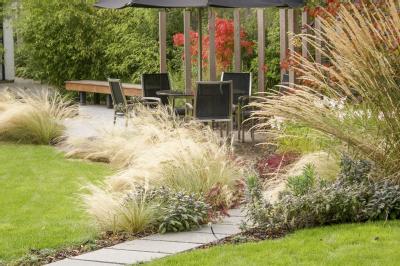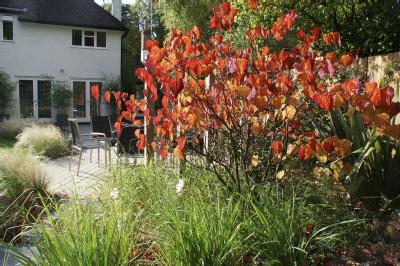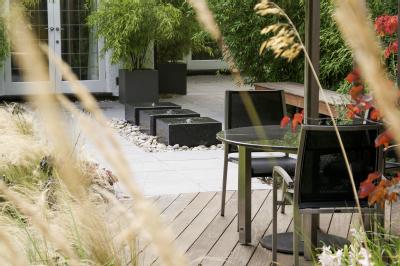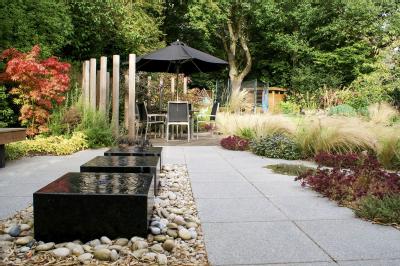 Contemporary Garden
Sunken seating and an Alan Wilson water sculpture bring dramatic year round effect, in a garden where the client was seeking something different from the traditional lawn and borders. Wide granite steps lead to a winding path flowing past gentle, fragrant planting. Halfway down the garden is a sunken curved seating area with a welcoming fire-pit. At the end of the path lies a dining terrace and contemporary garden studio.