Accredited Supplier
Cambridgeshire, PE7 8QJ topsoil@britishsugar.com 0870 240 2314 www.bstopsoil.co.uk





Search again
About British Sugar TOPSOIL
British Sugar TOPSOIL produce a high quality range of subsoils, topsoils and topdressings. All products are fully tested and compliant to the relevant industry standards such as BS8601:2013 & BS3882:2015. The topsoil in our products is derived from the prime arable soils that adhere to sugar beet delivered to British Sugar factories, ensuring that all of our products are clean, consistent, traceable and truly sustainable. With over 40,000t of covered storage we are able to supply dry usable products year round. Link to video on how TOPSOIL is produced; https://www.youtube.com/watch?v=J7J89ls60xQ
Areas covered
South Thames, North Thames, East Anglia, Midlands, Yorkshire North East
Types of work undertaken
Top Soil And Aggregates (unlimited)
Commercial (unlimited)
Domestic (up to £5,000)
Compost, Mulches and Soil Conditioners (unlimited)
Projects
RMC McRail Construction
RMC McRail Construction had 1,000 tonnes of subsoil delivered to the site in Newhurst. When finished, this facility will treat up to 350,000 tonnes of residual waste per year, generating up to 42 megawatts of low carbon energy.
RMC McRail's Earthworks Manager on the Newhurst project, Andy Fairbrother, said:
"It was crucial that the subsoil we selected satisfied the stringent requirements of the specification. British Sugar TOPSOIL's SubSoil product has been perfect for this particular element of the Newhurst project as it is free-draining and easy to work with."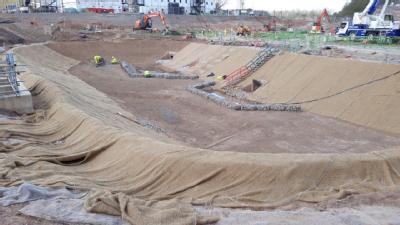 Middleton Hall Golf Club
40 Tonnes of Sports&Turf used to overseed and topdress tees, and to back fill draught damaged turf. It is now used as an effective divot mix to repair worn areas.
"I have been impressed with Sports&Turf. It is easy to use, offers value for money and if ordered by midday, can be delivered the following morning. I consider that to be fantastic service and would recommend British Sugar TOPSOIL's great products to other golf courses and landscapers." James Raines, Head Greenkeeper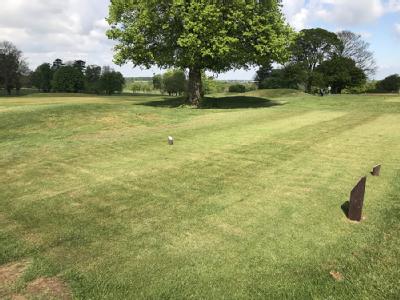 Mill Road Mosque, Cambridge
230 bulk bags of TOPSOIL's 'HortLoam' were used in February and March 2019 in preparation for carrying out the soft planting for Mill Road Mosque
"HortLoam was the ideal planting medium for the project as sustainability was an important part of the designer's brief. I've always found British Sugar TOPSOIL products to be of a high quality, consistent, and supported by great customer service. The ease of ordering made deliveries quick to turn around. I would recommend this product to any landscaper for planting schemes." Michael Fellas, Landshaped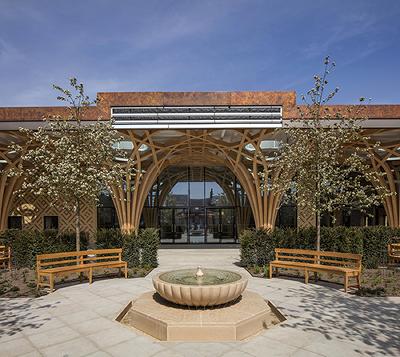 Eton College
20 tonnes of Landscape20 for turfing preparation and 40 tonnes of HortLoam for shrub beds.
"I and the team at Eton College like working with TOPSOIL's products because of the consistent high standard and quality of the materials." Head Gardener Michael Long