From 1st January 2021 the United Kingdom will operate a full, external border as a sovereign nation. New controls will be placed on the movement of goods between the EU and UK, and UK businesses involved in the import of plants and plant material may need to adapt their working practices.
Phytosanitary certificates required for plants and plant products entering the UK
From 1st January 2021, imports into the UK from the EU which previously arrived with an EU Plant Passport will instead require a phytosanitary certificate upon departure from the EU. Phytosanitary certificates will be issued by the plant health authority in the country where a supplier is based.
Physical and identity checks on regulated plant products
Border Control Posts (BCPs) will be built and plant health inspectors recruited throughout the UK during 2021, with the aim of performing physical checks on regulated goods - which include all plants for planting - upon entry into the UK from July 2021.
Until BCPs are fully commissioned, a system of site-based physical inspections on plants will be introduced by Defra on the 1st January 2021 and last throughout the first half of 2021. This means that, from 1st January 2021 until 30th June 2021, businesses can register a 'place of destination' for plant(s) or plant material(s) where this physical inspection - undertaken by a Defra plant health inspector - can take place. The inspection may be carried out on plants or plant materials arriving from the EU and are either:
a) being delivered to a yard/compound
b) going direct to a UK site and being planted at this same site
The phytosanitary certificate issued in the EU can accompany the consignment to this 'place of destination' without a UK Plant Passport being required, providing the place of destination is registered using this form and emailed to the Animal and Plant Health Agency (APHA) at this address.
Movement of materials in this way is subject to pre-notification via an internet-based Defra tool called 'Procedure for Electronic Application for Certificates' (PEACH). You need to register to use PEACH; click here to register. The terms of pre-notification are as follows:
By air; at least 4 working hours before the material lands in the UK
Not by air; at least 1 working day before the relevant material arrives in the UK
Please see section below for more detailed information regarding physical and identity checks during 2021.
From 1 January 2021, only 'high priority' plants and plant products (which include all plants for planting) must have a phytosanitary certificate and pre-notification prior to entry in the UK. These will be subject to physical and identity checks by plant health inspectors that will occur at first place of destination (POD), for which no fee will be charged. Click here for process.
From April 2021, all regulated plants and plant products (which include all plants for planting) must have a phytosanitary certificate and pre-notification (details of pre-notification to be advised by APHA). Physical checks will still only be required on EU high priority goods at place of destination.
From July 2021 physical and identity checks will move to Border Control Posts and the number of physical and identity checks will increase. The use of PODs for checks on goods from the EU will no longer be permitted.
Movement of plants and plant material from 'First Place of Destination'
Phytosanitary certificates must be replaced with a UK Plant Passport at the 'Place of Destination' if the operator meets any of the below criteria:
Moving material to another professional operator;
Selling material to final users (those buying for personal use) by means of distance contract, e.g. online;
Moving material to another of their own premises which is more than 10 miles from the premises to which the consignment arrived;
If the phytosanitary status of the consignment changes, for example, if it has been grown on or if they have been reconfigured (e.g. two plants in separate pots have been planted up in a new pot together).
UK Plant Passports attached in EU member states for the first 6 months of 2021 only
To help ease the transition to the new UK Plant Passport process in 2021, Defra have permitted EU-based operators to attach UK Plant Passports to consignments destined for the UK. This decision is to help the onward movement of plants and plant material once cleared at the First Place of Destination, and will help operators.
UK Plant Passports attached by EU-based operators must be generated by UK-based operators authorised to issue UK Plant Passports, and will have no legal status until they reach their First Place of Destination in the UK. A phytosanitary certificate will still be required on all material entering the UK from the EU.
The content and format of UK Plant Passports differs from the EU Plant Passports previously used
To make EU Plant Passports and UK Plant Passports easier to distinguish, UK Plant Passports (below left) feature the following:
No flag on UK Plant Passports
'UK Plant Passport' words rather than the current 'Plant Passport'
No changes to Section A (botanical name)
Section B will no longer be prefixed with 'GB'
No changes to Section C (traceability codes)
Section D (country of origin) will change slightly for some plant species. Details to be confirmed.
Please
click on this link
to review the changes in more detail and see example templates.
The EU term 'Protected zones' will change to 'Pest Free Areas'
GB will use the internationally recognised term 'Pest Free Areas' (PFA). Pests previously referred to as Protected Zone pests will either become GB quarantine pests, which refers to the fact that the pest is absent throughout the UK, or PFA pests, which refers to those pests that are absent in only part of GB.
Commodities which are hosts of GB quarantine pests will require standard UK Plant Passports (please see image above) for movement within the UK, whereas commodities which are hosts of PFA pests will require PFA UK Plant Passports (please see image, below) for movement within GB.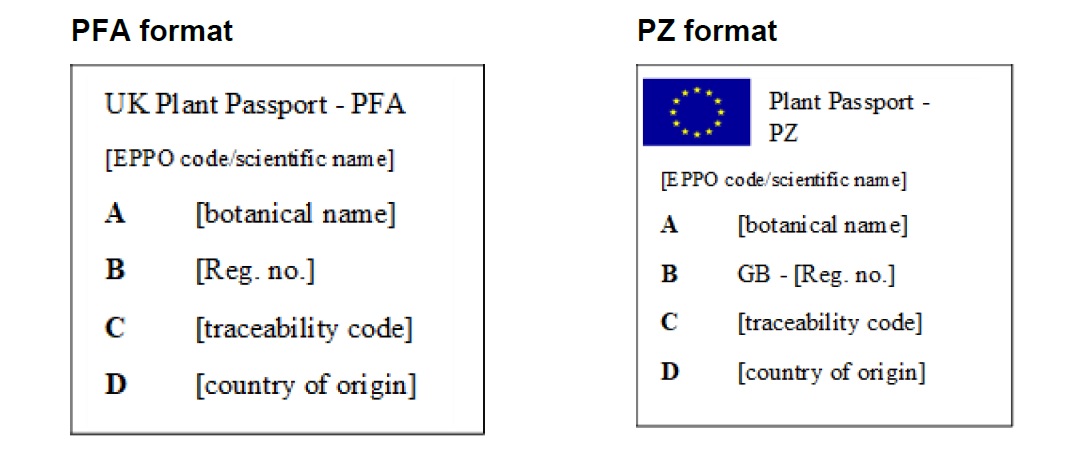 Useful links