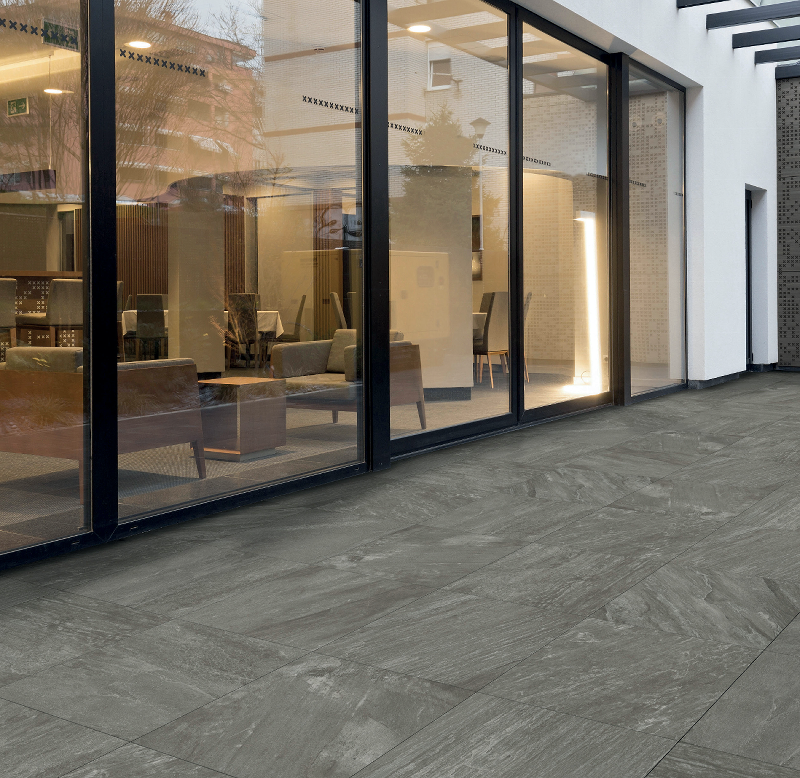 Talasey Group's new additions to their Vitripiazza Anno range
15 Mar 2018 | BALI Member News
BALI Registered Affiliate member Talasey Group have added three more colour options to their Vitripiazza Anno range of vitrified porcelain paving. While still a high quality Italian porcelain, the Anno range offers an economical option for projects with a more modest budget due to the slight reduction in the pavers' thickness.
This 18mm hugely popular range of vitrified Italian porcelain pavers is aimed at the design-focused customer who desires a quality and affordable product. Reducing the thickness of the flagstone by just 2mm does not affect the integrity of the product but does, however, make this much lighter to handle on-site and easier to cut. The thickness reduction also helps with the importing, manufacturing and transportation costs supporting very competitive delivered prices.
Adding three new colours has diversified the range's colour pallet to offer more choice for consumers and designers. The current Biscotto (Cream/Buff), Grigio (pale grey) and Grafite (dark grey) are joined by the new Avorio, Bronzo and Panthera flagstones. Avorio has beautiful pearlescent ivory white and silver tones, perfect for brightening up a shaded garden area, whilst Bronzo offers a very rich and distinctive mix of brown and bronze tones to complement diverse landscapes and the striking Pantera is the darkest option in the Anno range presenting deep shades of slate black for creating a truly contemporary outdoor living space.
All the Anno range has stunning shade and riven variations and with twelve different connotations in a pack all available in 600mm x 600mm size format, the range offers a unique and distinct finish every time.
The Anno range is highly durable and resistant to attack from moss, mould, salt and pesticides. What's more, the flagstones are frost-proof, virtually non-absorbent and are easy to clean. The Anno flagstones are machine milled (rectified) to produce crisp, smooth edges for easy installation and to enable very neat joints/lines to be achieved.
Malcolm Gough, Group Sales & Marketing Director for Talasey Group, commented: "Vitripiazza is one of our most popular brands. I predict that 2018 is the year that porcelain is really taken seriously by the professional landscaper and we now have a very comprehensive range of porcelain products that will cover every budget and style.
"Our warehouse facility in Doncaster houses the majority of our stock and we can offer a 24-48 hour delivery service on the majority of our product lines. The Anno range is so well priced that this product is being taken into stock by a great number of builder's merchants in the UK, giving it real visibility and availability to the landscaper and end-user. We are also offering a sample box set with a 100mm x 100mm swatch of each colour inside so the landscaper or merchant can offer their customers the new full pallet of colour options."
The wider Vitripiazza Range also comes with several accompanying accessories for creating a unique and bespoke outdoor living space including pieces for steps, swimming pools and edgings. Talasey Group can edge process and fabricate bespoke individual flags for step and feature pieces to achieve the perfect finish for a landscape design. Edging processes include bullnose, half bullnose, chamfered, bevelled and over edge and a bespoke engraving service is also available.
The Talasey Group also provides the installation products to ensure the integrity of the paving system when installed. The Pavetuf Priming Slurry is used to bond the paver to the full bed of mortar and the paving can be jointed with either Pavetuf Jointing Mortar or Pavetuf all-weather Jointing Compound.
The entirety of each flagstone within the Vitripiazza collection is made from high quality, full-bodied porcelain as opposed to a ceramic tile. With 26 different colours across eight ranges, the collection also comes with a wide selection of accessories to create the perfect finishing touches.
For more information on Vitripiazza collections from the Talasey Group, please visit www.vitripiazza.co.uk