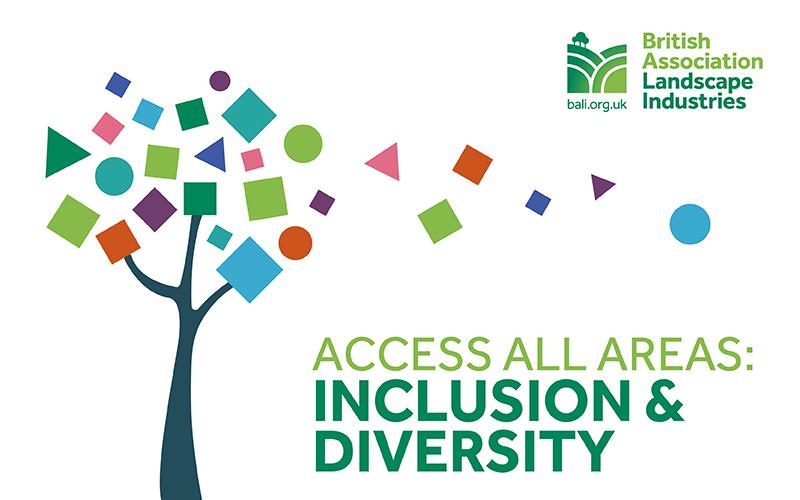 Access All Areas event: Inclusion & Diversity panel discussion heralded a success
09 Dec 2021 | BALI Member News
On 2 December 2021 the British Association of Landscape Industries hosted its first Inclusion and Diversity panel discussion, 'Landscaping – Access All Areas'. Board directors Adrian Wickham and Paul Downer facilitated discussion to explore the barriers that people within the landscaping industry, and those looking to enter it, face in relation to accessibility, attitudes, facilities and not being considered a suitable fit for a role.
The posed questions to a stellar line-up of panellists, in front of a small audience at The Royal Society of Arts (RSA), London and the event was also livestreamed with a BSL interpreter available online to assist those who are Deaf and use British Sign Language.
The incredible panellist line-up was comprised of:
• Manoj Malde: Award-winning Garden Designer, TV Presenter, Public Speaker, Blogger and RHS Judge
• Mark Lane: BBC Gardening Presenter and writer
• Flo Headlam: Designer and Gardening Presenter
• Ashley Edwards: Head Gardener, Horatio's Garden
• Dr Ekua McMorris: Artist and Curator for Sowing Roots
• Helen Waddington: Head of Casework, Perennial
The group openly discussed the barriers that they had faced and explored what the industry must do to ensure that it becomes more inclusive. Online attendee Nigel Bowcock, Vice-Chair of the Board and Director at Acre Landscapes commented:
"This was one of the best Association and Industry events that I have seen – new, ground-breaking and very much needed."
Kate Cooney, Corporate Partnership Manager at Perennial added:
"A very big thank you for the warm welcome, generous hospitality and amazing, thought-provoking discussions at the Access All Areas meeting. The location was perfect and the speakers, and indeed comments from the audience, were thought-provoking and inspiring - there is obvious value in the work that the Association is doing.

"An Association Director told me recently that we know that biodiversity is essential for the planet, but it's equally important for our work force and this meeting really brought that home. There is still a lot of work to do in our industry as well as our society in general, however, I believe that small steps like these can potentially snowball into creating a stronger, more diverse society and I look forward to the next meeting."
Guest panellist Manoj Malde commented:
"I am keen to help the energy, passion and creativity within the younger generations to be driven in a positive direction. This event is an opportunity for open discussion and a chance to raise awareness to an industry where everyone is welcome and where you can be a person that makes a difference for future generations."
The Association is committed to driving positive change and to actively facilitate and encourage discussion on how businesses within the industry are currently run and where opportunities exist to improve.
We extend our thanks to Accredited Contractor member Glendale Managed Services, Green-tech and John O'Conner (Grounds Maintenance) for their generous support of this event, and to board directors Tessa Johnstone and Adrian Wickham, the key drivers behind the idea.