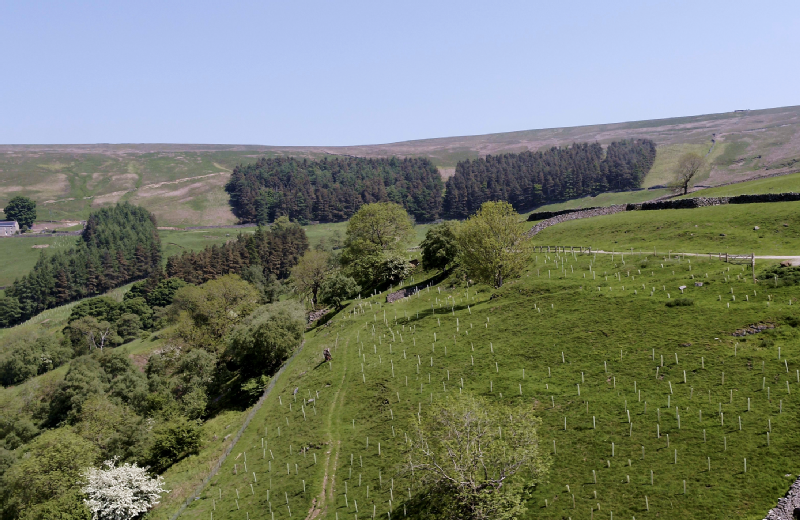 65,000 trees and shrubs protected by Green-tech
24 Oct 2018 | BALI Member News
Green-tech is a leading UK supplier in landscaping, forestry and horticultural industries and is a BALI Registered Affiliate member.
Green-tech has managed to create a new 50ha woodland area in the heart of Nidderdale, an Area of Outstanding Natural Beauty, which has done wonders for the local rural economy.
The Summerstone Estate is located within 1,400 acres of stunning Nidderdale Valley in the Yorkshire Dales and is one of 46 Areas of Outstanding Natural Beauty. It is considered a special place that is worthy of protection. The estate owners are keen advocates of sustainable land management, wanted to create a green framework to enhance their local landscape.
As well as being recognised for its natural beauty, The Summerstone Estate is ideally situated for the sporting enthusiast with the surrounding countryside being renowned for the quality of its grouse and pheasant shooting.
The owners approached Tilhill Forestry, one of the UK's leading forestry management and timber harvesting company, to plant an excess of 65,000 trees and shrubs.
Green-tech is a leading supplier of Tilhill and managed to supply in excess of 65,000 Tubex 1.2m tree shelters, Tubex 60cm Shrub shelters and stakes.
Commenting on the completed project Simon Marrington, Tilhill Forestry's New Business and Senior Forest Manager said: "As usual Greentech were great. Everything was just to the high standard we expect and our customer is very happy."
Green-tech is a leading supplier to landscaping industries and distributing products that help protect, enhance and improve plants and their environment. To find out more visit the website: https://www.green-tech.co.uk/