This page provides information and reviews on the latest handheld equipment and products from some of the largest suppliers of landscape machinery.
Stihl Rotary Cutting Head: British Association fo Landscape Industries Review
Those familiar with undertaking maintenance work involving brush cutters will be familiar with the risk of debris being accidentally flicked from the spinning head. The speed of debris poses a hazard to property, people and animals, and is of particular concern where grass and scrub is managed next to roads, car parks and third-party property.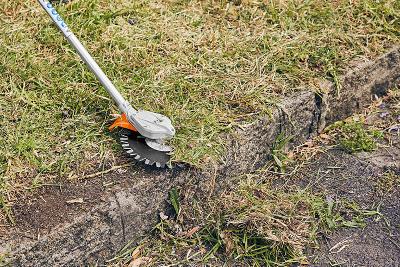 Whilst measures can be taken to ensure the risk of debris being flicked is lowered, using brush cutters remains a hazard.
Accredited Supplier member Stihl has released a brush cutter attachment which aims to significantly reduce the risk associated with using brush cutters on or next to tarmac and paved surfaces. The device works more like a hedge trimmer than a traditional brushcutter head; upper and lower blades move back and forth to 'cut' vegetation.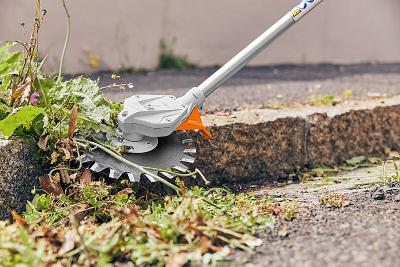 Safety distances between property and people can be reduced significantly due to the reduced risk of debris being fired from the attachment, with obvious benefits for commercial users. The device can be rotated to maximise the period between sharpening blades.
The RG brushcutter attachment can be used on the FS 91 R, FS 94 R, FS 111 R, FS 131 R and the cordless FSA 130 R brushcutter.
For more information visit the Stihl blog page here.