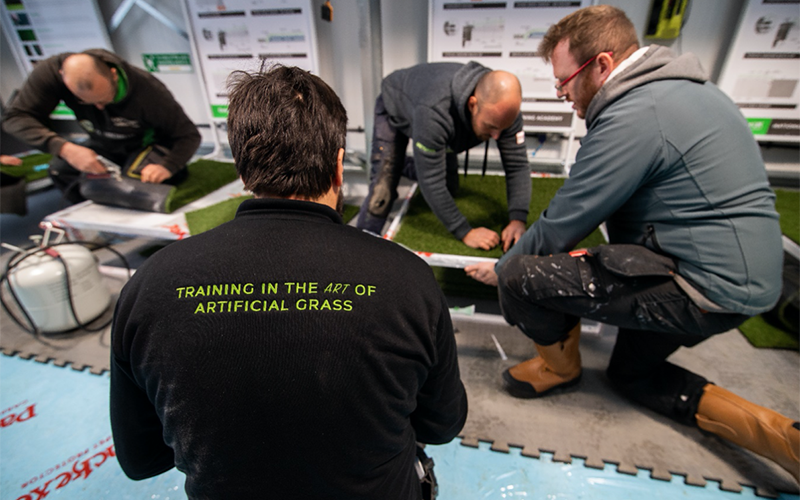 Training in the art of artificial grass with Evergreens UK
29 Jul 2020 | BALI Member News
BALI Registered Affiliate Evergreens UK Group's new landmark academy has re-opened its doors and launched a host of new training course dates at its pioneering facility in the East Midlands.
Working alongside Lantra Awards, Evergreens UK provide a two-day, theoretically and practically-assessed accredited award that will teach participants the essentials of professionally installing synthetic turf surfaces.
Those in the horticultural, landscaping, grounds-maintenance, or facilities-management sectors are welcome and encouraged to take part. The course caters for all abilities and is key to installing artificial grass proficiently.
Areas that the course covers include environmental working, site and drainage considerations, the history and types of artificial grass, batch matching and installation processes, as well as maintenance and aftercare.
Furthermore, the expert team of instructors will explain the necessity of using the correct tools and equipment, in addition to the best ways to stay safe while in the working environment.
Upon successful completion of the course, attendees will be awarded with a Lantra certificate of competence and a Skills Identity Card. Attendees will also be entitled to apply for an Artificial Grass Installer Blue Skilled LISS/CSCS Card via BALI, which is a requirement to work on a commercial site.
David Fisher, Market Development Manager at Lantra, said
"Lantra Awards is delighted to welcome Evergreens UK to the network of Lantra approved training providers. Developed with Evergreens UK, Lantra's new training course covering the Installation of Artificial Grass Surfaces will ensure learners are trained to the highest standard in grass installation."
Andy Driver, Sales and Marketing Director for the Evergreens UK Group, said:
"As a leader in the market, we are passionate about professionalising the industry by ensuring excellent standards of installation. In 35 years of trading, we have seen some poor efforts from so-called 'experts', and the sector deserves better. The installation should enhance the product and customers should feel confident when choosing an installer to complete their project. By launching this technical award, we hope that the market and customers will benefit from a more professional service and finish. As the popularity of artificial grass continues to grow, so does the demand for people who can install it in both a safe and competent manner. Synthetic turf is easy to maintain and very durable, though the installation process is crucial to ensuring quality."
To find out more about the course, including pricing and dates, visit https://evergreensukgroup.com/lantra-award/ or call 01572 766912.