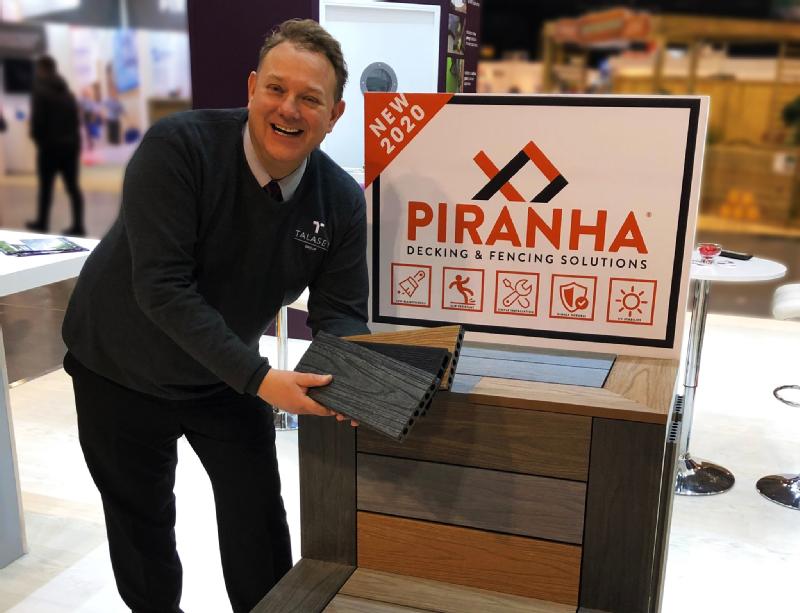 Talasey Group launches decking range with a bite
26 Feb 2020 | BALI Member News
BALI Registered Affiliate Talasey has launched several new products under a new brand, Piranha, a composite decking range.
According to Sales and Marketing Director, Malcolm Gough;
Piranha is a natural extension of what we already offer, and we have chosen composite over a wood product for reasons that include the fact that it will not rot, warp or split. These are firmly in line with our stance as an ethical and responsible importer of materials.
He continued;
There's also no need to stain or paint your deck every year, just simple regular cleaning to keep it looking new. And, importantly, both of our new ranges are reversible. Talasey Limited is FSC® certified, so Piranha decking can play its part in helping to take care of the world's forests too.
The Hunter range currently has three composite decking products. Each colour option has a wood-effect pattern on one side and a colour-matching traditional grooved finish on the reverse, meaning they can be laid either way or contrasted to create unique designs. The Hunter range also has three solid matching edging pieces to complete the decked area plus fixings and is a cost-effective alternative to traditional timber decking.
Fuzion is a premium capped composite which currently has three products. Each one is dual-sided to reveal different shades of the same colour pallet. Fuzion, therefore, offers homeowners six colour options and the ability to create bespoke and on-trend designs utilising contrasting sides of a Fuzion product. The Fuzion range has six matching solid edging pieces and fixings, to finish the decked area neatly and professionally.
Piranha comes with a 10-year warranty for domestic applications for Hunter and a 25-year warranty for domestic applications on Fuzion.
Malcolm is excited about Piranha and says initial customer feedback has been very positive;
We've shown Piranha to a select group of merchants and landscapers, and the response has been far better than we'd hoped for.
He continues;
The most pleasing aspect is that these focus groups know us for the quality of our natural stone, porcelain paving, handmade clay pavers, resin-bound aggregates, artificial grass and installation, maintenance and accessory products – and Piranha is at the same high standard. As our business continues to experience strong growth, the ability to offer a one-stop-shop approach to landscaping solutions is the natural direction of travel for the Talasey Group – mainly because it benefits all our customers.
For information on Piranha visit the new website here. This can also be found via the Talasey website.