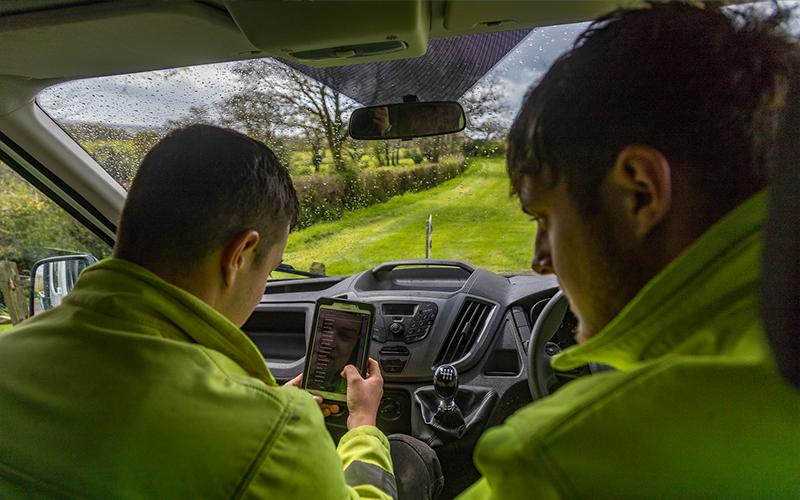 Take control of workflow in 2021 with Re-flow
13 Jan 2021 | BALI Member News
Take control of job management and workflows in 2021 with Re-flow Landscaping software.
In such a hands-on industry, it can be difficult to take on more work without employing more people.
Additional work means extra paperwork, especially with added daily job sheets, risk assessments, health and safety forms, vehicle check, before and after photos- the list goes on. To avoid being deluged with documents and need an army of admins to keep up with it, forward thinking BALI members and other landscaping companies have been embracing the digital advancements in the sector.

How does Reflow Landscaping Workflow Software work?
Re-flow provides mobile management software for companies that need access to job information, up a hill or down a valley. Eliminating paperwork with digital forms that populate management reports as they are completed.
See how Re-flow landscaping works in this overview video
Prior to implementing Re-flow, clients Landscape Services South West, who provide ground maintenance services to a range of customers in both the public and private sectors, were finding the flow of information from the back office to on site a challenge with paperwork sent out to field teams could get lost or dirty with varying site conditions.
Then Landscape Services South West discovered Re-flow to connect their back office and field operations for unified workflow management.
The Re-flow system works using a command dashboard, accessed through a standard internet browser, that enables you to quickly set up and schedule jobs, including fully customised forms, and assign them to groups or individuals. The information is accessed in the field on an app, simply using a smart phone or a tablet.
Users securely sign-in and see job specifications, location maps and project documents and drawings. They tick to complete tasks, make notes, attach project photos, as well as fill in, and digitally sign, a whole range of forms, inspections, permits and logs.
As field operatives complete information, the data from the custom forms comes back to the dashboard for reporting and auditing, so you instantly see what's been done, when, how and where.
Will Stops, Managing Director of Landscape Services said:
Our old management system was very heavily reliant on paper, which was slow inefficient and burdensome, so we had to find a much quicker efficient way of processing information.
Now we've moved to Re-flow, information moves throughout the company and at the push of a button we're able to send information to staff and receive it back from them.
We're also able to pass information on to customers and clients effortlessly. The staff have found the system very, very easy to use they use it on their smartphones.
Re-flow have been fantastic, they listened to what we required, and they've come up with a system that is easy to use. I would highly recommend Re-flow I couldn't imagine running the business without it - this is the way that things are going and if you don't do this now you're probably going to be left behind.
How Re-flow helps landscaping companies
• Allocate the right people, tools and vehicles to each job using optimised calendar and map scheduling
• Assign jobs and tasklists digitally to operatives smartphones and receive completed forms, photos and timesheets back instantly.
• Update plans, reallocate staff and answer queries in real-time.
• Review project data and export the latest information to send accurate invoices quickly
Mike Saunders, Managing Director of Re-flow said:
It's great to join so many of our customers as members of BALI. We look forward to further supporting the landscaping sector in the drive to go digital as part of this esteemed organisation.
Going digital saves Re-flow customers like Tony Benger Landscaping time, enabling the company to provide a more effective service to their customers and explore new aspects of work.
Business owner Tony Benger commented:
Any business in the landscaping field that thinks it can carry on doing it on a paper-based system is just fooling itself; you've got to embrace new technology.
Re-flow has halved the number of job sheets they write every day, which means they have time to explore other aspects of work, such as chasing new business, without having to hire additional admin staff.
Find out more about how you can use Re-flow to help your business grow and watch some other customer success stories.