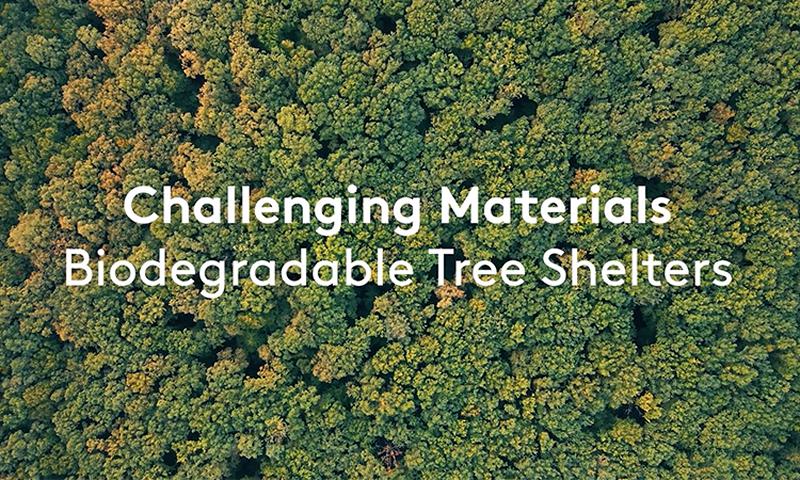 Suregreen and Biome announce phase 1 completion
19 Jan 2021 | BALI Member News
Phase 1 Complete | Biodegradable Tree Shelter
To achieve the UK's ambitious reforestation goals, at least 53 million trees need to be planted per year and ~1.5billion before 2050. Suregreen Ltd and Biome Bioplastics have partnered in developing a commercially, viable biodegradable tree shelter. The project has received funding from Innovate UK's Sustainable Innovation Fund, which seeks to demonstrate the impact and potential of a clean growth-led recovery from COVID-19 and transition to net-zero greenhouse gas emissions.
Watch their video to find out more about the project: Biodegradable Tree Shelter Video
Phase 1 Completion
Suregreen and Biome Bioplastics are very proud to announce the successful completion of the three-month feasibility project to develop and test a new generation of biodegradable tree shelters to be manufactured from their bioplastics.
The initial feasibility project has allowed for the exploration into the performance of a variety of bioplastic materials in this application and culminated in the manufacture of prototypes.
Potential benefits to the Forestry industry
Tree shelters are an integral part of reforestation - without them, up to 90% of trees may die due to animal browsing, herbicide drift, or weed competition. With the government's goal of planting 90-120 million trees per year, tree shelters will prove invaluable. However, with the current tree shelters available on the market being made from plastic, time, money, and resources are needed to ensure that these are collected and disposed of.
These new biodegradable tree shelters will not only help protect the trees like conventional tree shelters but will save time, money, and resources on any project by eliminating the need to collect and dispose of the shelters. This means more time and money can be spent on what matters most - planting trees.
Phase 2 and beyond
This feasibility project was supported by a funding contract between Biome and the UK government's agency, Innovate UK, as part of the Sustainable Innovation Fund (SBRI Phase 1). Biome has tendered for a further contract under SBRI Phase 2 with a view to starting large-scale field trials of novel biodegradable tree shelters during 2021.
The science behind the project
The polymers that are being used in this project are bio-based and biodegradable. Some are novel and represent some of the results of over six years and £6.5 million of directed investment in a research collaboration between Biome and a number of the UK's leading universities. The development of biodegradable tree shelters is the first potential commercial application arising from this collaborative group's endeavours. The polymers used in this particular project are partly based on furandicarboxylic acid (FDCA) monomeric building blocks.
Message from the project partners
John Warner, Suregreen's Managing Director, added:
"We're really excited to be working with an industry-leading company such as Biome Bioplastics to explore practical ways of utilizing the latest bioplastic materials for the benefit of the environment, the climate, and the world. We know what essential features and attributes a tree shelter should have through the development of our existing Vigilis range and look forward to applying that knowledge to this new type of tree shelter, which will facilitate the huge tree planting programs that our future demands."
Paul Mines, Biome Bioplastics' CEO, commented:
"This project is an exciting step towards supporting tree planting in a sustainable manner. Approximately 15 million tree shelters are already used in the UK each year and we are delighted to help Suregreen re-invent a product for this sector."
Innovate UK Executive Chair Dr. Ian Campbell added:
"In these difficult times, we have seen the best of British business innovation. The pandemic is not just a health emergency but one that impacts society and the economy. Biome Bioplastics' innovative biodegradable tree shelter project, along with every initiative Innovate UK has supported through this fund, is an important step forward in driving sustainable economic development. Each one is also helping to realise the ambitions of hard-working people."
To find out more about this game-changing project please see: