Success for South Thames' Soils Masterclass
29 Jan 2020 | BALI News
On Tuesday 28 January, BALI's South Thames committee was joined by over 45 attendees for their Soils Masterclass and regional AGM 2020. A record number of attendees travelled to Merrist Wood College located in Guilford, Surrey to listen to guest speaker Tim O'Hare and cast their votes at the regional AGM.
Organised by BALI's Regional Support Officer, Shinade Kaur, alongside the South Thames committee members, the event saw a successful turnout with a mixture of Registered Contractors, Affiliates and Designers as well as non-members in attendance.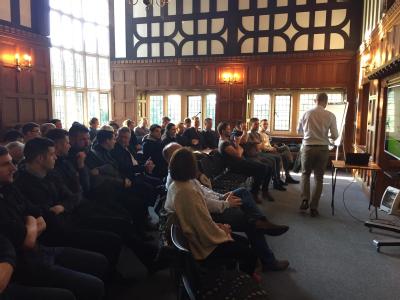 Tim O'Hare of Registered Affiliate Tim O'Hare Associates focussed on a range of topics during his presentation including; soils for tree pits, soil compaction, the topsoil industry, British Standards for topsoil, soils for podium landscapes and soil depths. Following the presentation, guests had the opportunity to question Tim on topics discussed, including whether soil can recover once it's been damaged.
Following on from Tim's presentation, event sponsor and BALI Registered Affiliate Bourne Amenity's Drew Wetherall presented four varieties of soil on his stand, allowing guests to inspect and question the reasoning behind the use of certain soils.
BALI's Chief Executive Wayne Grills presented an update from BALI Landscape House which provided members with an overview of the various areas of membership they can get involved with, his involvement with lobbying at Government, BALI's activities from the previous year as well as looking ahead to the next membership year.
To conclude the event, BALI's South Thames committee held their AGM where members were able to cast their votes on particular topics and vote on a new chairperson. The South Thames committee is pleased to announce Liz Hughes of Provender Nurseries has been elected as the new Chair for the South Thames committee.
Looking back at the election, Liz Hughes commented;
I am delighted and slightly nervous at taking over the chair from Pete Jones for BALI South Thames. With a strong committee and Vice-Chair behind me, many of whom have been members of BALI for many years, I feel confident that our regional events calendar and topics will continue to go from strength to strength. Having been involved in BALI in various events and fundraising activities, I can genuinely say that as a member – you get out what you put in. As BALI members I urge you to go along to your regional events and contribute to the topics too. Your committee is steered by you as members. Together we can create events that all of the industry benefit from and want to attend.
Members located in the region will receive a copy of the minutes from the event next week. Missed out? BALI's regional committees will be hosting a range of exciting events alongside their AGM's. To book your space check out our events calendar here.