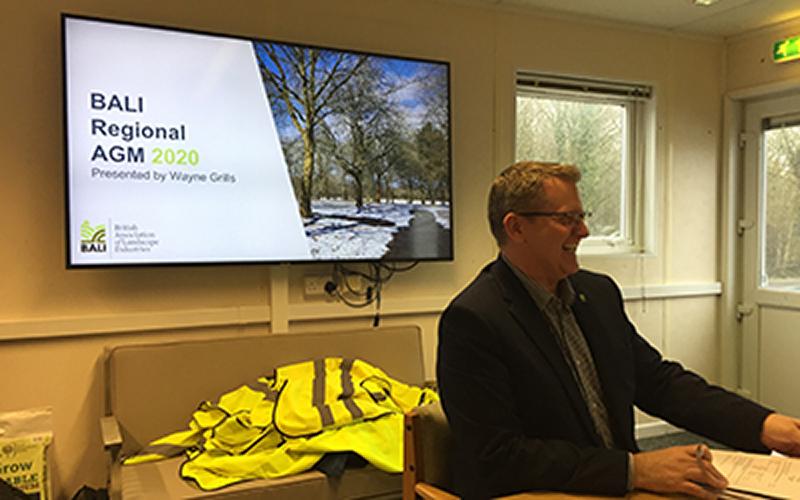 Success for BALI's South West AGM earlier in March
18 Mar 2020 | BALI Member News
On Wednesday 4 March, BALI's South West committee was joined by over 27 BALI Registered members at their regional AGM 2020. A record number of attendees travelled to Tetbury to cast important votes to help shape the future of their Association and tour Melcourt Industries.
Organised by BALI's Regional Support Officer Laura Doyle and the South West committee, the event saw a successful turnout of Registered members proactively taking part in the AGM where members voted on a range of matters.
Members first had the opportunity to tour Melcourt Industries despite the wet weather. Following the tour, members were able to listen to Sara King, MCIEEM BSc (Hons) – Biodiversity Assessment Specialist. Sara has over 11 years of experience working in the environmental sector as an ecologist. Sara has worked with several different habitat types and protected species and holds survey licenses for bats, great crested newts and dormice. She has a good working knowledge of habitat and ecological restoration and mitigation, as well as ecological management practices. Sara has over three years' experience in delivering quantitative biodiversity assessment projects. This includes designing and undertaking biodiversity assessment works to monitor the change in biodiversity as a result of species re-introductions, namely beavers and pine martens. In addition, she has undertaken biodiversity assessments to measure the impact of management techniques on biodiversity quality. Sara has been working to increase the population of Beavers, Water Buffalo & Pine Marten's.
BALI's Chief Executive Wayne Grills presented an update from BALI Landscape House which provided members with an overview of the various areas of membership they can get involved with, his involvement with lobbying in Government, BALI's activities from the previous year as well as looking ahead to the next membership year.
BALI will be hosting a range of online webinars over the next three months, as all regional events have been postponed or cancelled to help minimise the spread of COVID-19. Visit our events page at bali.org.uk/events for more details.