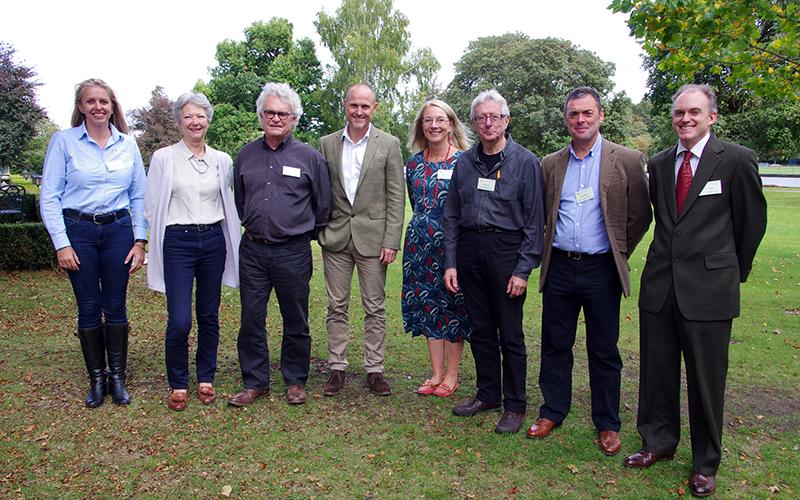 02 Oct 2019 | BALI Member News
Over 130 delegates at last week's SoilsCon 2019 heard key industry speakers promote sustainable soil practices in landscaping and construction. House builders, landscape architects, garden designers, contractors, and topsoil suppliers attended the fourth annual soils conference at Phyllis Court, Henley-on-Thames, organised by soil scientist and landscape consultant Tim O'Hare of BALI Registered Affiliate member Tim O'Hare Associates.
Delegate feedback showed that the subjects covered, including using soils sustainably in landscape projects, the management and preparation of back garden soils, and recycling and conditioning topsoil, were particularly relevant to the audience. Delegates' comments included:
"It was amazing, lots of varied subjects and case studies. Learned immensely and hope there will be another one next year!"
"Absolutely exceeded expectations as I wasn't sure what to expect. Found it very enjoyable and informative."
"I came to learn more on specifying soil/subsoil which was covered brilliantly."
"As a landscape architect I found the day to have a good balance of technical and general best-practice – thank you!"
"The day absolutely met my expectations! Excellent panel of speakers and great cross section of interesting information within the soil industry. Thank you."
"I always find Tim O'Hare and his colleagues superb at demonstrating the information well."
"More than met my expectations – very good event."
"Another fantastic day with great balance of speakers and topics. Please keep doing them!"
Tim O'Hare's practice, based in Wallingford, Oxfordshire, has provided soil science consultancy to some of the country's highest profile public realm landscape schemes, including the Queen Elizabeth Olympic Park, Chavasse Park Liverpool, King's Cross Regeneration, and Jubilee Gardens. The practice's overseas projects are extensive and include Commonwealth Park in Gibraltar, Parque Central in Valencia, Dubai Expo 2020 and Oman Botanic Gardens.
In 2018, after three successful conferences, SoilsCon took a break. The current focus on climate change, however, and a realisation by the wider industry that we must manage our soils more sustainably, meant that the time was right for another conference. The speakers for 2019 provided delegates with knowledge across a range of soil-related subjects that will enable them to take a more holistic approach to working with soils sustainably.
Following a brief introduction by Tim O'Hare, Neville Fay, a chartered arboriculturist and Founder/Director of the Sustainable Soils Alliance was first to speak. He explained the vital mutually supportive relationship between trees and soils and the threats posed by the loss of c. 2.9 million tonnes of topsoil a year. While air and water have national standards, soils do not and, until recently, their rightful place in government policy and core government practice has been ignored. The Sustainable Soils Alliance is dedicated to restoring the nation's soils to health within a generation. As Neville explained, however, this will only be achieved if soil is recognised through the broadest possible coalition of interests, with all stakeholders, disciplines, and sectors playing their part to ensure this fundamental natural resource is sustainably managed by developing training, knowledge transfer and good practice.
Next up to the podium was Tim O'Hare, who delivered a masterclass in sustainable soil use in landscape projects. His key objective at each SoilsCon is to provide delegates with the knowledge and tools to effectively manage their project soils. Tim took delegates through the soil planning process and stressed the importance of understanding the site soils they are working with from a very early stage. From initial planning, outline and detailed design, through to construction and soil aftercare, it is crucial that soils are correctly surveyed, specified, tested, sourced, manufactured and managed. Tim stressed the fact that soil compaction is a major problem on site and delegates were shown images of sites where compacted soil had led to a total failure in soil functions, including poor infiltration, soil fauna decline, anaerobic conditions, and ultimately plant failure and increased flood risk.
After the morning break, during which a Soil Surgery was held, staffed by soil scientists from Tim O'Hare Associates, the next speaker was Sarah Morgan, garden designer, horticulturist, lecturer and Chair of the Society of Garden Designers (SGD). Sarah's presentation demonstrated why knowledge of geology and soil should influence the design of landscape projects if they are to be successful in the long-term. Her own 'hands on' approach to project soils has convinced her that careful site analysis, minimal disturbance, responsible handling and creative solutions can all reduce project costs and increase the longevity of the planting. Drawing on her many years of experience as a horticultural advisor and garden designer, and referencing projects she had undertaken, she described her own working practices.
Closing the morning's presentations was Tim White, Senior Associate at Tim O'Hare Associates, who talked about the management and preparation of back garden soils. With particular emphasis on the gardens presented to homeowners on new build developments, Tim discussed the difficulties presented by construction sites, where the presence of many different trades, their plant, machinery and vehicles, and the limited space for storing topsoil presented the 'perfect storm' in terms of soil management. Groundworkers, Tim said, rarely understood the requirement for topsoil to remain friable, uncontaminated by glass, aggregate and mortar, and, most importantly, to be worked with only when it is relatively dry and definitely not in a 'plasticised' state. Using some disturbing images of poor soil handling and storage, and examples of compaction, Tim stressed the need for housebuilders to do more to make sure the soils that end up in the gardens of new homes are really 'fit for purpose'.
After lunch, soils scientist Simon Leake, Managing Director of SESL Australia, discussed the design of low fertility soils, referencing the Barangaroo project in Sydney for which he designed the project soils. A sandstone headland beneath the southern end of the famous Sydney Harbour Bridge, Barangaroo has been redeveloped as part of Sydney's central business district. The six hectare Barangaroo Reserve now boasts c. 75,000 native trees, plants and shrubs, all growing in low fertility soils where the levels of phosphorous in the soil were fundamental to the success of the scheme. Using excavated sandstone from the site, Simon explained how his trials with varying percentages of green compost resulted in a soil design that has seen the reserve flourish.
Following on with the theme of manufactured soils, the next speaker was Andy Spetch, National TOPSOIL Manager at British Sugar plc. He briefly explained the sustainable credentials of the company's topsoil – it is brought in on the sugar beet delivered by farmers across East Anglia to British Sugar factories – and then took delegates step by step through the recycling and conditioning processes that have been developed over the years, which result in the production of various topsoil products. Andy explained how many of these processes can be adapted to conditioning soils on construction projects.
Choosing and using mulches was the day's penultimate presentation, delivered by Catherine Dawson, Technical Director of Melcourt Industries. Opening her presentation with an explanation of the physical properties of different types of mulch, Catherine then looked at the various claims for what mulch could achieve, giving delegates clear guidance on the correct selection of mulch, how to apply it, and the expected outcomes for planting schemes when best practice is applied.
The day's final presentation, and possibly the most photogenic, was on Wildflowers – superheroes of green infrastructure and urban greening, delivered by Helen Gillespie-Brown, Business Development Manager at Wildflower Turf. In her presentation, Helen explained the development of wildflower turf and how it is grown, including the selection of seed mixes for different landscape applications. She highlighted the benefits wildflowers bring to any landscape and discussed how they can enhance biodiversity for the advantage of wildlife and people whilst meeting regulatory requirements such as Biodiversity Net Gain and BREEAM. Wildflowers make significant contributions to Green Infrastructure and urban greening for many reasons, from pollution mitigation to effective SuDS schemes, offering multifunctional solutions throughout.
SoilsCon has proved, once again, that there is a real urgency amongst landscape and construction professionals to improve their understanding of soils and how to use them in a more sustainable way. Tim O'Hare commented:
"This year's conference was incredibly informative and provided a rounded approach to using soils more sustainably. It was obvious from the comments we received on the day, and in the feedback, that delegates appreciated the breadth of subject matter and went away much better informed and able to apply the knowledge in their work. I am indebted to the amazing speakers who without exception brought the subject to life for those in the audience and I hope that many of those who attended will now actively support the work of the Sustainable Soils Alliance in its mission to seek fundamental change in the way soils are regarded and treated."