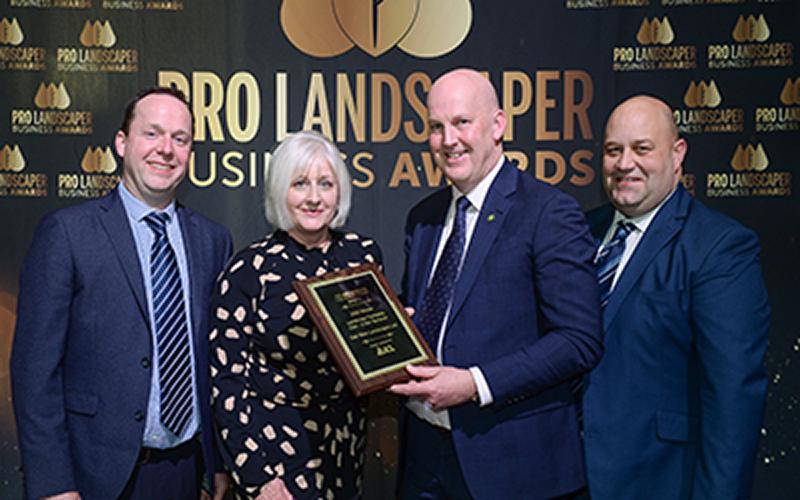 Oak View Landscapes take Supreme title
26 Feb 2020 | BALI Member News
BALI Registered Contractor Oak View Landscapes were announced as the Supreme Winner at the recent Pro Landscaper Business Awards 2020, bringing the perfect end to a great afternoon celebrating business excellence, where Oak View was also awarded the Best Landscape Company in the £2m - £10m turnover category.
Managing Director Paul Downer commented on his delight at receiving these two prestigious business awards;
It goes without saying that I am immensely proud of all the Team at Oak View, each and everyone played their part and contributed to our success at the Pro Landscaper Business Awards. I was overwhelmed by the judges summing up comments when the realisation set in that they were talking about our company. My ambition has always been to develop and grow a market-leading business that not only receives national recognition for its quality of work but also on its culture, staff development and business practices.
Marian Barker, the owner of BALI Registered Fresh Horticultural Careers, summarised the judges' deliberations;
This year's Supreme Winner is a true reflection of a well-run, consistent business that understands the value of its staff. It is continually developing, rewarding and monitoring staff progress and making sure skills sets are in line with the direction and needs of the Company. Not only is this business committed to its staff and customers but also the industry as a whole, either by raising money for industry charities, playing a key and active role within the landscaping associations or supporting the next generation of landscaping through its involvement with Writtle University College. Congratulations to Oak View Landscapes.
Oak View's Operations Director, Jakki Jenner added;
The Supreme Winner Award was totally unexpected and it means so much to the management team to receive recognition for, in the judges' own words, 'being a well run, consistent business that understands the value of its staff'. The Best Landscape Company £2m-£10m is also a notable award for Oak View as it congratulates performance in a number of areas including development plans and future goals. This recognises one of Oak View's strengths in thinking about the future, formulating a three-year plan and engaging with all our people to achieve these shared goals.
The Pro Landscaper Business Awards brings the landscaping community together to celebrate the excellent standards set within the landscape industry. The event was held at the East Winter Garden, Canary Wharf on Friday 7 February 2020.