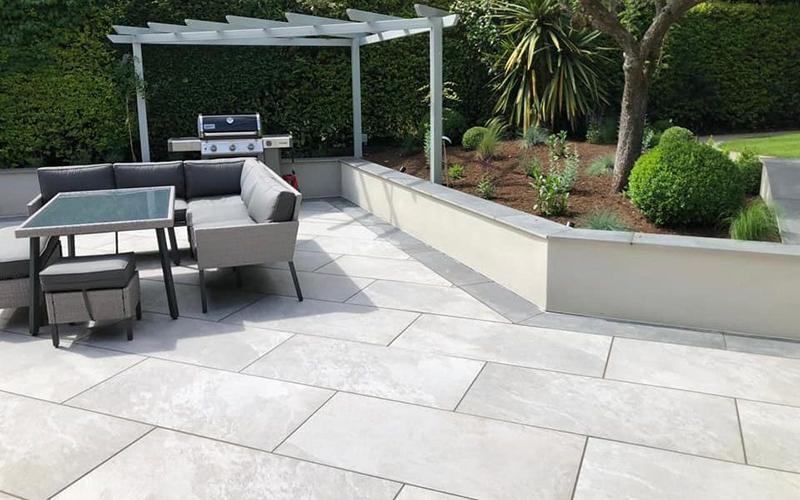 Trials and tribulations of modern paving - BALI reports
20 Aug 2020 | Technical News
The British Association of Landscape Industries' (BALI) Technical Officer (Policy & Research), Owen Baker, reports on why laying modern landscape materials, such as porcelain, using traditional construction methods are unsuitable for modern materials.
Changing tastes, renewed interest in the garden and, possibly, climate change, has meant the paved area of a garden has evolved into a popular feature. Thanks to lifestyle magazines and television programmes, domestic clients aspire to use their garden as an extension of the home. At the same time, global trade has opened endless possibilities to the landscape professional; materials from around the world can be used to striking visual effect in a variety of contexts.
In most cases, paved areas feature an area of natural or man-made material expertly laid in accordance with good design principles and building regulations, with the potential to last for as long as the customer needs.
BALI has recently identified isolated cases where modern landscape materials are being laid using traditional construction methods which are unsuitable for modern materials. This is resulting in areas of hard landscaping which fail prematurely.
Manufactured materials such as porcelain or ceramics are becoming increasingly popular due to their thin profile, uniform colour and texture, but also their resistance to stains. These materials are not porous, which means mortar does not readily adhere to the underside. As a result, porcelain slabs laid on mortar alone are likely to become loose within a relatively short period, resulting in rocking, loosening of the grout and eventual cracking of paving units.
The solution is to use a specialist coating called a slurry primer or bond bridge. Whilst the use of slurry primers is not new, consideration for their need for paving projects of all types is now good practice.
Slurry primers or bond bridges are painted on the underside of both natural and manufactured paving materials immediately prior to laying on the mortar. They form a strong, impermeable, glue-like layer which performs two functions:
Forms a barrier between paving, the mortar and laying course, which helps prevent moisture and cementitious materials leaching into the paving.
Improves adhesion between the mortar and underside of manufactured paving slabs
A range of ready-made primers are available from paving suppliers, needing only water adding to a pre-mixed material. It is also possible to mix cement with SBR to create a similarly effective product. Either way, the product should be painted to the underside of each paving unit immediately before laying.
The quality of natural paving products has a significant impact on its porosity and long-term durability. Always source materials from a reputable supplier and take their advice when laying materials with which you are unfamiliar.