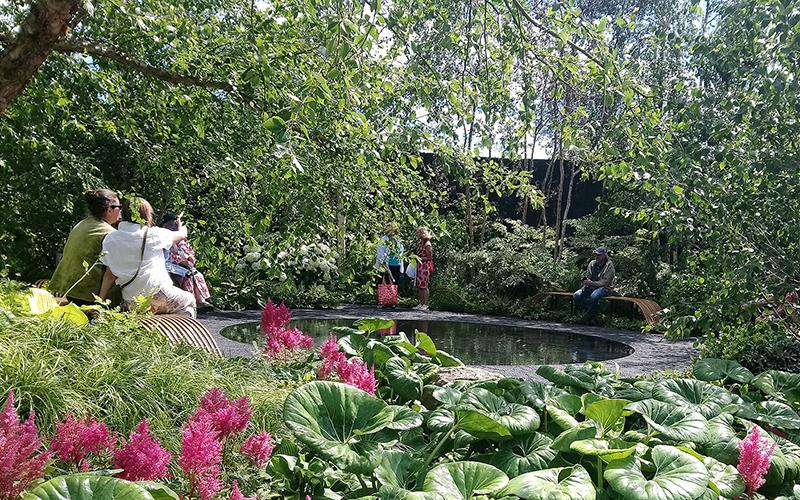 Majestic Trees supply over 15 award-winning RHS gardens
09 Jul 2019 | BALI Member News
BALI Registered Affiliate member Majestic Trees have been kept busy this show season fulfilling orders for over 15 gardens across the RHS Shows at Chatsworth, Chelsea and Hampton Court. No small undertaking considering the Chatsworth Power of Trees feature alone required 12 artic loads of trees, and Matthew Childs' Smart Meter Garden called for over 29 mature specimens.
Although Majestic's mature trees have featured prominently in show gardens for years, the nursery has seen demand grow rapidly over the last two seasons.
"There seem to be several factors at play",
says Christina Jones, Marketing & Business Development Manager at Majestic,
"We hope of course that the size and quality of our stock is consistently gold standard. Our trees do invariably attract a lot of attention on delivery! And that show-stopper quality is a crucial ingredient for a successful show garden. A second factor seems to be growing recognition of our manoeuvring expertise. Over the years, many on site have had the opportunity to observe our team efficiently offloading and placing heavy, fragile show garden specimens with no damage or drama. That reassurance becomes very appealing in a situation where stakes are high and time is short! Finally, I think increased awareness of biosecurity threats have discouraged designers from sourcing specimen tree stock directly from foreign growers. Certainly, the RHS discourages this. We are scrupulous in our biosecurity practices which is reassuring to both designers and the RHS as show organisers".
Majestic Trees has worked hard for its show garden clients this year, and are proud of their achievements as follows:
Kazuto Kashiwakura & Miki Sato's Kamp no Niha (Chelsea) - Gold
Michelle Brown's Miles Stone: the Kingston Maurward Garden (Chelsea)– Silver Gilt
Jo Thompson's Wedgwood Garden (Chelsea)- Silver Gilt
Kate Gould's Greenfingers Charity Garden (Chelsea)- Silver Gilt
Andrew Duff's Savills & David Harber Garden (Chelsea)- Bronze
Matthew Childs The Smart Meter Garden (Hampton Court)– Gold and Best Show Garden award
Tom Simpson's Cancer Research UK Pledge 'Pathway to Progress' Garden (Hampton Court)- Gold, People's Choice: Best Show Garden and Best Construction
Dave Green's Stop and Pause Garden (Hampton Court) –Gold, Best Lifestyle & Global Impact Garden, Best Construction Award
Victoria Philpott's Bess of Hardwick Border (Chatsworth) -Gold and Best Long Border
The nursery is also proud to have supplied for the following feature gardens (which are not judged) at this year's RHS shows along with trees for decoration of the RHS Main Stages, etc:
RHS The Power of Trees (Chatsworth) – a huge display of over 120 large trees!
The Perennial Lifeline Garden (Chelsea)
RHS Sanctuary Garden (Hampton Court)
The Rose Gardens with Jo Thompson (Hampton Court)
BBC Springwatch Garden (Hampton Court)
The Beth Chatto Garden (Hampton Court)
The Wild Garden (Hampton Court)
Trees to dress the Main Stage (Hampton Court)
Additionally Majestic Trees supplied a number of Gold Medal winning gardens at BBC Gardeners World Live at NEC.