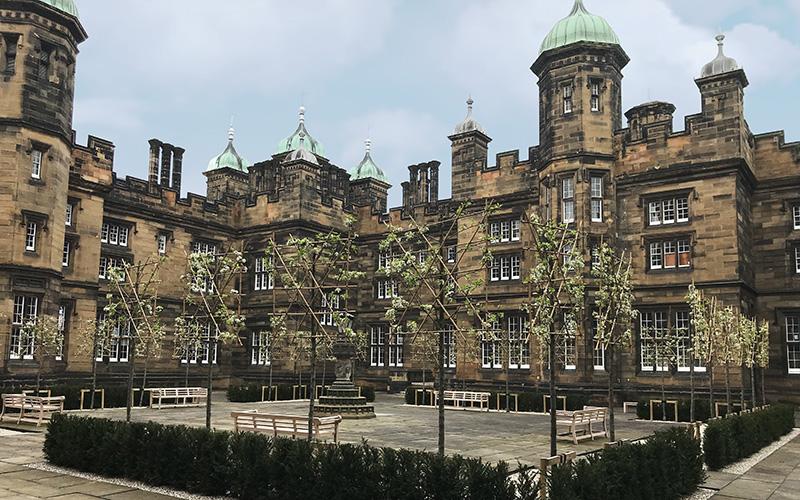 10 Apr 2019 | BALI Member News
Edinburgh-based firm P1 Contractors Ltd and BALI Registered Affiliate member Johnsons of Whixley have teamed up to supply thousands of plants for the landscaping of an iconic building originally known as Donaldson's Hospital, Edinburgh.
The former Donaldson's hospital site has been turned into luxury apartments with prices ranging from £250,000 to £1,625,000 making it one of the most expensive residential development in Scotland.
The A-listed building was formally built as a hospital for destitute and vulnerable children and was opened in 1850 by Queen Victoria who is reported to have said that the building was more impressive than many of her own palaces.
Residents of the new Donaldson's development will enjoy 16-acres of private parkland which will include formal parterres, sweeping lawns and mature trees. Landscaping has also taken place in the chapel garden, morning and afternoon terrace, the park, the courtyard and parterre terrace.
Richard McMonagle, Director of P1 Contractors Ltd, said: "Our client, City & Country place a lot emphasis on the landscape around their developments and this has been refreshing for us as a contractor. We are delighted to have been involved in this project which has seen us also secure the next phases of the project for both hard and soft landscaping which gives us a long-term input.
"Given some of the apartments in the development are on the market for over £1 million, the quality of the landscaping and plants must reflect this, so we turned to Johnsons who have again played a key part in achieving this."
Johnsons' supply of plants started in 2017 and has been worth over £125,000 to date with varieties including 5,000 rootball Buxus (Box) for formal parterres, over 400 Taxus (Yew) rootballs for formal hedging, 7,000 shrubs and herbaceous plants, 83 trees, including 42 which were pleached specimens, and a large number of topiary boxed balls.
Ellie Richardson, marketing co-ordinator at Johnsons of Whixley, said:
"This is another fantastic project to be involved with via P1, a long-standing customer. We're delighted to see a building that has stood derelict for 10 years be transformed into accommodation in keeping with its impressive history."