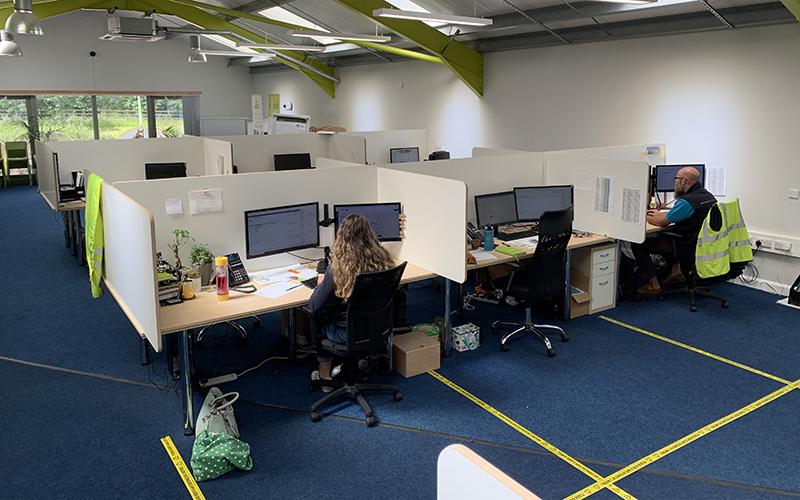 How Green-tech coped during the Covid-19 pandemic
22 Jul 2020 | BALI Member News
It's far from over, but as life starts to slowly return to a new normal, BALI Registered Affiliate Green-tech speaks about how it is surviving during the current corona pandemic and uncertain economic climate.
Chairman Richard Kay, says, "We wanted to support our very loyal customers, yet keep our staff safe and protect our business so we took the decision on the 23rd March to keep Green-tech trading and run it with a Skelton crew of 25. All of our sales channels have been busy and along with our delivery partners we made sure we kept the orders flowing out of the door so that our customers who were able to, could, carry on."

Rachel adds, "At first it felt very much like a battle situation and things were changing on a daily basis so we had to adapt. We have always been a resilient and adaptable business and this proved to be a huge advantage. We have an amazing team who put the business first in order to support it, and each other."

Green-tech saw an explosion in their website orders and the general public were ordering in their droves as many of their regular stores and suppliers had closed down. The company saw huge demand for grass seed, pond liners, TERRAM ground protection products and John Chambers Wildflower Seed. The Green-tech skeleton team worked around the clock to dispatch all the orders which enabled them to maintain a steady stream of cash into the business.

Other areas of the business have played a significant part in keeping Green-tech buoyant. Their Rabbit Hill Country Store in North Yorkshire remained open and they offered free delivery to the local communities which was well received and has helped position the store as a prominent supplier locally.
Richard said, "As everyone hit their gardens our Country store garden centre really came into its own. We struggled to keep up with demand but the guys from other areas of the business stepped into help, making several delivery trips a day. Of course, this helped keep our cash flowing, just like the internet side of our business. Our Regency Feeds business, John Chambers Wildflowers and wormers-direct online business also went crazy, all helping us to keep our heads above water.
Green-tech has maximised technology to keep communicating with its staff, customers and suppliers. Heavy use of social media kept customers abreast of the latest offerings, any changes and kept Green-tech firmly positioned in the marketplace. The company has used video conferencing software - Zoom, Microsoft Teams and Skype to keep in touch with staff and hold online meetings with suppliers and customers. Their CPD seminars are also being delivered to Architects the same way.

Rachel, concludes, "So much has changed since March and we know that we will be living with the social and economic impact of COVID 19 for a long time so our financial outlook, along with many others, has changed. We will have to be mindful of credit offered and the business will be restructured for its future needs. We know that there is likely to be difficult decisions ahead."

Richard finishes, "There is no doubt we have been one of the lucky ones. Being in this industry, along with the nice weather whilst people were stuck at home has meant there was a real need for our products and services. However, we've worked hard, been quick to adapt, been totally flexible and jumped when we have spotted opportunities. We're not through it yet but I'm confident that we'll emerge stronger than ever."