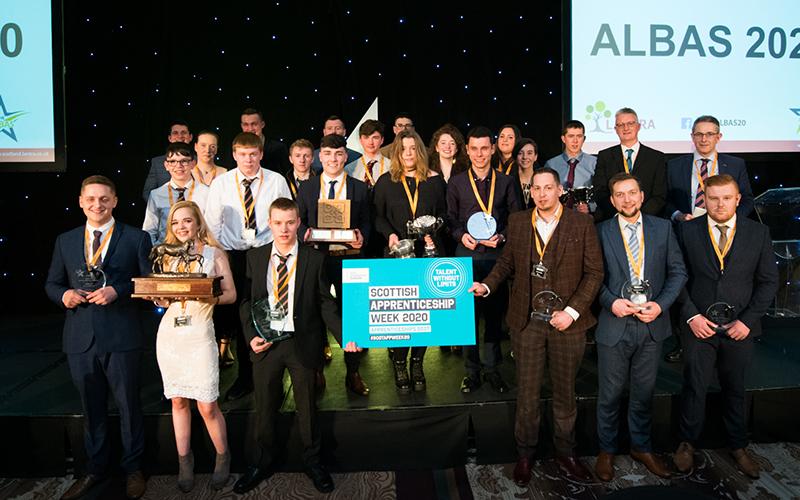 Horticulture trainees win at Lantra's ALBAS Awards
16 Mar 2020 | BALI Member News
Two horticulture trainees have won at Lantra Scotland's ALBAS (Awards for Land-based and Aquaculture Skills), which took place at the DoubleTree by Hilton Hotel Dunblane Hydro on Thursday 5th March.
Ross Yuile, aged 25 from Glasgow, won the Horticulture category, while Lee McPherson, aged 49 from Edinburgh, took the runner-up spot.
Ross has been studying for an HND in Horticulture with Glasgow Clyde College. He has always shown a complete dedication and commitment to his education, whether working on his own, with others in a classroom or in an external environment.
He said:
"I can't quite believe I have won an ALBAS Award. This is will give me such confidence and belief that I can succeed in an industry I love so much. I have always enjoyed being outside doing practical work, and combining this with my other interest in nature, is the perfect mix. Thanks to everyone at my college and my friends and family for their support."
After a career in photography, Lee McPherson changed direction and went on to do an SVQ Parks, Garden and Green Spaces at SRUC Oatridge in 2019, while working as a qualified gardener for East Lothian Council. During his time at Oatridge, Lee worked exceptionally hard and was awarded the top SVQ Level 3 student for both years that he attended the college.
The ALBAS were hosted by farmer and stand-up comedian, Jim Smith, and organised by Lantra Scotland, the sector skills council for the land-based, aquaculture and environmental conservation industries.
According to Lantra's Scotland Director, Liz Barron-Majerik, the awards are a very effective way of recognising the success of trainees in Scotland's rural sector, as well as getting employers involved in growing the next generation of talent.
She continued:
"The ALBAS showcase the many incredible people who have joined Scotland's land-based, aquaculture and environmental conservation industries and who are getting their careers underway.
"I know our judges were very impressed again with the quality of the nominations, so I would like to congratulate all of the finalists, as well as the winners. They were all of a very high standard indeed.
"We're of course very grateful to have the support of a range of people and organisations who make holding an event like this possible, including our main sponsor Skills Development Scotland, and Aberdeenshire Council, British Agricultural and Garden Machinery Association, Elspeth Watson, Equido Horsemanship, Marine Scotland, Royal Highland & Agricultural Society Scotland, Rural Skills Scotland, SAOS, Scottish Aquaculture Innovation Centre, Scottish Forestry, Scottish Land and Estates, Scottish Natural Heritage, Scottish Qualifications Authority, Scottish Salmon Company, and SRUC.
"Thanks also to the independent judging panel, who comprise: agriculture and rural affairs journalist Erika Hay (chair of the panel); HR training officer for the Scottish Salmon Company, Jennifer Allison; smallholder, former agricultural banker and vice-president of RHASS, Jimmy McLean; learning and development manager with Forestry and Land Scotland, Keith Paterson; Fellow of the Royal Agricultural Societies, former chair of the CARAS Scottish panel and farmer, Keith Redpath; head of training with The Scottish Salmon Company, Lisa Connell; Jane Craigie Marketing team member Rebecca Dawes, and fisheries manager with Stirling Council Fisheries, Scott Mason".
To find out more about the ALBAS, visit www.scotland.lantra.co.uk/learner-year call 01738 310164 or email scotland@lantra.co.uk.