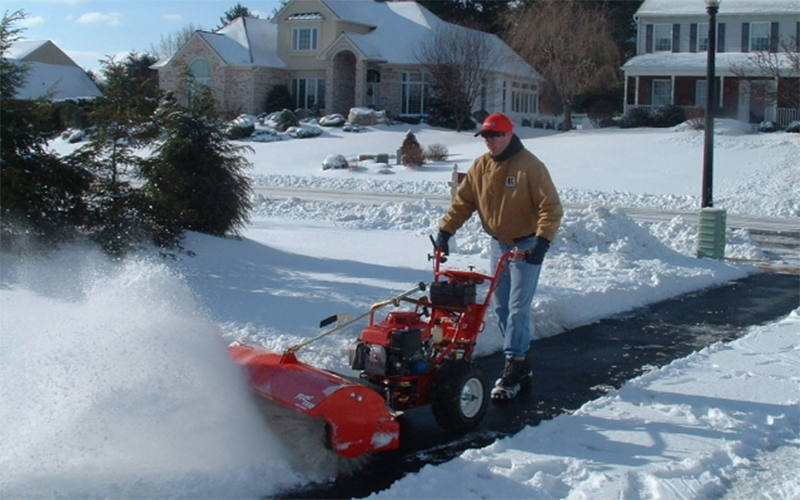 Grounds Care Products advise on snow care
08 Jan 2020 | BALI Member News
The Turf Teq Power Broom supplied by BALI Registered Affiliate member County Hire T/A Grounds Care Products is the effective way to clear snow and slush from car parks, pavements, sports pitches, access roads and pathways. In one pass, it will effortlessly shift 150mm (6") of fresh snow, right down to the surface. Given two passes, it's tough polyester bristles will cut through 75mm (3") of hard-packed snow.
When the snow has gone, use it all year round for:
clearing away winter debris, including grit
sweeping untreated moss off tarmac, concrete or brick pavers
brushing sand or rubber chips on artificial turf
sweeping cans, plastic bottles, cartons and other debris from event sites
de-thatching and striping grass
general removal of grit, leaves, twigs and other debris from almost any surface
The self- propelled, walk-behind machine features a 46" (1168mm) wide, 2-speed, rotary brush and is driven by Turf Teq's hydrostatic, 13hp, Honda-engined tractor . A differential lock comes as standard equipment, ensuring that the machine has maximum traction in slippery conditions. The hydrostatic transmission adjusts immediately, pushing the broom along at anything from a crawl to a brisk walking pace; no need to stop and change gear. Easily adjusted for height and ground pressure, the angle of the 18" (457mm) diameter brush can be instantly altered to sweep ahead, to the left or to the right.
The TurfTeq multi-use tractor unit also drives other TurfTeq attachments - Snow Plough, Lawn Edger, Trencher, Surface Preparation Rake and Rough-Cut Mower.
More information from:
Judy Stafford, Grounds Care Products
Tel: 0118 981 1313